Wenger feels Arsenal can be successful on all three fronts
Arsenal 2 Burnley 1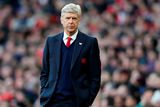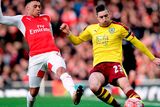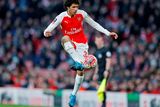 Daniel Johnson
Telegraph Media Group Limited
Alex Oxlade-Chamberlain encapsulates all that is Arsenal at the moment. Brilliant, unstoppable, yet careless and above all, frail.
Arsene Wenger's side march on in three competitions, a third successive FA Cup still a possibility, but even during this victory against Burnley, their confidence was lacking.
Oxlade-Chamberlain typifies those occasional bouts of self-doubt. He set up the winning goal, a comfortable finish by the returning Alexis Sanchez after a blistering counter-attack, and was often a nightmare for Burnley's defence.
But Wenger believes the winger, who he hopes will one day move into central midfield, is too strict on himself, and that his self-criticism could be holding him back.
"He's harsh with himself, Alex," the Arsenal manager said afterwards. "I think he gets too down.
"He's worked very hard in training. He has the resources to do very well one against one. He's 22, Alex, we forget these guys are still very young. He's getting to the age where he will be most efficient."
The fierceness of competition for places in the Arsenal midfield could have something to do with his lack of confidence. Wenger rested Mesut Ozil, Aaron Ramsey, and Theo Walcott from the starting 11 here.
Impressed
Alex Iwobi, the 19-year-old Nigerian, impressed and may soon compete for a regular start in the league, according to Wenger.
"An automatic choice doesn't exist, especially in the big clubs," Wenger said. "There are not many who are an automatic choice at 22."
Oxlade-Chamberlain is not the only member of this Arsenal side who frustrates.
On a rare start at right-back, Calum Chambers provided a sumptuous finish for the first goal, but then completely abdicated his defensive responsibilities for Burnley's equaliser, allowing Sam Vokes to head in the cross.
Shakiness can extend through the Arsenal team. That is, of course, except for Sanchez. What a boost to have the Chilean back after two months out injured.
Now Arsenal need him to stay fit, particularly given the FA Cup fifth round is scheduled just a few days before they welcome Barcelona in the Champions League.
"Let's pray for the draw," Wenger joked. "If we can keep everybody fit, we can do it in three competitions. We have a chance to compete." (© Daily Telegraph, London)