Jurgen Klopp lashes out at Liverpool players as they collapse to Man City defeat
Reds boss doesn't hold back as he admits his players need to respond at Chelsea on Tuesday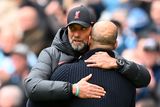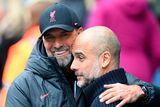 Liverpool manager Jurgen Klopp described his side's second-half performance as "unacceptable" as they were hammered by old foes Manchester City at the Etihad Stadium.
City brushed off the absence of Erling Haaland to keep the pressure on Premier League leaders Arsenal with a resounding 4-1 win over rivals Liverpool.
Goals early in the second half from Kevin De Bruyne and Ilkay Gundogan gave City a decisive edge before Jack Grealish wrapped up victory in an absorbing contest at the Etihad Stadium on Saturday.
Liverpool, so used to being City's chief title challengers themselves, had taken an early lead through Mohamed Salah but Haaland's replacement Julian Alvarez quickly levelled and the visitors tired after the break.
The final score underlined the gap that has opened up between the clubs this season with champions City now 22 points ahead of the side that took them to the wire last year.
Klopp struggled to sum up his emotions after a ninth league defeat of a miserable season, as he conceded his players were not good enough in a woeful second half display.
"The first half was one we've seen a few times when we've played here," he stated.
"City always have more possession, but we had spells. We played calm, composed and caused them problems.
"Scored a wonderful goal, had another big moment but concede. It was unlucky how the ball went through (Andy) Robertson's legs and they finish it off but coming out after half time and conceding two quick goals before everything broke down.
"The goals, how we conceded is difficult to accept - we didn't put in a challenge for either. That's absolutely not acceptable to be honest.
"City were completely in control after that and we were open and they could do whatever they wanted. That they only scored one more goal is well, thank you. It could've been different and that's really bad news for us.
"In the end, we had moments but in general how we lost everything, unacceptable. 3-1 down is difficult here but there was nothing more there, four players had an OK game and the rest were somewhere I don't know.
"In three days we play again against another strong team (away to Chelsea). Tomorrow is a big day for us because we have to work with what we saw today because we see it more often now."
Naturally, City boss Pep Guardiola was in a more upbeat mood than Klopp, as he suggested this performance was one of the best his side have produced during his seven years as the club's manager.
"Minute one to minute 93 was a perfect performance - even though we concede a goal we played really well," said Guardiola.
"They [Liverpool] always have threat on transition but we played really good. One of the best performances in my seven years.
"The players knew we weren't playing bad. One goal down and we continued to do it and had just a bit of chat at half time and were lucky to score the second goal. But then at 2-1 the game was stable."
Guardiola reserved special praise for Julian Alvarez, who caught the eye in the absence of the injured Haaland.
"Not just the goal, the assist in the second and third," he said of the Argentina forward.
"He was so clever with the ball, he's an exceptional player. The club made an exceptional signing with him - he's a world champion alongside Lionel Messi because he has something."