Stephen Kenny 'proud' of Josh Cullen and insists Ireland 'so disappointed' with defeat to France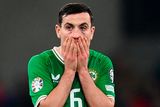 Stephen Kenny said he was "proud" of Irish midfielder Josh Cullen despite the Burnley midfielder's dangerous square ball which led to the decisive 50th minute Benjamin Pavard strike that condemned his side to defeat.
"He played very well overall," said manager Kenny.
"Normally his pass completion rate is very, very high, he doesn't give the ball away, mainly a lot of short passes. He doesn't usually pass long, occasionally he can hit them long. He has that in his armoury. But short passes are part of his game.
"He knits the play together and provides and important function for the team so it was very uncharacteristic to give it away. He's been so consistent for us and I'm very proud of him. It's just one of those things."
Ireland kept Kylian Mbappé quiet all evening and could have rescued a point late on but French stopper Mike Maignan produced an astonishing late save to deny Nathan Collins' goal-bound header.
"I do think France are the best team in the world, even though they lost the World Cup on penalties.
"For us to win a game against a team of that magnitude we have to create a few chances. We have to carry as much of a threat as we can, and not just defend. We tried to control aspects of the game and have a cutting edge to play and create chances.
"We would like to have had more of an edge than we did in the first half but it's not easy. We've watched France's last 20 games and I've never seen Kylian, who I voted for as the best player in the world, have such a quiet night. I've never seen it.
"We didn't concede any chances up to the goal and that was disappointing. The substitutes made an impact and we finished strongly in the last 15 minutes. Our goalkeeper made an excellent save but the save from Nathan Collins was out of this world. One of those incredible saves. So disappointed not to get at least a point.
"France are an exceptional team but we were comfortable ourselves in possession at times. They were aggressively pressing us. We had a lot of good performances out there tonight., And in those last ten minutes, we'd quite a few.
"James McClean and Alan Browne, their goalkeeper made two saves over the bar as well. You've got to take it…Nathan took his opportunity to be fair, it was just an incredible save from the French keeper. We just have to accept that.
"France have watched us knew we'd be tough and they paid us a lot of respect, they pressed us really high, particularly in the first-half and right throughout the game. They don't normally do that. I think we're showing we're potentially a really good team now."
Now Kenny is eyeing a steaming summer night in Athens as Ireland bid to open their account against Greece, who struggled to a 0- friendly draw against Lithuania earlier this evening.
"Greece is a big challenge now in June, in the middle of summer. Back-to-back games with Greece and Gibraltar. We just firmly move on and reflect on this performance and learn from it over the next few and prepare accordingly.
"There is a six-week gap from the end of the Championship and the game against Greece. We have a four day game in Bristol City a couple of weeks after the season ends, then going to Turkey for nine days to prepare for Greece.
"Our preparations have to be exceptional, we need to prepare well for Greece which is a tough game. And Gibraltar here. So those six points in June. We have to get ready. It's a tough game in Greece.
"It is an important campaign for us and we're disappointed we didn't get the point but for sure there are a lot of points to play for and we need to make sure we put ourselves in contention going into the last couple of games."