Stephen Kenny confirms Evan Ferguson will make first Ireland start against Latvia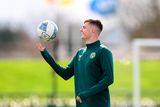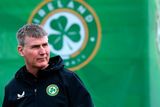 STEPHEN Kenny says he trusts teenage star Evan Ferguson to cope ahead of his full international debut at home to Latvia on Wednesday night.
Ferguson, who came into the Ireland camp on a high after scoring twice for Brighton in their FA Cup win over Grimsby, made his senior debut as a sub at home to Norway last year but he will lead the line in the Latvia friendly.
"His career is in its infancy. He's had a great start to his Premier League career and is scoring some goals in the Premier League, the FA Cup and League Cup. We have known about Evan for a few years now, coming through the system in Ireland with Bohemians and coming through the underage international teams.
"At 18 years of age now, he's showing he is ready to come into the team and he will make his first start tomorrow in the game," Kenny said after today's training session at the team's Dublin base.
Matt Doherty also says he's keen to see Ferguson in the flesh. "I believe he is playing very well. I haven't seen all of the games, but from the highlights and the goals he is scoring, he is scoring some good goals with great composure for someone who is only 18," said the former Wolves man.
"Hopefully it will be the same for this camp, and not only for this camp but for him, personally, for the rest of the season and for the rest of his career, as I am sure he is going to have a good one."
Kenny says he's undecided on a starting role for uncapped players Will Smallbone and Mikey Johnston but is keen to see a strong showing at home to Latvia.
"It's our ambition to win the game. In all international games, you can't take anything for granted. Latvia's ranking is low but they have had some very good results. Drawing 3-3 with Turkey, 0-0 with Norway, beating Lithuania 3-1, 1-0 with Holland, they have shown the capacity to put in some good performances so you have to earn the right in every international game," Kenny said.
"From our point of view, we've had to manage some players' loads so they can maximise performance against France. Some of the players have been in the top end of the Championship and the FA Cup would have had three games a week for four or five weeks. Going again next Monday, probably not the best way of optimising performance so we have to strategically think about that and give other players an opportunity as well to make sure that squad wise we are happy where we want to be on Monday.
"The most important thing is the game against France on Monday, that's the most important part of the week. Every international game is important. I'm informed throughout Europe, in terms of friendly matches, for a nation as small as ours we fill stadiums for friendlies. The passionate Irish support is really important to us, they have really connected with the team and with the players. We see the evolution of the squad, we see the team growing, we see that we are improving, and they are part of that journey as well I feel. Every game is significant and tomorrow is also."
Kenny says he will use the game at home to Latvia to give badly-needed game time to players who have been struggling at club level. "Yeah we've a number of players who've not been playing regularly or who have been playing intermittently so I think tomorrow night's game is important for those players and for us to evaluate where they all are, and for them to make an impact themselves so they can put themselves in contention for selection against France next Monday, whether that will be as starters or players who can make an impact off the bench because we'll need a squad next Monday against France," Kenny said.
"It's an important game and we want to utilise it, and maximise the opportunity for the players to give us every chance."
Kenny confirmed that Adam Idah would play no part against Latvia as he recovers from a foot injury but hopes to be fit in time to face the French. "We're hopeful that he'll be involved later in the week and the game against France," he said.