Meet the Irishman behind enemy lines learning his trade in France
Friend and former team-mate of fellow keeper Gavin Bazunu, Noah Jauny is learning his trade in his father's native France while hoping to win Ireland caps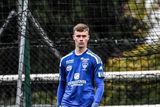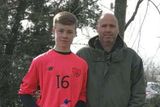 At his French club, the young goalkeeper has a very simple nickname: The Irishman.
There is a mixed palette of colours, the blue of France and green of Ireland, in the back story of goalkeeper Noah Jauny but for the Irish-born, French-based, French-speaking Ireland U-18 cap, loyalties are clear. "I'll be in front of the TV on Monday supporting Ireland," says Noah. A one-time team- mate of Gavin Bazunu at Shamrock Rovers' academy, he's still in contact with the Ireland No 1.
"He was a great role model – for him to be in the Rovers first team at 16, then his move to Man City and getting into the Ireland squad, he's a bit older than me and was a great help to me, he's a great guy – he always helped me out in training.
"We're still in touch, he contacts me the odd time to see how things are going for me. I'll send him a text, give him a few tips on the French players," jokes Noah, now with Stade Brestois, who gets his original French connection from his dad Stephane, who came from France to play League of Ireland football 25 years ago and never left.
"If I'm asked if I am French or Irish, I say I am 70/30 on Ireland's side, I was born and raised in Ireland. My heart is with Ireland, any time I wear a jersey it's an Irish one, not French. Here at the club I am known as 'The Iri shman' , that's my nickname."
Today he'll once again line out in the French third division for the reserve team attached to top- flight side Stade Brestois, another step in his mission to move up the ladder and make it into the first team at a small club which punches above its weight in France's top tier.
There's not been much chat around the club about Monday's game. "It's a new France squad, new players, a new captain with Hugo Lloris gone so the talk in France this week has been about that, and Holland, not so much about Ireland yet," says Noah.
But Ireland is in his own thoughts, as Noah is keen to expand on his brief international career. He made his Ireland debut in an U-18 friendly away to Malta in late 2021 but he was forced off just 23 minutes into a 7-1 win due to a broken collarbone which sidelined him for two months. Progressing to the Irish U-21 squad is the next goal as he also strives to build a career in Brest, a club he joined two years ago from Rovers.
"My dad tells me some stories about his own career, it's funny that he came from France to play in the league in Ireland, I played in the League of Ireland and went to France," says Noah.
The Jauny link to Irish football began back in the 1990s. Stephane was a handy player, invited to training camps for the underage national team (though he was uncapped) and was a contemporary of players like World Cup winner Stéphane Guivarc'h and Vikash Dhorasso, occasionally up against the likes of Nicolas Anelka and Didier Domi.
Stephane was a player with a lower-league French side – on a post-match night out with the boys – when he met Irish girl Edel who was studying international commerce in France. Around the same time, Stephane had an offer to join Sligo Rovers during the Lawrie Sanchez but had to delay a move to finish his military service. He followed Edel to Ireland, and compatriot Pascal Vaudequin (who'd moved to Ireland in 1987) put him in touch with Shelbourne.
Stephane didn't play for the Reds but did have a career, starting out with Dundalk in 1997, then spells at Drogheda United, Home Farm Fingal, Newry City, St Patrick's Athletic and Limerick. Once the boots were hung up, he moved into the broadcasting world, commentating on matches from various European leagues for Setanta Sports and he's 14 years working in that field.
"Now I work for Fox Sports and ESPN, covering the Bundesliga every weekend for the last few years," Stephane explains. "I do the Championship in England, the Copa Libertadores, Champions League."
The talent passed on to the next generation as Noah started to show promise at an early age, joining Home Farm's academy as a four-year-old.
"When I was 12 or 13 we had a game against Shamrock Rovers. Shane Robinson, Graham Gartland and Stephen Bradley were there, saw me have a good game and I ended up at Rovers," says Noah.
There was interest from English clubs – Everton were especially keen – but the family was unsure if the UK was the right move. "I knew how the system in England worked and it's not perfect," says Stephane. Summers spent in France meant that clubs there were also aware and offers were made, until Brest made the right one. It meant leaving Dublin just as he was about to start fifth year in St Aidan's school but the deal was that the Leaving Cert had to be done. "It was a huge leap, a different culture, but I felt it was best for me to go to France, for my football career but also education. Leaving my parents at 16 was a big risk but I am happy I made the move," says Noah, who finished the Leaving Cert course from France, with help from the club who gave access to Irish teachers over there.
Life as a trainee footballer in France isn't easy. "On a typical day I'm up for breakfast at 6.20am, get to school for 8, have school until 10am," explains Noah. "Then I get a bus to training for 10.30am and train until 12 before heading back to school for lunch. Then it's the gym and back to the academy for 7pm for dinner, then an hour's study and maybe an hour's free time. And the phone is off at 10pm."
​A tough regime but one which can lead him places. "It's proper, competitive football, it's a men's league, I am an 18-year-old up against men in their 30s, it's a good test," he says of that third tier.
"I'd hope to make my way into the first team here, I have been training with them for a year now. We have players who've had good careers," he says, at  ease around experienced first team players like Loïc Rémy, Senegal international Noah Fadiga, Morocco's World Cup man Achraf Dari and one-time Celtic prospect Karamoko Dembélé.
"They are a big club, they have been in League 1 for a good while now, it's good for young players coming through. My aim is to go all the way through with Brest, I believe I can get into the first team, and get into the Irish squad with the U-21s."​
Noah bats away any suggestion of a call-up from France and hopes Ireland on Monday can do something. "It's a young French squad but the level of quality is incredible, even their U-21 squad is unbelievable. But I think Ireland can get a result, we're always strong at home," he says.
Dad Stephane will be in blue in Lansdowne Road on Monday but has concerns about the French. "It will be a tight game, a tricky game for France. France have the ability to score at any time with Mbappé but the team rely very heavily on him, that's the tricky one for me, the reliance on Mbappé, and we also need to see how the squad react to the World Cup defeat," says Stephane.
"Losing Verane is a big blow as he's still young, Lloris will also be missed, Maignan needs to deliver as No 1 so there is pressure on him, and the back four. On paper the French players are a class above but I know Ireland always perform as underdogs, as they did against Portugal, I expect Ireland to perform on the night, it won't be a walkover for France."