'I see myself as Irish too' – How family ties nearly saw Australian star Mary Fowler declare for girls in green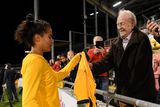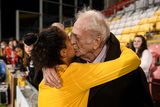 Australian star Mary Fowler has revealed she almost declared for World Cup opponents Ireland – just two months out from their historic opening game at this summer's tournament.
The Man City player, who made her debut against Brazil as a 15-year-old in 2018, had an emotional reunion with her Irish-based relatives when Australia were beaten by Ireland in a Tallaght friendly two years ago.
She met her grandfather, Kevin Fowler from Ballymun, and gave him the jersey in which she scored twice for her country.
However, it is conceivable that she could have been wearing green.
Her brother Caoimhín and sister Ciara both played for Ireland's youth team.
The Football Association of Ireland were desperate to lock the Fowler family down and were in regular contact but Fowler eventually declared for the country of her birth.
"I was really excited when that draw came out," Fowler, who was born in Cairns, Queensland, Australia to Kevin Fowler Jr and her mother Nido, from Papua New Guinea, told FIFA.com.
"I was actually hoping we'd get Ireland. For me, it's such a special opportunity because I do feel very connected to my Irish heritage, just as I do to my Papuan heritage.
"I know my family will be cheering for me and that my Irish family will be cheering for Ireland and me! [laughs] Whoever wins, they'll be happy.
"But, yeah, I think it's going to be a really exciting opening game, a great, fun atmosphere, and from what I hear the tickets sales for it have gone wild.
I think when you have the option to play for multiple nations, you do think about it because it's a decision that will live with you for the rest of your career. It's smart, I think, to weigh up your options.
"So, yeah, there were moments when I thought about it. But I felt very strongly connected to Australia because it's where I was born, I have my friends there, I grew up there.
"So Australia ended up being the obvious choice. But I do feel very connected to both my parents' backgrounds, and I don't see myself as just an Australian. I see myself as Papuan and Irish too."