Áine O'Gorman believes World Cup prize money should be the same for women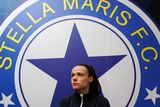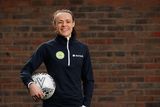 Bringing it all back home.
Twenty years ago, Áine O'Gorman made the journey from Bray to Stella Maris, a shy but eager enthusiast for the one sport amongst the many she played that thieved her heart.
It became her world and now the world awaits her this summer. But this is no time for wallowing.
"I was out there with the young girls and doing a few skills and one of the 13-year-olds was showing me up!" says the 115-cap veteran, delivering a trademark guffaw at the FAI/Aviva Soccer Sisters Easter Programme launch.
For her, it was like looking in the mirror, her mind wandering back to the Bog Meadow in Enniskerry and those early days with the boys. It was harder then, for sure, but the journey no less enjoyable.
From Stella Maris – the star of the sea – to Peamount United – a star of the Peas. Now Shamrock Rovers, one of the pioneers of a semi-professional league.
She had a taste of this life in Doncaster more than a decade ago; since returning, combining work with her unpaid pleasure.
"It's brilliant. So far so good. It's a step up for us in standards. Now it's up to us to get the results!"
Better late than never, perhaps; she will not begrudge that it happens in her twilight years.
​"It's a long time coming, and I'm glad that we've finally made the step. One day there'll be a full-time set-up in Ireland."
The World Cup in Australia will represent a pinnacle for O'Gorman and those who will embark on the odyssey before her, as well as those who preceded their historic footsteps.
But O'Gorman insists that Fifa should do more than merely outline an "ambition", as declared by its white-runnered president Gianni Infantino at the tawdry Rwandan Congress last week, to match the prize money awarded to the men.
Despite reserves soaring beyond a staggering €4 billion, the €110 million pot in Australia, even though almost quadrupling, will still fall far short of their male counterparts, who collectively carried off €440m from the tainted Qatar staging late last year.
Infantino argues that the minimal financial engagement for TV rights informs his view; for O'Gorman, this strikes right to the heart of the conflict between equality and equity.
"I saw that," she says of Infantino's comments. "It should be done. It's a no-brainer. It should be equal prize money straight away. I don't think anything else should come into it.
"We talk about having equality, but we need to have equity as well. There needs to be equal opportunities until that money comes into us.
"This is the fastest growing sport in the world. It can only be a positive thing. People confuse equality and equity. Women's football needs to be given the platform to be the best you can be."
Infantino did proffer some relief to the World Cup-bound women, however, by confirming a U-turn on potential Saudi sponsorship, albeit it was unsure whether financial, rather than moral concerns, informed the decision.
Ireland, who have consistently flagged awareness of LGBTQ+ issues, amongst others, had been part of a leading cohort expressing their disappointment at the proposal, many fearing that Australia would mimic Qatar in dimming freedom of expression while consorting with a derided nation.
"I'm thankful they made the right decision on it, to be honest," she says. "They've dealt with that now, and hopefully we can just focus on the football.
"It's important that, as footballers and icons, we can be positive influences and what we believe can hopefully impact the world."
Ireland became embroiled in a cultural contretemps, entirely of their own making, when a leaked dressing-room video caused consternation, or confusion, depending on one's perspective.
Their response to their celebratory singing, including a snatch of Celtic Symphony and its 'Up the Ra' chant, ensured the level of adjudged offence was leavened by heartfelt remorse.
Many teams, across all codes, institute a social media policy across tournaments, and Ireland may still do so.
"It's something we have discussed, but we haven't made any decisions," she says. "Maybe closer to the time we might nail it down. We trust everyone now."
A bit like their tactical approach, which has also invited criticism.
"We've had so many clean sheets, so we aren't going to rip that script. We want to become more threatening, but we need to trust the process that got us this far."
Sitting in the dressing-room where it all started, the words ring true.