'I wanted surgery so I could miss the season' – Mental health struggles led Ben Curtis to quit at 19 but he has no regrets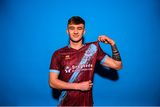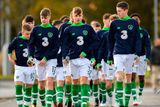 On the drive home, the car should have been filled with joy.
Ben Curtis, after spells with Dublin clubs Shamrock Rovers and St Patrick's Athletic, had just had his first proper game for his new team, Drogheda United, as he played well in their annual pre-season Malone Cup game against Dundalk, a trophy retained and pride boosted.
"I was in the car coming home getting all these 'well done' messages. But none of it mattered to me. I felt no pride in what I did," Curtis told Independent.ie earlier this week as he looked back to that night.
Still just 19 years of age, he's no longer a Drogheda United player. In fact he's no longer a footballer. Two weeks ago, he took to social media to explain that, due to mental health issues, he was walking away from the sport. "It feels like these heavy metal chains wrapped around my neck, holding me down and keeping me from moving," he wrote in his post.
To those who lack understanding of how mental health really works, Curtis' decision makes no sense. On paper, he had it all: health and good looks, was getting paid to play football, car to get around in, girlfriend he could rely on, a football-loving family who'd do all they could to help him 'make it', famous names like Premier League star Evan Ferguson in his phone's contacts list.
​But, sitting in a café in his native Navan on a sunny May morning, he has no regrets about saying goodbye to his previous life. In essence, he wanted to be himself. "My girlfriend and my family know me as Ben. Everyone else knows Ben The Footballer. I was terrified of losing that footballer identity, would I lose friends, would I lose people on social media. It was scary. That phrase was realistic for me, I felt like there were chains – of people – holding me down by being Ben The Footballer."
In the coming days he has an interview lined up, for a possible job outside of the game, while a League of Ireland club want him to come in for a chat about a coaching and advisory role. "At the minute it's not on my mind to come back and I don't think I will," he says.
"From the three years where it's been a struggle, I don't see myself coming back. I do see myself maybe being involved in coaching, but not as a player. I might go and get my coaching badges done early, I really want to look at the psychology of football, for athletes. Since my post went out I had posts and comments from other athletes in Ireland that opened my eyes to how many people are struggling, people who feel they are not brave enough to speak out."
His CV suggests – in football terms – some pretty seamless progress. Starting out with local club Parkvilla, he is scouted by schoolboy club St Kevin's, gets his first international caps in 2018 with the U-15s (with fellow Kevin's player Ferguson), is then taken to Shamrock Rovers, gets first-team football with St Patrick's Athletic and then this year's move to Drogheda. But long before his Drogheda debut in February, doubt was in his mind. "It was a feeling of waking up every day and knowing this was not something I wanted to do. When I was at Rovers there was a period where I took six months out of football and it was probably the happiest I had been for some time."
He felt he was letting down his dad by not playing, given the time dad had spent "sitting in a car park for three hours", driving Ben and his siblings to matches and training, making sure they had the right food post-training.
"So I went back for him, for my dad. But once I did return, I was back to where I had been, stuck in my room, not going out. And that's how I was for three years, not knowing who I was, what the purpose of it all was for me. It was hard as I felt like I couldn't say anything to anyone, I was just stuck in that little bubble of myself."
He moved on to St Pat's (signing at the same time as younger brother Sam), then made the commitment by leaving school in fifth year so he could focus on football, but the cloud remained. "Tim Clancy had only come in as manager, the first two training sessions I didn't turn up, I just didn't want to go. I told my mam, I really don't want to do this. I knew my dad was disappointed so I picked it up and went training and it picked up. I made great friends at all the clubs, it was just me, I knew football was not for me. Tim reached out to me and tried to get me back, he was good to me but it was a tough three years in that bubble I had," he adds.​
So even in moving to Drogheda at the start of this year, he was shrouded in doubt. He played and helped keep a clean sheet on his debut (against Shelbourne) but a hamstring injury sustained in his second game, at home to Shamrock Rovers, was really the end. Not the injury itself but how he handed it. He admits to being "devastated" when the specialist said he didn't need surgery and that he could resume playing with injections. "I came out of that [surgeon's] room and said to my mam, I'd have loved to get the surgery so I could miss the season, I just didn't want to go back. I feel bad saying that now but that's the truth, I just didn't want to go back to football. I wanted the operation so I would be ruled out for the season."
Curtis reached out to those in the club. In particular, he credits Drogheda manager Kevin Doherty, captain Gary Deegan and club chaplain Liam McGrath for listening and not judging, or forcing him to come back. Girlfriend Holly, a relatively new presence in his life, also saw things others missed.
"She was with me the night of Malone Cup game, when all those messages were telling me how great I was and I didn't care," he says. "She saw all of that so she told me it was ok to let people know I wasn't feeling great, she sat with me in my bedroom and just said, it's ok to not be ok."
His Instagram post confirmed he was done with football and with the news out he could breathe a sigh of relief, while the support of Shels boss Damien Duff, who mentioned him in a post-match interview "took my breath away, he didn't have to do that".
He admits that being constantly compared to sibling, St Pat's star Sam, was one issue. "If I was out in public, people, St Pat's fans, would often ask me about Sam, not about me. That killed me. I was never jealous, I was always supportive as I saw how much work he put into where he is, he is so dedicated – more so than I ever was – and he will have a brilliant career. But it was hard," he says.
"And for years I did compare myself to Evan. A lot of lads I played with are in England so when they were getting moves away I did compare myself to them. It's only the last few weeks where I have learned more about myself that I know I don't need to compare myself to them. I am delighted for them all, Evan has done so well and I'm still close to a lot of those lads I played with at schoolboy level who are in England now, but I stopped making the comparisons."
Now, almost two weeks on from going public, he's at ease in speaking about it. "I could come back but I feel this is me done with football. I do want to get into the counselling. I feel there should be more help, to me there should be a counselling session, one on one, with every player, at least once a week. The mental well-being of a player affects their performance, their attitude, everything, so every player should have access to that.
"There are a lot of athletes out there struggling and we need to talk about it more . . . I wanted people to know that I was playing at a high level in Ireland, but I wasn't happy doing it, and that it's ok to be your own person, to do what you want to do, not what everyone else wants you to do and that it's ok to not be ok, that you are not weak if you ask for help."