Fahey can show O'Neill he's at home at top level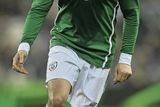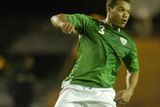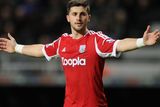 TEN days ago, the prospect of Martin O'Neill capping a League of Ireland player in 2014 wasn't even on the agenda. The Derry man is opposed to the concept of throwing around caps like confetti or veering into tokenistic territory by heading down the Joey Lapira road and awarding recognition for the sake of a PR boost, so it's safe to assume that he will pick his squads on merit.
His stated intention to attend Airtricity League games was built around the belief he might spot a player for the long-term notebook.
Then came the announcement of Keith Fahey's return to St Patrick's Athletic -- a development that is sure to add a little present tense to O'Neill's observations on the home front when he next faces the cameras.
Fahey's decision to link up again with the champions is a fascinating development which means that next season's Airtricity League will have a tried and trusted recent Irish international on show every weekend.
Now, it must be stressed that the player himself has put it on record that an international comeback is the furthest thing from his mind after the rotten run of bad luck that led to his release from Birmingham.
Pragmatically, he has acknowledged that it's unlikely he will enter O'Neill's plans, and he's probably correct.
But it's not exactly a ludicrous proposition either. We are talking about a serious footballer who, just 14 months ago, started a World Cup qualifier against Germany in Dublin.
Predictably, there have been plenty of ignorant and incredulous reactions to Fahey's decision, mostly from people with entrenched views who forget that footballers are actually humans with families and friends who sometimes crave a bit of security in a fickle profession. There are enough tales out there of how tough it can be in England once you drop a level below the glamour.
Fahey, who turns 31 next month, has a toe problem which may not fully heal until February.
His best UK option then would be a short-term contract until the summer, with no guarantees, and if it's in a city where he has no ties it means a solitary existence in a hotel or apartment for a couple of months before going through the same uncertainty at the end of the season. It's hardly living the dream.
For a self-confessed home-bird, the chance to get back on track with a club he loves, in a year where they will have a stab at the Champions League qualifiers, is a far more appealing option than another stint in limbo.
SUDDEN
Yes, it's a sudden drop from being a planned member of the Euro 2012 squad, but there's an obvious logic to his thought process, even if he has accepted that it significantly lengthens his odds of figuring in the O'Neill/Keane era.
Ironically enough, Fahey left Inchicore for Birmingham after a season (2008) where there was a stronger case to be made for domestic performers getting a look-in.
During the Steve Staunton era, there were players capped who were no better, and in some cases considerably worse, than a number of operators involved at the right end of the strong league that existed back then.
Indeed, the speed at which Fahey adjusted to life at the top end of the Championship, quickly ascending to Premier League level within a year, paid a compliment to his previous environment.
The drop in standard brought about by the recession, a return to a primarily part-time league and cost-cutting means that the better players leaving the league today face a bigger jump to make an impact in the upper echelons of the English game.
They're not encountering enough high-calibre opposition on a regular basis, which means that the intensity is miles off what they face week-to-week across the water.
Stephen McLaughlin, who showed immense promise at Derry, has taken a while to adjust to life at Nottingham Forest. Chris Forrester, a talented midfielder who definitely has the ability to succeed in England, was told by League One's Bristol City that he wasn't physically strong enough. He will play alongside Fahey next year as he waits for his turn.
So, while it's nigh-on impossible to construct a credible argument for an emerging Irish-based player figuring in O'Neill's plans until he makes an impact elsewhere, Fahey is a unique case.
He has already demonstrated his suitability for the international game -- he has the technical skills and the football brain to pick a pass and keep possession when faced with elite opposition. The Dubliner has been there and done it. There are certain skills that footballers never lose.
Take Robbie Keane. He remains Ireland's most reliable striker while operating at a lower standard than his Premier League rivals for the shirt.
As Giovanni Trapattoni pointed out, players of a certain quality never forget what to do in a particular situation. Once they're physically fit, they can draw on those qualities. Of course, Keane's goalscoring gift is different to the brief of a central midfielder, yet the general principle is worth mulling over.
After an injury-ravaged run which went further downhill after his enforced withdrawal from the Euros, the natural concern with Fahey is that he might never regain the old sparkle.
Still, should he put a run of games together and begin to resemble his former self, then O'Neill will have a legitimate reason to pop down to the Camac on a Friday night.
If the Tallaght man was a specialised left-back with the same background, he would have shorter odds of earning an invite back to the team base at Portmarnock.
A massive obstacle is the fact that Ireland are suddenly quite well stocked in central midfield. James McCarthy and a fully-fit Darron Gibson are quality options, and Glenn Whelan is still trusted at the highest level.
His Stoke team-mate, Marc Wilson, is also a competent alternative in that department, while David Meyler is sure to come into contention following his run in the Hull side.
BUILD
Jeff Hendrick is arguably a better player than Meyler and his profile will build if Derby's promotion charge succeeds.
It's crazy to suggest that Fahey could get the nod over a current Premier League option or a rising star like Hendrick but, come the summer, when there is bound to be withdrawals from an end-of-season gathering, it's plausible that his name will be thrown into the mix once he's lining out regularly.
Paul Green filled in efficiently in the November draw with Poland, yet he hasn't played for Leeds since October 5. If Fahey can reach 100pc fitness, then he could argue his case over a Championship reserve lacking in practice.
There are other candidates in the Championship and League One but, with 16 caps to his name and considerable Premier League experience, Fahey's current place of employment should not discount him from the standby list.
International football frequently throws up the same scenarios. It's certain that, at some stage in the year, O'Neill will be faced with an injury crisis, an occupational hazard that every Irish boss has to encounter.
Last-minute SOS calls are part of the gig. Unlike his predecessors, however, he will have an option just down the road who knows exactly what's required.
Sad fall from grace for former Ireland hopeful
The case of Lewis Emanuel has delivered another sad reminder of how players whose dreams of fame are dashed can struggle in the real world.
Last week, the Bradford-born 30-year-old was jailed for eight years after acting as getaway driver in a Post Office robbery.
The former Luton defender, was capped by Ireland at 'B' level in a scoreless draw with Scotland in 2006.
He was selected at left-back for that Dalymount Park encounter, with Darron Gibson and Darren Randolph the only members of the starting XI who are likely to be part of Martin O'Neill's Euro 2016 qualifying squad.
The rest have veered in different directions. Alex Bruce is now a Northern Ireland international, Joe Gamble is in Brunei, while Alan O'Brien was last spotted lining out with Hungerford Town. Yes, that Hungerford Town.
Congrats if you can name the entire team and a fairly promising substitutes bench from memory.
Here's the solution: Darren Randolph, Kevin Foley, Alex Bruce (Joe O'Cearuill 52), Paddy McCarthy, Lewis Emanuel; Joe Gamble, Stephen McPhail, Darron Gibson (Anthony Stokes 52), Alan O'Brien (Stephen Hunt 44); Andy Keogh (Shane Long 78), Roy O'Donovan (Lee Frecklington 52).
Time for bigger clubs to show if they rate Long
The January transfer window is almost upon us so expect the names of David Forde, Aiden McGeady and Shane Long to figure prominently in your newspapers over the coming weeks.
Long (right) has publicly stated he is happy at the Hawthorns although, crucially, that was before Steve Clarke's departure.
Tottenham have again been linked with a move for the Tipperary-born striker , but it must be noted that a summer of frenzied transfer speculation culminated with only Hull making a firm bid.
If the bigger clubs linked with the Irish striker genuinely rate him, it's about time they actually followed up with a bid.