Alex Ferguson's wine collection makes €2.7m at auction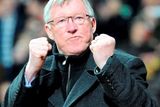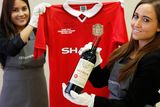 Alex Ferguson has sold off part of his wine collection for more than £2.2(€2.7m)million at auction.
The wines were offered at a sale in Hong Kong in the first of three auctions and fetched a sale total of £2,269,065.
Further sales will take place in London on June 5 and online from June 9 to 23 and Christie's estimated that the three were expected to raise a total of more than £3million.
A total of 257 lots were offered and 229 lots were sold, the auction house said. It was not able to confirm the number of bottles sold.
The collection on sale on Saturday featured many fine and rare wines including six bottles of Romanee-Conti Grand Cru of 1999 vintage, the year Ferguson won the Champions League with Manchester United.
This lot was expected to be sold with a team shirt signed by the Scot.
Ferguson said: "I am pleased to be working with Christie's to share one of my life's pleasures. My interest in wine began during a scouting trip in France and, over time, my enjoyment of discovery and collecting grew.
"The importance of collecting wine was that it served as a distraction and gave me a balance in my life that helped me in dealing with the intensity and demands required of me as the manager of Manchester United.
"In retirement, I now have the time to visit the places and people that will feed my passion, so I felt it made sense to release a large number of the wines I had collected over the years. I hope many will enjoy exploring my collection."
David Elswood, head of wine at Christie's, said: "While Sir Alex Ferguson's reputation and standing in football is renowned the world over, we are thrilled at Christie's to be able to showcase his exceptional taste in fine wine.
"This collection includes a roll-call of impressive wines, including one of the most comprehensive groups of Domaine de la Romanee-Conti that we have ever offered at auction.
"It is remarkable to see that Sir Alex's talent of picking quality players for the pitch also extends to picking sensational wines for the cellar."