Tony Ward: It's a difficult call but risking Furlong could backfire badly for Ireland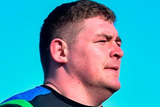 Much has been made of Scotland's away form - or, more accurately, the lack of same. It is fair motivation for a proud rugby-playing nation with a professional game on the rise. The sport needs Scottish rugby to return to its former glory as a competitive force on the global stage.
And signs are that under a bold and exceptionally astute head coach it is happening. Mention too of Dan McFarland and his ever-growing influence since leaving Connacht to join up with Gregor Townsend at Glasgow and now with the Scottish national side.
What we witnessed in the Calcutta Cup match, particularly in the opening half, at Murrayfield was a complete team performance where the undeniably talented individual components equalled the sum of the parts. Save for the final quarter against the Welsh on the same day, we weren't too shabby ourselves.
Piece all that together and what we have now is two beautiful rugby minds fronting up. Townsend v Joe Schmidt and with little psychological nastiness, a la Warren Gatland or Eddie Jones, in the build-up. It won't quite make for the beautiful game given the enormity of the outcome for both sides, but we'll handle that.
A win for Scotland means, with the Italians in the final game, a possible first Six Nations title is on the cards. An Irish win in what is effectively a home semi-final and then it's on to Twickenham for the mother and father of all Anglo-Irish battles. It freaks me even mentioning that possible scenario as this is a massive battle for both Celtic nations in itself.
Read more here:
While they didn't quite flood the breakdown against the cagey English rugby league-style defending, the Scots did commit more to the tackle area aided and abetted by Nigel Owens' ongoing insistence on open competition in that key area. Either way, in terms of crucial turnovers at critical times, the Scottish back-row, and especially skipper John Barclay (the last of the 'Killer B's still standing), was excellent.
Much will be made of the Johnny Sexton/Finn Russell head-to-head in the coming days but it is difficult to look beyond the Barclay/Dan Leavy clash as the most likely key to the ultimate outcome (depending on conditions). Leavy may be a relative rookie but, much like the master that was Richie McCaw, he is growing in savvy all the time in an area where impostors fear to tread.
We will look at this again in greater detail later in the week. By then both teams will have been announced with greatest interest focusing on how Schmidt manages his walking wounded in the interim. Like any coach at any level, he wants to field what he perceives to be his strongest line-up at this point in time.
To that end, were the three Lions forced out through injury in the campaign so far fit and firing, it is most likely that Robbie Henshaw, Tadhg Furlong and Iain Henderson would replace Chris Farrell (were he still available), Andrew Porter and Devin Toner respectively. James Ryan has now established a second-row place and will be picked accordingly and I fully support that. If you're good enough you're old enough.
The head coach has extended the 'must train full on' deadline to this morning but from the outside looking in I would worry greatly about Furlong, irrespective of how he trains in Carton House, because of the nature of the injury. Schmidt selects on a horses-for-courses basis and nobody can argue with that given that it is the chosen 23 and management alone who know the plan of action.
That said, the 'ain't broke don't fix it' mantra might also have a relevance. Weighing all things up and with both Henshaw and Farrell ruled out long term, then Garry Ringrose should return. He is short on game-time but top-heavy on rugby sense as well as offering out-and-out pace down that 13 channel.
Judging by the head coach's comments, Henderson should be fit to return and will start alongside Ryan with Devin Toner providing the more complete cover package ahead of Quinn Roux's scrummaging off the bench.
As regards tighthead, I would allow Furlong more time to recover and leave Andrew Porter in situ and John Ryan again in reserve. You can only fully test a damaged hamstring in the white heat of battle and for the New Ross man to pull up lame would damage the psychological advantage even more than including him in the first place. A risk of necessity back in the John Hayes days but not now.
I would again start Cian Healy at loose with Jack McGrath in reserve and part of a replacement bench with changes at lock (Toner for Roux) and utility back (Jordan Larmour for Fergus McFadden). I still have concerns about Joey Carbery being called in early as a straight swap for Sexton but Larmour can cover both wings, outside centre and full-back with relative ease.