Hugo Keenan: I felt for Freddie Steward after that red card, his high challenge wasn't reckless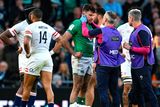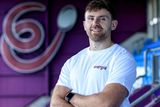 After everyone else has had their say on Freddie Steward's controversial red card during Ireland's Grand Slam-clinching win over England last Saturday, it was only right that the man who was on the receiving end of the shuddering collision gave his take .
As one of the nicest fellas in Irish rugby, you would have got long odds on Hugo Keenan 'sticking the boot in' on Steward, even after his opposite number left him with a head injury that ended his game, but nevertheless, it was telling to hear the Ireland full-back's side of the story.
Just hours after it was confirmed that Steward's red card was rescinded, with the disciplinary committee of the view that he should have been shown a yellow rather than sent off, Keenan gave his thoughts on the matter
"It's probably fair enough, isn't it?" Keenan reasoned.
"It's up to the citing commissioners and the refs to make those decisions, but it was a bit of an accident, wasn't it? He was very apologetic nearly straight away after and then after on the pitch as well.
"As a fellow full-back, I feel for him in those positions. I think it was just one of those sort of rugby incidents, it's not like it was a reckless high challenge or anything like that.
"It was a weird incident. You never really see it. They're just trying to eradicate any contact with the head, and it's obviously an important issue to get right but it's probably more so for the high tackles or dangerous clear-outs.
"It's a tough one to know, so you just have to trust the higher powers and refs and citing commissioners to do their job the best they can, and make the best call they can."
Keenan was happy to accept Steward's apology, which again, comes as no surprise, as there seems to be an acceptance from plenty of people within the game that the England full-back should not have been given his marching orders.
"I caught him on the pitch and he apologised. I accepted it completely and we had a little chat," Keenan continued.
"He's a lovely lad in fairness. He's a very big boy, you don't realise until you're on the pitch, about six foot seven I'd say, and 120 kilos.
"He's probably nearly the biggest player on the pitch, so it probably didn't help his cause did it? Putting me to shame with my mere height and weight!"
Thankfully, the severity of the head knock didn't detract from Keenan (26) being able to enjoy the occasion, although he would have much preferred to have been able to see out the game, and maintain his run of having featured in every minute of Ireland's successful Six Nations campaign.
"I remember it all," Keenan said. "It was a good whack but I still knew exactly where I was, what the score was, everything about the game. So it was a pretty close call. I just failed the HIA (head injury assessment). I think with the independent doctor, I was a small bit down on one of the tests, so between that and the actual video evidence, you just have to trust the advice of the doctors.
"I was obviously mad keen to get back out there and very disappointed not to be able to because I certainly don't like watching the games from the sideline.
"Jeez, the stress levels and the anxiety, oh God, I'm not used to it and I don't want to get used to it. But thankfully, the lads stepped up and were brilliant. Jimmy (O'Brien) did a great job and the whole one to 23 were brilliant."
Such has been his meteoric rise since making his Ireland debut in 2020, Keenan has barely had time to reflect on how far he has come.
"I suppose I've been privileged to be involved in some special games and series and the weekend was definitely one of the highlights," he said. "I think I've set out a few goals, that was definitely one of them but there's also more things down the line that are going to keep me motivated."
After a few days celebrating with his Ireland team-mates, Keenan was back in Leinster yesterday, although he wasn't able to train as he continues to work his way through the return-to-play protocols. He is, however, hopeful of being passed fit for next week's Champions Cup clash with Ulster at the Aviva Stadium.
"Yeah, that's the plan," Keenan, who has been nominated for Six Nations player of the championship, added.
"Hopefully (I will be) back training next week and all going well, be all good for Ulster."