Andy Farrell urges his Ireland players not to fall into physicality 'trap'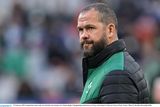 A HIT-OUT against the Ireland U-20s was never going to provide a true physical test, but the competitive edge in yesterday's training session at least allowed Andy Farrell's side to implement some of the technical tweaks they have focused on in light of last weekend's defeat in France.
It will come as no surprise to anyone that the breakdown was top of the priority list as Farrell and his coaching staff went about figuring out why France had such dominance.
To the casual observer, the sheer size and power of the French pack made it impossible for Ireland to cope with the pressure around the ruck, as Farrell's men struggled to gain a foothold on the back of such slow ball. However, in Farrell's mind, there is far more to it than that, as he looks to ensure Ireland are able to go toe-to-toe with the most powerful teams.
"It's a trap," Farrell insisted. "I've seen Irish teams in the past fall into this trap of 'they lost the physical battle' and the next game, the sleeves are rolled up and the performance is worse because there is a reason why teams are physical or not.
"There were elements of that game where we were unbelievably physical. It's because of our know-how and accuracy. There is a lot of fuel that has to go into being able to be physical and one of the main aspects of that is being connected, working well with one another and making sure we're not doing things on our own.
"The minute it becomes going off on a tangent, 'I'll do it, I'll roll my sleeves up' then the opposition are allowed to dominate you.
"There's a bit of learning around that space for us because it was more of an understanding about how physicality works; you have to earn the right to be physical and that's something we have to learn."
It will be a while before Ireland face another test as brutal, and while England will pose a serious threat in Twickenham next month, the French pack is currently on another level.
Ireland will never have the power athletes to match the likes of France or South Africa, which is why Farrell hired Paul O'Connell to put a greater emphasis on the breakdown.
"It obviously depends on how your team is made up," the Ireland boss explained. "If we've all got 135kg blokes, just wind them up and let them go, but we've not got that so we've got to be a little bit smarter.
"I thought at times we reverted a little bit back to type, of 18 months ago, or back even a little bit further. Sometimes that comes from a little bit of pressure from the opposition. Of course we've got to be better than that because there were opportunities for us to be in sync and be ourselves and play to the space and we didn't see that sometimes because of some of our inaccuracies.
"There certainly was a lack of urgency, a lack of winning the race to the breakdown. Sometimes inaccuracies in what we were looking for. Sometimes there was an element of somebody there to target and take them out of the game and we missed those opportunities.
"It's something that we never thought was going to come into our game because we do breakdown work every day and it's something that we've improved a lot. But the review of that will keep us sharp."
Johnny Sexton (hamstring) is on track to be fit for Italy next weekend. It will then be Ireland's turn to dominate up front, yet Farrell is mindful of the bigger picture as he looks to strike the right balance between blooding younger players and building momentum.
"There's all sorts of things you need to bring into contention," Farrell said. "It's game-time, it's opportunity, it's trying to predict what our team will look like in two or three weeks' time etc.
"There are all sorts of different permutations and it's a tricky one around the fallow weeks because game-time is pretty important.
"Some guys have not played too much, some have been sent back (to their provinces), but there are others who haven't played too much, do they need a game? What's it going to look like if they don't? There are many moving parts we need to assess."
After a condensed squad of 23 players were put through their paces over the last two days, Ireland will soon return to their full complement ahead of Sunday's visit of Italy.
For Farrell, it's about ensuring Ireland remain in the hunt and hope France slip up somewhere along the way.
"I've never made any secret of the fact that we want to win every title where there is something to play for. That doesn't change and I still think we're in the race for this competition."