Ronan O'Gara recalls 'phenomenal' Richie McCaw being thrown around like a rag doll by Denis Leamy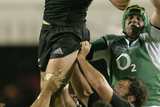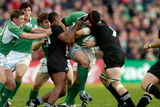 Former Ireland international Ronan O'Gara has paid tribute to Richie McCaw and Dan Carter ahead of the World Cup Final this weekend and says their loss will only be truly appreciated when they retire.
The All Blacks will face old foes Australia in Saturday's decider at Twickenham where they will be aiming to retain the trophy they won on home soil four years ago.
McCaw was coy when asked by reporters today if the clash with the Wallabies will be his last before he hangs up his boots.
"I haven't announced anything really," he said. "I've purposely not got into that because I didn't want to get all hung up on what could be."
Carter, Ma'a Nonu, Conrad Smith and Keven Mealamu have already stated it will be their All Blacks swansong and speaking on 2FM's Game On programme tonight, the Racing Metro coach paid tribute to the team captain and Carter in particular.
"For them to do what they have been doing over a 10-12 year period is phenomenal, especially in that team," he said.
"I think by all accounts he is a very humble guy, very quiet and I think he just leads by example. I don't think he speaks too frequently, but in terms of standards and preparation, that's where he excels."
"He takes the law to the limit and every player needs to do that, because we know the difference between winning and losing is hugely marginal and he tests every referee and gets he gets the benefit of the doubt because of what he has done in the past."
O'Gara played the All Blacks on 13 occasions and while he failed to be part of the first Ireland team to claim a win over the Kiwis, he does have some fond memories of running the aristocrats of the game close on a number of occasions.
One particular game involving McCaw in Auckland stands out for Ireland's record points scorer.
"I played against him [McCaw] a lot and never got the better of him. We had them rattled plenty of times. I remember one game in particular Denis Leamy rag-dolled him in Eden Park on a number of occasions.
"It was the same with Carter. In terms of how good these guys are, it will only be when they finish that you realise the hole these guys left. The All Blacks machine will keep rolling."