CJ Stander backs Johan Erasmus as Anthony Foley laments 'restrictions'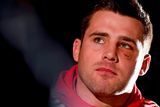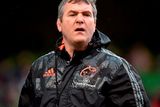 "The name seems to change every week just before I come into the media session," smiles Munster's jovial captain CJ Stander. "Last time it was Paul O'Connell!"
The story may have moved on a tad since then, with the name of Stander's South African counterpart Johan Erasmus, emerging as the most concrete applicant for the newly created director of rugby post.
Yet there have been other names mentioned, from White to Lancaster and Kidney to Blackadder.
It is not yet reached the stage where Baldrick has entered the fray but, for certain, flagging Munster certainly need more than merely a cunning plan to begin the task of re-asserting their former eminence.
Current head coach Anthony Foley reiterated the manifold issues that serve as obvious stumbling blocks, such as player identification, finance, recruitment, finance, the slow decline of the AIL.
Oh, and did we mention finance?
Then again, these issues were always lurking in the background even when Munster ruled Europe a decade ago - "winning silverware can cover a multitude," noted Foley darkly, but correctly, yesterday.
And so, while the calibre of player obviously pales in comparison with those 2006 and 2008 outfits, it becomes more important than ever to not only have the right people in place but doing the right job.
Foley wasn't allowed to do that until now, spreading himself too thin while dissipating his best traits; a new man can help take a load off and, while it is hoped the fresh help can reinvigorate a fitful recruitment policy, the introduction of a new voice can only help.
Especially a voice that can contradict, cajole and contend all at once.
"I'd like a fella that has his own opinion, backs his own opinion and listens to others," says Foley, when asked about what kind of person he would like to work with. "I think that's always good.
"You have to have a challenging environment, where you get challenged every week. It's about not being overly sensitive, because everything changes."
Cynics will argue that the last person to present such a challenging coaching environment, Rob Penney, was effectively coursed out of town; many of the current players will admit that they weren't ready for the type of cultural revolution already instigated here in provincial rugby by Joe Schmidt and Pat Lam.
According to Stander, Erasmus will offer something similar to Penney but, Munster hope, delivered differently.
A new approach to how the game is played is certainly what Munster need - whether it is what they want could be an entirely different matter.
"Munster have always had a certain style and if the new guy can mix in a different style, that may get results," offers Stander. "But when you make a decision you need to stick with it. You can't chop and change.
"And you need to play a style that fits your players, if you don't do that, it will be difficult. But you need to stick with it. People think it may not work now but if we transfer from training to the pitch, it will work.
"I know Johan, yeah, I worked with him a few times. He's a good guy, he has played for the Springboks. He is a good coach, he will bring something different whatever happens.
"He worked with the Cheetahs, he will bring a type of game that is a bit more open. He has always got something up his sleeve, so it will be interesting to see what happens if he signs and what he can bring."
Munster may not have been down this particular road before but they have started a similar journey in the recent past; the Penney experience ended up being a curate's egg affair and, arguably, handicapped them sufficiently enough to end up being pretty much back where they started.
And many of the same obstacles remain.
"The European rugby landscape has changed with money," says Foley. "Recruitment is massive. You have to recruit, we've obviously got limited positions that we can recruit in and you need to be all over that,.
"We've been lucky and unlucky in some respects in our recruitment. Going forward, you need to look at where the next players come from. The other side of it is because you're so restricted in your academy structure, your identification of underage players needs to be through the roof because you need to look internally to replace and build your squads.
Dwindled
"Then you look at where most of the current crop of elder players would have come from is in the AIL. . . the AIL has dwindled, particularly in the last few years and particularly in around some of the Munster clubs. . . you have that to challenge where do your next crop of up and coming players ply their trade and where do they get their experience from?
"There's a lot of things that a hands-on coach can't really affect. Hopefully, somebody can come in and have a different view on it. Sometimes what you know is what your environment has been so maybe there's another way of doing the exact same thing."
Munster need a quick fix but the mammoth nature of the task facing the organisation renders a quick fix nigh on impossible.
Those lucrative currencies in sport, time and patience, are not always in vast supply.
"If you're going to compete with teams that can buy whoever they want," adds Foley, "that aren't restricted by contracts or foreign players that they can play on the pitch, then you need to be either very lucky or damn good at your job."
Whoever prompts the 'smart boy wanted' poster to be taken down from the Thomond Park window will have his work cut out, it seems.