Jonny Sexton 'in training ground bust up' with giant lock Juandre Kruger
Former Leinster star said to be considering new deal with Racing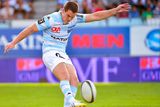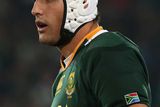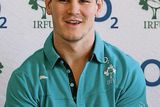 Johnny Sexton was embroiled in a training ground bust-up with Racing Metro team-mate South African lock Juandre Kruger in the aftermath of their disappointing final-day defeat to Montpellier.
According to reports in France, the pair clashed after the Montpellier game at the weekend, which left them with a trip to Toulouse on Friday, when they'll play for a place in the Top 14 semi-finals.
Sexton has also revealed that Racing Metro are already keen to open negotiations on extending his contract beyond 2015, but the Ireland fly-half will take his time before deciding on his long-term future.
Sexton (below), who has had a mixed first season in France, has a one-year option on the two-season deal to move to Paris and there is likely to be a clamour for his signature after the 2015 World Cup.
The IRFU would be expected to be in the mix for their first-choice fly-half, whose importance to Joe Schmidt has been clear all season.
TEMPTED
And he indicated that he would be sorely tempted by a move home given he and his wife Laura are expecting their first child this summer.
"They (Racing) are keen to get talking now and I've said, 'let's wait until the end of the season'," Sexton said yesterday.
"It's a family decision now, we've a baby on the way, me and Laura, and it's very much a case of 'let's see how that goes' – having a kid here and not having grandparents, aunties and uncles to look after it.
"We'll just have to see how that goes for the next few months, all being well, touch wood, we'll see what the options are then.
"You don't make decisions based on one game or two games. From a professional point of view there is still a long way to go, there are still some frustrations and days where it's great and you love it – the lifestyle and stuff.
"There are still things you miss from home. I was home last week and you quickly dip back into that routine, remembering the good old days.
"There's a lot of rugby to be played, there's the Argentina tour, so I'll wait until that's over before thinking about it. It's tough not to think about it, though, you do spend a lot of your time thinking about whether you want to go home or stay, but I'll just have to bide my time and see what the options are."
After speculation that the fly-half might be given the summer off, he insisted he wants to link up with Schmidt for the tour of Argentina.
"I'd love to go, yeah," he said. "I missed quite a lot of games last year in the Six Nations. Every cap you get for Ireland is important. It's a massive motivation to play for Ireland every chance you get."
Meanwhile, Ireland internationals Dave Kearney, Jack McGrath and Rhys Ruddock have signed new two-year contracts with Leinster.
The province yesterday confirmed 21 new contracts and the signing of former Ireland underage prop Sean McCarthy, but strangely opted not to include the duration of the deals in their official communique.
The Irish Independent understands that tighthead prop Martin Moore has signed a one-year contract rather than the expected two-year deal, despite interest from England and France, while experienced internationals Eoin Reddan, Gordon D'Arcy and Isaac Boss are believed to have committed themselves until the end of next season.
Michael Bent has signed a new two-year contract, while prospects Jack Conan, Luke McGrath, Tadhg Furlong and Noel Reid have also committed until 2016.
Young centre Colm O'Shea has signed a one-year extension, while Darragh Fanning, Tom Denton, Sam Coghlan-Murray, James Tracy and Aaron Dundon are believed to have signed on for another season.
Jack McGrath, voted Leinster's Players' Player of the Year last Friday, is an example of someone taking his chance when given it.
"It's just (a case of) getting a run of games under your belt," he said of his rise from the fringes to earning the respect of his peers.
"You do get more confident when you become used to the speed and the level, because when you start you're coming from school rugby or club rugby and it's a different level again.
"It sort of pushed me to train over the summer, keep fit and roll into the next season and be ready to take my chance."