'The careers of Leavy and Ryan have just exploded' - Scott Fardy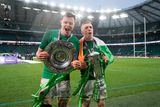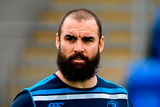 When Leinster announced the signing of Scott Fardy just over a year ago, they were at pains to state the case for his recruitment.
"We have signed Scott as a second-row," said Leo Cullen, presumably allowing some relief to seep through to their then-bulging back-row resources, all of whom were already, or would soon become, Irish internationals.
Ryan. Heaslip. Ruddock. O'Brien, Murphy, Conan, Leavy, Van der Flier.
It made sense, too.
Hayden Triggs and Mike McCarthy were heading for retirement, Quinn Roux and Mark Flanagan had gone, Ross Molony, Mick Kearney and Ian Nagle were struggling to gain traction. Other recruits, such as Kane Douglas, had failed to make any impact.
Leinster's demise in a European semi-final in Clermont would highlight the deep concerns of a lineout, in particular, unfit for purpose.
And so, like, perhaps, other Antipodeans such as Brad Thorn, Nathan Hines and, most spectacularly, Rocky Elsom before, this one could prove to be the missing piece in the jigsaw.
All three, not uncoincidentally, lifted a European title while passing through.
Before last season's kick-off, IRFU head honcho David Nucifora had outlined how he was willing to help Leinster and Cullen in any way he possibly could.
And yet it could transpire that Fardy completes the season playing in a back-row role that the IRFU had a little more than tentatively suggested he should not.
Events, dear boy, events.
Leinster's back-row options have been culled in the mean-time and, all the while, the shooting star that is James Ryan has propelled himself into a winning machine in the 'row'.
As Cullen also said last March, "things change." And how.
Fardy started the quarter-final against Saracens as a six, where he has played the majority of his international rugby.
The truth is that the three-time European-winning captain Cullen, whose early reign was blighted by the inability to locate the type of second-row enforcer that Leinster were missing since he himself retired, has been blindsided by Ryan's extraordinary impact. Fardy, too, has been literally blindsided.
October's Montpellier meeting provided the wider world with the first evidence that Leinster had discovered the solution to the second-row jigsaw puzzle was right under their nose.
Fardy was a late withdrawal for that day's RDS game; Ryan stepped in and, with an admiring Hines watching on from the touchline in Montpellier garb, the Dubliner delivered a stunning display.
A Grand Slam later, he still hasn't lost a game since.
And so, while some supporters might have spied Fardy as the key component to a twin title charge - and his consistency and durability have been key - it is instead the emergence of the young guns which has stolen the show.
"I didn't have any expectations," says the 34-year-old, who reached a World Cup final with Australia during a late-blooming, 39-cap three-year career.
Pressure
"I knew it was a very talented club, then when I got here I learned more about the individuals and how good they are.
"I'm not feeling that pressure, I don't read the news much. I just focus on myself. The guys coming through have been really good.
"It's such a long season and so many different guys have come through. The careers of Dan Leavy and James Ryan have exploded and it's great to see them play so many big games this early in their career."
Almost as important as his grizzled qualities on the field, his mentoring impact off it has helped the younger stars, as Leavy avers.
"He's almost become a player/coach as well, he is so experienced. He's a player coming from a different background and it's interesting to get his views. It might be slightly different to how we do things at Leinster so I've learned a lot from him as well."
And so, instead of passively awaiting Fardy's impact, the younger cohort have taken it upon themselves to transform their own levels.
The rising tide has lifted all boats and, although not directly following in his predecessors' footsteps, the endgame may still be the same.
"If I do my role, tick my boxes, I might be part of a winning team. That's what you play for, winning trophies."