Josh Van der Flier: Competition is driving the standard for Leinster's back-rows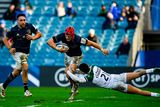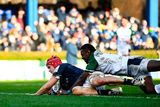 Between them, Leinster's back-row carried the ball for 277 metres on Sunday. According to statistician Russ Petty, that's more than Castres, Ospreys, Scarlets, Harlequins, La Rochelle, Wasps and Connacht managed as teams in their games in the Heineken Champions Cup.
As a combination, Caelan Doris, Josh van der Flier and Jack Conan downed the All Blacks last November and, after a brief pause due to the No 8's injury, they're together as a trio once again.
Back-row balance is one of those hard-to-quantify metrics in rugby, the kind of thing you know when you see it. The blend between the two No 8s Doris and Conan and the hard-working, harder-carrying Van der Flier is getting better by the week.
And the openside flanker, who is enjoying his finest run of form of an impressive career right now, says it is the standard of the competition in the province's squad that is driving their performances.
"They're great, we've got a good balance," Van der Flier said. "We've had a good amount of involvements each and that's important.
"Neither Caelan, Jack nor any of the back-rows in Leinster, there's no selfish players there.
"There's times when someone has to be hitting the rucks, someone has to be keeping the space out wide and I think the lads are good that if someone is tired someone else can do a bit of work, they're great, world-class players.
"It's a privilege to play in the back-row with them. Then you've Rhys (Ruddock) and Max Deegan coming on, you've Will Connors to come back, Scott Penny playing unbelievable and Josh Murphy was incredible against Montpellier so there's a lot of very good back-rows around," added Van der Flier. "That's part of it as well, being pushed along by all the competition there is every day in training."
This week, after contributing to Leinster's biggest win at home to Montpellier, the trio go on the hunt for points again in Bath in their bid to secure the highest possible finish in their Heineken Champions Cup pool.
And Van der Flier is hoping that these European games will help Leinster inject some momentum into their team.
"Definitely, it'll be important to focus on this week but getting a bit of momentum back in the season would be great," he said.
"This will obviously help, when we haven't played for a while you kind of feel like there's no momentum, there's been a lot of training, a lot of hard work so it's good to get off to winning ways again.
"Definitely looking to build momentum again this week.
"We'll look at Bath early in the week and then focus on getting a good performance for ourselves.
"There a top-quality team with a lot of good players, it'll definitely be a challenge but we'll look for a good start, win the game first and see where we go from there.
"We spoke about it before the Montpellier game, going out and attacking at every opportunity.
"You saw it with the quick-taps, trying to score as many points as we can.
"Especially with the way we went 28-0 in the last Montpellier game, it doesn't put us in the best position so we knew we had to get as much points as we can.
"Hopefully this week goes well and every point will be important for placings and that sort of thing. It was pleasing to get that amount of points," concluded Van der Flier.