Investigation launched into alleged Aviva tunnel row involving Johnny Sexton, Ronan O'Gara and others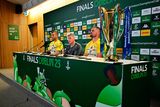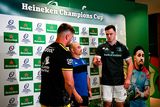 EPCR officials have launched an immediate investigation into an astonishing alleged half-time tunnel bust-up involving several players and coaches from La Rochelle and Leinster.
La Rochelle coach Ronan O'Gara, Leinster assistant coach Sean O'Brien, Leinster club captain Johnny Sexton and La Rochelle's Australian lock Will Skelton were amongst those allegedly involved in the shemozzle.
O'Gara and his Champions Cup winning captain Greg Alldritt ended a tumultuous evening in Dublin by accusing Leinster of "disrespect".
La Rochelle were fuming at a struggle to accommodate requests for families and post-match functions, as well as a perceived lack of respect at the coin toss from Leinster captain James Ryan.
Then there emerged reports of a half-time tunnel bust-up between players and staff from both sides as the temperature ramped up near the referee's room, which is alongside the Leinster dressing-room.
"EPCR is aware of reports of an incident at half-time during the Heineken Champions Cup final at the Aviva Stadium and the tournament organiser will be investigating this as soon as practicable," said a statement from competition organisers.
"We have no further comment at this time."
After the final whistle, injured Leinster club captain Jonathan Sexton was seen approaching the match officials, wagging an admonishing finger in the direction of referee Jaco Peyper.
"There were several moments," said Alldritt, speaking in French during the post-match press conference.
"From the toss, already, we were not respected. He didn't look me in the eye when he shook my hand.
"And that should not be done. There are a lot of values in our club and respect is one of them. Going to 17-7, it was a whole different game. At 23-14, the dynamic was for us."
Later, an interpreter clarified Alldritt's statement, suggesting that the player had been annoyed because Ryan had stared at him.
O'Gara, who has now won the competition in successive seasons as a coach, confirmed his captain's distaste at Ryan's attitude at the pre-match coin toss, when he also had apparently been left waiting by the Leinster captain.
"Yeah, I got word of it down on the pitch. Obviously I have a close relationship with my captain. A bizarre action when they were going for the toss," he said.
"Normally you engage eyes and no eyes were engaged. Greg was disappointed and let down.
"There was a little bit of that in terms of… obviously Leinster were the home team in terms of accommodation for the families, post-match gigs.
"I think we're in Lansdowne, we couldn't get a room in this place.
"It's disappointing on that front but we've got to accept that we're seen as the little team, but that's about to change."
EPCR confirmed Leinster were not in charge of organising the post-match function room and that EPCR had offered La Rochelle a post-match space in the Aviva Stadium but were told it wasn't big enough for their group.
And EPCR confirmed that Aviva Stadium was a neutral venue for the final.