Ben Healy hails influence of 'rule-breaker' Stephen Larkham as Munster out-half goes to next level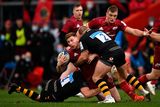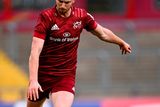 On Sunday, Ben Healy looked like a player ready to take his career to the next level.
At 22, the Munster out-half has been steadily building his confidence on the United Rugby Championship (URC) circuit and against Wasps he displayed all of his talents with a commanding display.
Dominating a Heineken Champions Cup game is the next step on the promising Tipperary native's career ladder and, while he didn't get the nod for the Six Nations this time around, Ireland's call won't be long coming if he can back up his performance.
With Joey Carbery away with Ireland for the next eight weeks, Healy will get more games in the URC as he vies with Jack Crowley for the No 10 slot. Both players are benefiting from working at close quarters with Australia great Stephen Larkham.
"It is exactly what you would imagine it would be," Healy said of working with the 1999 World Cup-winning No 10.
"One of the first things I noticed with Steve early on was that he's not afraid to break the rules in terms of what you are told growing up. Little things, like you are always told to run square or run straight as an out-half for example, whereas he'll tell you that in different situations you need to be able to drift on the pass, you need to be able to cut under the pass. In terms of passing in wet conditions, he's got little cues.
"So just little micro things. All the way up along, everyone is taught certain things, but because he's been there and done that, he knows what works and what doesn't work, and he knows that sometimes you've got to go against the grain.
"That was probably the first thing that struck me, and I was able to learn that pretty quickly – that you need to be able to break the rules.
"On top of that, I can't say enough about him in terms of developing my game. He's been absolutely fantastic. Always open to chat, to ideas, always giving me ideas.
"I'm very grateful for the last few seasons I've had with him."
Healy was forced to watch on as Crowley (21) came into the team to face Castres and did well, but the young man has a wise head on his shoulders and is determined to stay on an even keel about the burgeoning rivalry.
"In terms of my own performance, I'm quite stoic about it," he said.
"Wherever I am that week, I just need to perform. That was last week. It's done, it's gone. No matter how Jack went, it shouldn't really affect my performance against Wasps, if we're being honest about it.
"I knew what I needed to deliver for the team. We definitely did that, but I've just got to take it one week at a time.
"Jack is a phenomenal player, we're definitely pushing each other, but for me it's one week at a time.
"I loved playing out there on Sunday, it was brilliant.
"Selection is out of my control. I'm quite ambitious and that (Ireland) is where I'd like to get to, but I can't control that so I can't really focus on it."