All Blacks star Sonny Bill Williams gives World Cup medal to young boy after security guard wrestled him to the ground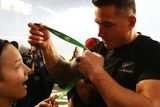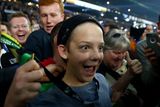 Jack de Menzes
© Independent.co.uk
Sonny Bill Williams is already a hero to many in New Zealand, and adding a second Rugby World Cup to his CV only goes to strengthen that status, but what he did immediately after the final whistle was truly incredible.
The All Blacks centre collected his winners medal alongside his team-mates, only to give it away to a young boy who had been knocked to the ground by security after trying to reach Williams on the field.
Young Charlie Lines was said to have been flattened after trying to reach Williams, the cross-code sensation clearly took a liking to his determination to join in the celebrations as he found him in the stands and gave him his gold winners' medal.
The kind gesture comes after Williams is believed to have offered two tickets to the All Blacks' semi-final victory over South Africa last weekend to Syrian refugees.
"A young fella snuck on the field somehow but when he was coming up to give me a hug, he got smoked by a security guard, full-on tackled him," Williams said afterwards.
"He was only eight and the other fella was a full-on man, so it looked like he would break his ribs or something.
"The moment probably just got the better of him but he was just so excited to get on the field with the All Blacks. I thought I'd make it a night to remember for him, rather than my medal being hanging up at home or something like that."
"It will be hanging around that young guy's neck and he can tell that story for years to come. He might be a future All Black!
"The bonds that we have as brothers in the changing room are the most important thing," added Williams, insisting he wouldn't regret the gesture.
"The medal represents the win, but going in and seeing the smiles on the boys faces, knowing that we've accomplished something no other All Blacks team has done, is pretty special."
Williams needed barely two minutes to make his impact on the game after coming on at half-time for Conrad Smith, with his over-the-head offload releasing Ma'a Nonu to score a try for the defending champions and stretch the lead to 21-3.
(© Independent News Service)