'Olympic potential' - Some of Ireland's top young sports stars honoured at glitzy Herald awards
SOME of the country's top young sports stars have had their achievements recognised at a glitzy awards event - and been encouraged that they have the potential to become big names in their respective fields as they get older.
Holy Child Killiney runner Sarah Healy was among the brightest stars recognised at the The Herald School Sports Awards at the Aviva Stadium earlier this week - one of the 26 recipients for the The Herald's Weekly Sports Awards.
She was presented with her award by RTE rugby pundit Brent Pope, with the transition year student capping off a stellar school year where she claimed her fourth consecutive Leinster Championship in addition to her three All-Ireland Cross Country titles.
Sarah is unbeaten at her age level for three consecutive years now, with Athletics Ireland National Endurance Coach Stephen Maclin proclaiming the Blackrock athlete as one of the brightest young athletes in the country at the moment.
"Sarah has been with us in our national program for two years now and she's done very well," said Maclin.
"She's been performing at a consistently high level and she's managed to win two SIAB Schools International races in a row, which would be very rare for an Irish athlete.
"She's running against the best girls her age from across Ireland, England, Scotland and Wales, and she's winning."
Healy has been training under the guidance of Eoghan Marnell at Blackrock Athletics Club, where she splits her time between cross country, track & field and field hockey.
Maclin claims that Healy is an exceptional performer on both the track and across the terrain, and that she could have a very bright future in whatever path she chooses, be it athletics or cross country, but that she does have the talent to go as far as the Olympics if she's willing to pursue it.
"I think she's only after completing her Junior Cert, she's in transition year, but she will probably be looking at the European Youth Championships in the next couple of years," added Maclin.
"From there you'd look at the European U18 Championships, the U20 Championships, the World Junior Championships and then on to senior level, where she could potentially be looking at the World Championships and even the Olympics.
"There's an awful lot of time between now and then, and there's a lot of variables to consider along the way, but she's definitely one of the brightest talents we have."
Healy wasn't the only track athlete to be recognised for her accomplishments on Tuesday, with Presentation Terenure's Rhasidat Adeleke winning a weekly award for her victories in both the junior 100m and 200m at last April's West Leinster Track and Field Championships.
The talented 15-year-old also won the U16 girls' 200m at the National Juvenile Indoors in a new record time of 24.46 secs – a European U20 qualifying mark.
And for her part in helping Leinster to claim their fifth consecutive U15 Girls Interprovincial soccer crown, Jessica Ziu was another extremely worthy winner of the Sports Star of the Year prize.
Due to her commitments with the Republic of Ireland U17 women's side at the European Championships in the Czech Republic, Ziu, 14, was not present to accept her award. However, Larkin teacher Lisa Doogan was there on her behalf, and she felt it was a great honour for the school as well as Jessica.
"It's a huge achievement. Unfortunately, she can't be here, but when you think of what she's actually doing in Prague at the moment. Only 14 years of age, and she's playing with the U17s," Doogan remarked.
"We work very hard on all our sports in Larkin, and we're so happy after all our hard work that we've gotten to this stage. Especially as a school in inner-city Dublin."
Elsewhere, Belvedere's Max Kearney, St. Michael's Chris Cosgrave, St. Fintan's Jack Aungier and Ardee's Cyr Bakekolo were all awarded for their performances on the rugby pitch, while Athlone's Conor Layng, St. Laurence's Zoe Kelly, Salesian's Aaron Hennessey, Ballinteer's Caitriona McGearty and St Laurence's Clara Mulligan were all recognised for their efforts in soccer.
Full list of winners below:
WEEK 1
CONOR LAYNG (Athlone Community College) – SOCCER
Despite Leinster failing to retain their Under-18 Boys' Inter-Pronvicial title back in October, Conor Layng played a starring role. The Athlone Community College student bagged three goals and set up two others in the representative tournament at the AUL Complex.
With his side needing a response to their opening-day loss, Laying scored one and won a penalty in the 2-0 win over Connacht.
He then bagged a brace and set up the fourth goal in the final-day 4-1 win against Munster.
WEEK 2
LIAM MCGOVERN (Ardscoil Rís) - HURLING
ALTHOUGH there were a number of fine performers on the day, with a grand total of 1-11 to his name, full-forward Liam McGovern exerted a major influence for Ardscoil Rís in their Dublin Schools' Junior 'A' Hurling triumph against Coláiste Eoin on.
He displayed unerring accuracy from placed-balls throughout the contest, and registered an excellent goal with 28 minutes gone. During an extremely tight contest, McGovern always stood up to the mark, and he was a worthy recipient of that week's award.
WEEK 3
HANNAH MCLOUGHLIN (Loreto Foxrock) – HOCKEY
The Loreto Foxrock sweeper was one of the stars of the show for the Leinster Under-18 hockey team as they won back the interprovincial title in Cork. Composed at the back, she controlled a number of the games with her strength in the tackle and her ability to pick out some excellent passes with her vision. Along with Michelle Carey, whose pace from midfield was another key feature, McLoughlin was one of the vital elements in helping Sarah Scott's side end Ulster's run of success.
WEEK 4
BEN WALKER (St Andrew's College) – HOCKEY
"He is a star; the bigger the game, the better he plays," St Andrew's coach Ivan Ovington's simple assessment of midfielder Ben Walker who played a starring role in the Booterstown school's run to the All-Ireland Hockey Championship title last autumn.
Walker scored both goals in the semi-final success, a 2-1 win over Wallace HS, before crowning the tournament with the winning goal in the final against Banbridge Academy with just 90 seconds left on the clock, keeping his cool in a high-pressure environment to flick home and win the title.
WEEK 5
CARAGH SWEENEY (Newbridge College) – EQUESTRIAN
Winning all around her in Week 5 was Caragh Sweeney of Newbridge College as she continued her excellent streak when she finished best overall rider at the Wexford round of the TRI Interschools Equestrian league.
A third year student at Newbridge College, Caragh with her exceptional Connemara pony Steepleview Jack, won the last four Individual competitions and was a worthy winner of our schools sports star award that week.
WEEK 6
JESSICA ZIU (Larkin College) - SOCCER
WHEN Leinster's hopes of claiming a fifth consecutive Under-15 Girls InterProvincial title rested on converting a last-minute penalty in their final game, Jessica Ziu was the only player for the job.
The Larkin College attacker's unique talents meant she was representing her province for the third year running and battling for a third winners medal.
After converting two early spot kicks in the opening-day win against Connacht, Ziu made no mistake to get the goal Leinster needed to win the tournament on goal difference.
WEEK 7
CAMERON MCCORMACK (St Aidan's CBS) BASKETBALL
Under coach Randall Mounts, St Aidan's were indebted to Cameron in their Under 19A Cup quarter-final against Malahide Community School.
St Aidan's had the perfect foil and time and time again his chanelling runs down the court sucked in the opposition, making him the deserved recipient of the award in Week 7.
WEEK 8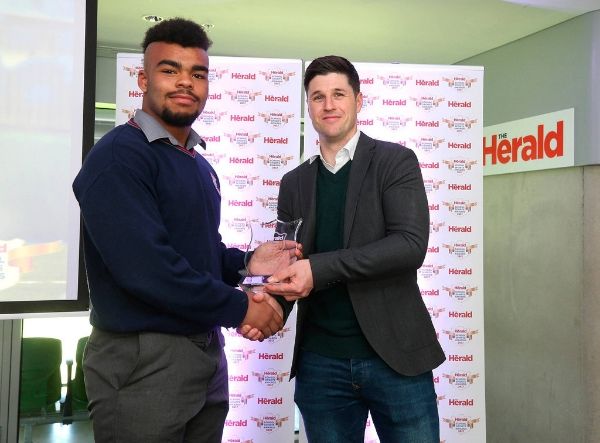 CYR BAKEKOLO (Ardee Community School) – RUGBY
Ardee Community School looked in serious Trouble when they trailed Mount Temple 7-3 in the first half of the McMullen Cup quarter-final back in late November .
Their comeback was driven by the unglamorous work of their loose-head prop Cyr Bakekolo.
The reason Temple moved into the lead in the first place was down to their domination of the breakdown.
This began to dwindle when Bakekolo's impact into the rucks and nuisance factor on the floor turned the tide.
WEEK 9
LEE GANNON (St Aidan's CBS) – GAELIC FOOTBALL
It was another productive afternoon in the Leinster SF 'A' Championship for St Aidan's CBS  in early December, who advanced to the quarter-final stage with a 0-15 to 1-9 success against St Mel's College, Longford.
After contributing 1-3 in their opening round win over Patrician of Newbridge, corner-forward Lee Gannon was once again in exceptional form. In a tight contest, Gannon provided a constant threat, and his outstanding haul of 0-6 makes him a deserving recipient in Week 9.
WEEK 10
ZOE KELLY (St Laurence College) – SOCCER
Despite being only 13, Zoe Kelly is a prolific striker, scoring three goals to help her under 15 team to progress to the quarter-finals of the Minor Cup as they beat Ashbourne CC 6-1 in December. She also scored two goals to assist the Under 17 team to also progress in the Junior Cup. Zoe also scored the equalising goal in the Under 17 Leinster final last season that brought the match to extra-time. She has scored eight goals in three Minor Cup games in this school year and five goals in two Junior Cup games
WEEK 11
AARON HENNESSEY (Salesian College) – SOCCER
THE Salesian College midfielder drove his side on to Leinster Junior Boys' Cup quarter-finals with an all-action display.
Despite playing up a year at Under-17 level, the youngster's pace, aggression and skill was key in his side seizing a crucial 3-0 half-time lead against St Declan's College.
Hennessey's burst down the right and cross set up the opener and he clinically fired home the third goal.
Impressively, however, he surpassed his creative input with an unrivalled work-rate.
WEEK 12
CLAIRE QUINN NEALON (Loreto Crumlin) – BASKETBALL
There were some outstanding candidates for the Herald Sports Star of the Week heading down the final stretch in January's  Under-19B girls' semi-final at the Oblate Hall in Inchicore,
Ciara White was a very strong candidate but in the end it was hard to look past Irish underage star Claire Quinn Nealon. Apart from her rebounding at both ends of the court, she showed a great eye for the basket and picked off some crucial scores in the last quarter to deservedly land the award.
WEEK 13
CAITRÍONA MCGEARTY (Ballinteer Community School) - SOCCER
Despite going into the final carrying a hamstring injury, the attacker dragged her side from behind to claim their first Leinster Senior 'B' Girls' Cup title.
Her pace and power was a crucial outlet for her side as they looked to cancel out Gaelcholáiste Cheartharlach's first-half opener, while her powerful left foot kept the opposing goalkeeper busy.
With only seven minutes, remaining it was McGearty's excellent delivery from a corner that caused enough panic for Eve Colley to equalise.
WEEK 14
GRÁINNE NÍ DHRISCEOIL (Coláiste  Íosagáin) - CAMOGIE
Coláiste Íosagáin had a number of stand-out performers  as they secured the Dublin Schools' Senior 'A' Camogie title at the expense of Our Lady's, Terenure back in January.
However, with two goals to her name overall, the impact of Gráinne Ní Dhrisceoil cannot be underestimated.
The corner-forward found the back of the Our Lady's net in the sixth and 16th minutes, and when you take into account the general threat she posed throughout, she was a more than worthy recipient of the Week 14 award.
WEEK 15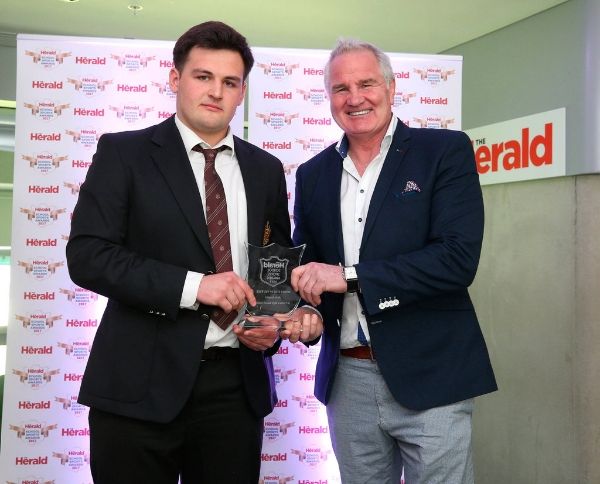 JACK AUNGIER (St Fintan's High School) – RUGBY
The tight-head prop has long been earmarked by Leinster Rugby as a potential professional of the future.
It was easy to see why as Aungier put on a show in St Fintan's heart-breaking loss to Clongowes Wood in the Senior Cup first round .
Rarely has such a big man shown such an array of skills from steaming through tackles to beautifully delivering sympathetic offloads. 
This was topped up by a brilliant try, owing all to his speed and footballing ability.
WEEK 16
SEÁN LOWRY (St Aidan's CBS)- GAELIC FOOTBALL
It was another day to remember for St Aidan's CBS in February, when they claimed their fourth successive Dublin Schools Junior 'A' Football Championship crown.
A strong work ethic was crucial in their most recent success over Coláiste Eoin, but the influence of centre-forward Seán Lowry was notable throughout.
As well as finishing with a scoring tally of 1-2, Lowry had a hand in a number of scores for the Collins Avenue outfit.
WEEK 17
AOIFE WHELAN (Castleknock Community College) - CAMOGIE
IT was a day to remember for Castleknock CC in Gorey in mid-February, as they booked their place in the All-Ireland Senior 'C' Camogie final with victory over Presentation Wexford.
There were a number of fine performances on the day, and skipper Aoife Whelan was highly influential for Castleknock.
She posed a constant threat to the Slaneyside defence in a close-fought encounter, and thanks to her strong leadership qualities (both on and off the field), she was the unanimous pick for the Week 17 award.
WEEK 18
SARAH HEALY (Holy Child Killiney) - ATHLETICS
Sarah Healy of Holy Child Killiney won the Leinster Schools Intermediate Cross Country held in Santry recently, her fourth Leinster Championship in a row.
Sarah has won four Leinster Championships as well as won three All-Ireland Cross Country races. Sarah has never been beaten at her age level since she was a first year. She is an outstanding athlete, who deserves to have her achievements recognised.
WEEK 19
CLARA MULLIGAN (St Laurence College, Loughlinstown) – SOCCER
Clara played a key role in St Laurence College's National Junior Cup success win over Galway's Dominican College on penalties. The game finished one-all after full-time and extra-time, with Clara assisting in her side's goal. She scored the fifth penalty to send the shoot-out to sudden death, which Laurence won 6-5. She scored the crucial third goal in the Leinster semi against the reigning champions Portlaoise and bagged the only goal in the provincial decider. She also got her name on the scoresheet in the national semi-final.
WEEK 20
CORMAC QUINN (Clonkeen College) – GAELIC FOOTBALL
It proved to be a day to remember for Clonkeen College in early March as they claimed the Dublin SF 'B' title with a slender victory over Malahide CS.
The south Dublin side had a number of fine performers on the day, but it was Cormac Quinn who ultimately helped them to squeeze over the line.
The dynamic centre-forward contributed an impressive final tally of 1-6. For his overall display in a tightly-contested affair, he was a worthy recipient of that week's award.
WEEK 21
NIAMH SHAW (Muckross College) – HOCKEY
Muckross Park College won the Leinster Senior Girls' Hockey Cup 2-1 in a tightly contested final in March. It is 20 years since Muckross last won this prestigious cup. Niamh Shaw was central to this win as she has been all season.
She plays at centre-back and dominates the defence with her power, well-timed tackles, distribution and utter calmness from the back.
Niamh scored the opening goal with a strike off a penalty corner and then killed off numerous St Gerard's attacks with her interceptions and tackles.
WEEK 22
MAX KEARNEY (Belvedere College) – RUGBY
The captain with the Rolls Royce engine did this year what he did last year in being a total pest at the breakdown, stifling Blackrock's need for fast ball.
It was appropriate that referee Paul Haycock's final whistle would sound with the openside jammed in under Thomas Clarkson, his body the difference between the ball and the ground. This was just the exclamation mark on a superb performance filled with leadership-by-example to just about edge out the claims of his heroic out-half David Hawkshaw.
WEEK 23
CHRIS COSGRAVE (St Michael's College) – RUGBY
The outside centre has it all. The speed, change of direction and skill do not hide an instinct for knowing where to be and when to strike.  
There were two tries in yesterday's Junior Cup showpiece, the first a moment of genuine talent as he accelerated, chipped and gathered at speed.
The second owed everything to a striker's feel for the right support line.  
This is not to do a disservice to his defensive duties, working in tandem with inside centre Tim Gilsenan to shut down space.
WEEK 24
FINTAN FARRY (St Aidan's CBS) – JUDO
Fintan Farry dominated the young male at -75kg and open categories to win back-to-back gold medals at April's Dublin Schools Spring Judo Championships. The current British Open Champion at -66kg has brought his 'A' game to senior level since his recent move up from junior status, where he won numerous schools titles. The St Aidan's student was duly awarded the senior male Player of the Day for his excellent displays throughout the competition.
WEEK 25
RHASIDAT ADELEKE (Pres Terenure) - ATHLETICS
Rhasidat Adeleke of Presentation Terenure swept to victories  in both the junior 100m and 200m at last April's West Leinster Track and Field Championships – and there's more to come.
Only a week earlier, this talented 15-year-old had won the U16 girls' 200m at the National Juvenile Indoors in a new record time of 24.46 secs – a European U20 qualifying mark. The next major test is the Leinster Schools Championships on Wednesday May 17, where another memorable double is on the cards.
WEEK 26
STEVEN NOLAN (St Aidan's CBS) - SOCCER
THE St Aidan's CBS soccer player capped an incredible personal schools season with another top display in Ireland's Centenary Shield finale.
The match-winner in last month's Leinster Senior Cup final win for St Aidan's, the attacker took part in all four of the Ireland Under-18 Boys School side's games this year.
If his achievements for school and country weren't enough, Nolan also made his senior debut for League of Ireland giants Bohemians earlier in April and has already bagged his first goal.
Online Editors
Follow @IndoSport
Promoted Links