Richard Forristal: Legacy of a flawed hero will endure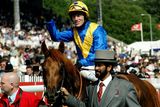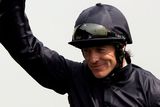 In the end, confirmation that Kieren Fallon's long, illustrious and often tumultuous career has lurched to its conclusion as a result of a battle with depression made sense.
For the outsider looking in, the darkness of the black dog sheds a little light and clarity on a gifted enigma who has flitted from one false dawn to another over the past decade. With every return from another self-inflicted exile, the spectre of salvation loomed.
Invariably, though, the cycle repeated itself. Turmoil and controversy were followed by hope and the prospect of redemption, which in turn were trumped by setbacks and disappointment.
The impression persisted that Fallon couldn't help himself. Revisionism can be a convenient method of colouring uncomfortable truths, but maybe he couldn't.
It is nearly 10 years since Fallon first spoke publicly about depression. Such is the stigma that lingers over the illness, it has hardly been mentioned since, but it never goes away.
Like alcoholism, it is always there demanding to be acknowledged, and Fallon is a compulsive personality with more than enough demons to wrestle already.
However, the instability that attends such a destructive mental illness lends some reason to his nomadic tendencies of late, and the manner in which he has failed to fulfil bookings for seemingly innocuous reasons. Freed of the pressures inherent in a high-profile jockey's existence, Fallon might be able to get on with pro-actively dealing with what had clearly become his Achilles' heel.
Obscurity
The short-lived association with Michael O'Callaghan that plucked him from obscurity and again promised to rekindle that intense focus has sadly proved to be the last chapter in the chequered career of one of Irish sport's most compelling figures, a man who could match Roy Keane as a divisive force.
He could also match Keane for stature, as both men were simply unrelenting beacons of excellence in their pomp. In short, they shared the same ability to enforce their will on their respective sport's grandest stages.
At 51 years of age, Fallon still has a lot of living left to do. In so many ways, he was the heir to Pat Eddery's mantle, and the priority for him and those around him now will be to ensure that he doesn't emulate such a destructive path.
Like Eddery, Fallon is an old-fashioned flawed hero, a quietly spoken and reserved genius possessed of fierce ambition, but with an uncanny knack of drawing trouble on himself. He succeeded Eddery as Henry Cecil's stable jockey in 1997, and their bumping, momentum-filled crouching styles were reassuringly distinctive, an attribute regrettably lost on the modern generation of generically trained flat-backed stylists always looking to deliver in push-button fashion for aesthetic effect.
Fallon's penchant for bringing one with a purposeful run - think Kris Kin in the Derby or Dylan Thomas in the Prix de l'Arc de Triomphe - to mow down its rivals was a joy to behold.
In so many ways, though, he was his own greatest rival. Back in the 1990s, the signs of his tempestuous nature were there in suspensions for misuse of the whip against both horses and jockeys, and he was handed a six-month ban for pulling his colleague Stuart Webster off a horse. He would learn to control his temper, but there has always been an intensity brimming beneath the surface.
From an alcohol dependency to two ruinous suspensions for cocaine usage, to the calamity of his sacking by Cecil amid allegations of an affair with the late Newmarket legend's wife, to the unfounded allegations of race-fixing and what might be perceived as acts of professional betrayal, the son of a Crusheen plasterer lacked a smooth finish.
In a fantastic anecdote that illustrates the yin and yang of Fallon and the straight laced Pat Smullen, David Walsh recently relayed an encounter with Fallon in the aftermath of his colleague's Derby triumph on Harzand. Walsh was probing what made Smullen so good, and Fallon told him - tractors.
"He's the jockey version of Aidan O'Brien," he explained in The Sunday Times. "The person who gives his whole life to the job to the best of his ability. No distractions. Great professionalism. I don't know how they do it. I've had my quirks. Pat has had his tractors."
Nonetheless, for all his quirks, Fallon's legacy will endure. He may have managed to relinquish his position as stable jockey to Cecil, Michael Stoute and Aidan O'Brien in various states of ignominy, but his brilliance earned him each position in the first place. While Fallon was in situ in what were the three biggest jobs in racing at each respective remove, he excelled.
When he succeeded Eddery as champion jockey, he became just the second Irish rider to top the pile in Britain. He would make the title his own until 2003, briefly relinquishing it in 2000 following a Royal Ascot fall that nearly finished him.
Never did he seem more at ease than when hooked up to the drug of daily winners, his addictive nature sated by his healthiest dependency.
More than anywhere else, Fallon was an elemental force of nature at Epsom. Truth be told, the irresistible combinations that he shared with Cecil and Stoute were responsible for three of the worst Derby victors in modern times.
Oath, Kris Kin and North Light came and went at Epsom, and Fallon's unquantifiable role in those famous wins was yesterday evoked by his former peer Johnny Murtagh.
"One of the best rides I've ever seen in the biggest race in the world - the Derby with Kris Kin," Murtagh said of the 2003 Classic. "The best horse didn't win the race, the jockey on the day carried him home; not a brilliant horse, but a brilliant ride."
Murtagh was on the best horse in the race - Alamshar - so that is praise indeed. Such reverence encapsulates the essence of Fallon, a rare, unpolished gem who was more than the sum of his diverse and contradictory parts.
Of course, acknowledging a perceived weakness is familiar territory for Fallon, so the hope now is that he can find a more sustainable equilibrium. Moreover, it is imperative that he does so for the good of his own health, and Murtagh didn't shirk or sugar-coat the issue
"I've heard it all before," he observed of Fallon's acknowledgment of his depression. "He has opened up about different things before but, does he go and get help, or is it just the talk? We all can say we're suffering from this or that, but you have to go and do something about it. Nobody is bulletproof."
At the peak of his powers, there were times when Kieren Fallon did seem bulletproof, and the knowledge that such an iconic figure possesses the same human frailties as the rest of us should serve only to heighten our respect for him. History will be kind to him, and it would be nice to think that life will now be as well.