Inside the mind of a genius - what makes Aidan O'Brien tick
'We're always chasing. We're just hanging in there, because I know what's coming'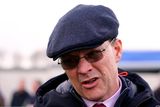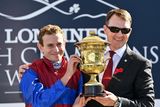 ONE of the best ways to find the perfect work-life balance is to chase a job that doesn't feel like a chore and it's fair to say that Aidan O'Brien relishes every second he spends in Ballydoyle.
"It doesn't really," the world-renowned Flat trainer replies when asked whether the job ever loses any of its excitement. "This is what we love doing every day."
Such devotion to a 300-strong squad of the finest equine thoroughbreds brings all types of responsibilities but hearing him greet the names of 40 different work riders in quick succession is a sight to behold.
From Brett to Jaykumar to Martin to Colm to Georgia to Santosh to Maria, there's a need to know everyone and anyone that walks through the gates of the luxurious south Tipperary yard.
"Sure I suppose I do nothing else every day, this is all I do," O'Brien reasons. "It's a seven-day week and it's every single day. We all work here together the whole time and they're all very important to us.
"I'd touch base usually with every work rider between six and eight times on every lot when I'm here by myself. It's all little things that you feel and you're in constant communication learning about each horse.
"Everyone is giving little bits and thinking about things. It's communication then with everybody, nothing hidden and there's no agenda. It's said as it is, nothing covered, good, bad or indifferent."
O'Brien cruises alongside each lot in his top of the range Land Rover Defender and always has his eyes on the here and now. He doesn't do self-praise, instead lauding others, and is always striving for improvement.
The 53-year-old refuses to stagnate - as can be seen with the spacious new outdoor warm-up area which has music piped in - and he has the attitude of a hungry contender rather than the 25-time Irish champion Flat trainer which he is.
"No, we're always chasing," the Wexford native says. "We're just hanging in there, believe me, because I know what's coming! I know what's there, the minute we get complacent that'll be it.
"We never think back, we always think forward. We don't even think about what's gone, yesterday is gone and that's it. It's about tomorrow always and that's just the way it is."
What's coming behind him is another powerful training yard led by his Kilkenny-based son Joseph - his other son Donnacha is also a burgeoning trainer just 20 minutes away in Ballyroe - but there is little fear of their father being left behind given his attitude.,
"We're always changing, we're always trying to progress, make things sharper, tighter, quicker. And if that stops...you can't get complacent, you always believe that you're behind. So you're always trying to catch up."
It's 30 years since O'Brien took out a training licence and the man responsible for Flat superstars like Galileo, Giant's Causeway and High Chaparral - as well as National Hunt icon Istabraq - has no end in sight.
He certainly appreciates every day as if it is his last, though.
"Every day I get up, I thank God because you're never guaranteed you're going to make the next one and that doesn't matter what age you are, it's the same with everyone. I always say the greatest gift of all for all of us is life so don't take it for granted and appreciate it."
He has plenty to be grateful for heading into the new Flat season with particularly positive mention for Alexandroupolis - a three-year-old Camelot colt which "could be anything" after his Galway maiden success - and the unraced Alabama, a brother of sprinter Sioux Nation.
English 2,000 Guineas hope Auguste Rodin is the apple of his eye at present, though, and the Vertem Futurity Trophy Stakes winner could take all before him this season.
"We were very impressed with him at Doncaster because we nearly didn't run him on the ground. Everything went wrong and he still won," he says of the Epsom Derby favourite.
"He was always very classy from the first time Ryan (Moore) rode him. He's an exceptional mover. He's the type of horse that could start in the Guineas and stretch out to a mile and a quarter or a mile and a half."
Other potential superstars like Little Big Bear and Irish Champion Stakes winner Luxembourg have him rising from his bed each morning at 4.45 with enthusiasm.
He sleeps well but anything more than six or seven hours is a rarity as "the day is very full" and he doesn't even have time for a power nap these days - "I just have to keep going".
Hobbies outside of racing are non-existent apart from the odd bit of sport on the television when he's having his tea in the evening as "you don't get a lot of time to get hooked into anything".
However, daily exercise is imperative and that's a non-negotiable part of his routine.
"I do three quarters of an hour when I get up first thing every morning. I do everything, I do Pilates. I've to keep my back strong. I try to do three quarters of an hour as well some time before I go to bed every day," he says.
"I try to do an hour and a half every day if I can. When you're tired is when you need to exercise most. Your body has to keep going."
It's a fast-paced life he leads with his string regularly excelling in some of the world's richest prizes - like Broome claiming last week's Dubai World Cup in Meydan - but nothing compares to home.
"I love working here every day, that's what I love. If we go racing and we have to do those things then that's the way it is but this is what I love doing every day.
"I'm here 30 years but it only feels like two years to me. my heaven is here with the horses."
He has everything he needs on his doorstep with the floodlit gallops - it feels like you have landed in Dundalk Stadium upon entry early in the morning - affording them them the opportunity to gallop horses at whatever hour is required.
The main gallop features a speedometer to keep track of things while information is always coming his way through a Walkie Talkie. Nothing is left to chance, everything is like military precision.
Even O'Brien's clothing is on point as he sports a long coat like you'd see soccer manager wearing - manufactured by Nike no less - with Blackbeard (the latest Coolmore stallion) written on the front, as well as an accompanying image of the pirate carrying the same name.
O'Brien, much like Willie Mullins, doesn't watch replays of races - "I used to but I don't get time now, the days are not long enough" - and he instead goes with the "gut instinct" of his first impression.
That judgement is shaped by a life in racing where he has accumulated unprecedented success with eight Epsom Derby wins, nine in the Oaks, 10 triumphs in the English 2,000 Guineas and seven in 1,000 Guineas, among numerous others.
However, that doesn't stop the long-time Man United follower from seeking the counsel of others in search of any edge that is going.
"Oh God yeah we would, all the time," he says of picking other people's brains with former Kilkenny hurling boss Brian Cody one that is name checked.
"You'd always be trying to learn from people, absolutely, see if there's something that we could put into our system. There's little things that can make a big difference."
What about feeling pressure given the responsibility he carries with the power of the mighty Coolmore behind him?
"The only pressure I feel is all the people that are working for us that they keep having jobs because the lads (John Magnier and Co) invest an awful lot of money every year," he says.
"It's to keep them having success so that they'll keep investing the money because there's such a spin-off of people with families.
"That's the pressure really and I'm always conscious of that, that everyone has to survive, like us all."
It's that mentality that keeps him hungrier than ever. O'Brien may be the all-conquering champion, but there's no silk pajamas syndrome here.
He continues to graft like someone at the bottom of racing's tree and that thirst for success won't be going away any time soon.