The Leona Maguire interview: 'You have to not get too high with the highs and not get too low with the lows'
"You never know when it's going to be your week, so you just want to be ready to grab it with both hands"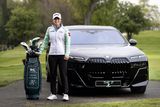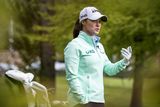 Leona Maguire might not be a four-time Major winner like Rory McIlroy, but the Co Cavan star is still looking to hit top form at this summer's biggest events, and she understands the importance of family for the Holywood star as he looks to bounce back from his Masters disappointment.
The first Irishwoman to win on the LPGA Tour is home for a few weeks to fine-tune her game for a hectic summer run, and she cherishes time with family and close friends as well as her team as she looks to find that perfect life balance that McIlroy admits is the biggest challenge for a top player.
As a psychology graduate from Duke University, Maguire looks after her mental preparation herself with a little extra help from books and podcasts and the occasional chat with Pádraig Harrington, the mental game guru amongst Irish players.
It's impossible for the Ballyconnell star (28) to put herself in McIlroy's shoes, but as a top player, she can certainly understand how difficult it can be to overcome disappointments and keep your game ticking over as the biggest events approach.
"He's in a very different position to me," she says with a grin as she takes a break during a long day of sponsor commitments for BMW and Davy at Grange Golf Club in the foothills of the Dublin mountains.
"He has a lot more resting on his shoulders than I do. It's one of those things you're going from week to week, and when things are going well, it's all very easy and very rosy. But when you're struggling to play as well, it's obviously a lot tougher.
"So I suppose it's nice to have family and friends around you in those situations to keep you going. And I suppose our side is not quite as glamorous as the lads. We're not staying in five-star hotels every week with our chefs and all the rest, flying around in private jets.
"But at the same time, we're very lucky to get to do what we do. And the events are improving all the time. We're getting treated better. They're putting a lot more effort into the whole player experience."
Maguire has yet to go through a major slump in form, and unlike McIlroy, she's trying to win her first Major rather than bridge an eight-and-a-half-year gap between a fourth and a possible fifth.
"I've been pretty lucky throughout my career, I suppose," she says. "Obviously, the first year I missed Q-School and it was definitely a big disappointment, and I had to dust myself off pretty quickly and get on with things. I mean, different people react to different adversities in different ways. But I suppose I've always been fortunate to have good friends and family, and my entire team as well, that have helped me along in the journey, I suppose.
"We're the ones who have the shots, but there are a lot of people behind the scenes that kind of help make our lives a bit easier. It's all a balance, and accepting it's not always easy. Even if you're one of the best players in the world, it's not always going to be going well, so you have to not get too high with the highs and not get too low with the lows."
It's been a solid, if unspectacular, start to 2023 for Maguire, who has crisscrossed the globe already this season, playing events in Florida in the US, Saudi Arabia, Thailand, and Singapore before heading back to America for trips to Arizona, Los Angeles, Texas and then Los Angeles again.
She's racked up two top-10s, three top-25s, and one missed cut in that eight-event run, with her battling 23rd-place finish in the first Major of the season, the Chevron Championship, encouraging for what lies ahead.
"I could have finished better than I eventually did on Sunday, so hopefully that performance will stand to me and in the Majors going forward as well – that patience and knowing how to plot your way around those courses." she says of the Chevron Championship.
Women's professional golf now visits premium venues, and Maguire is excited about the summer ahead with the KPMG Women's PGA at Baltusrol, the US Women's Open at Pebble Beach and the AIG Women's Open at Walton Heath.
"It's been a strange start to the season the way the schedule has fallen, a little stop-start," she explains. "But I've played some good golf. I feel like my game is very close. It's just a case of putting all the pieces together, really, and getting into a bit of a rhythm and a bit more momentum going.
"But it will be a very busy summer, as usual. All the majors are packed very tightly into a few weeks, so it is all geared around them."
She will spend the next week or so at home working with coach Shane O'Grady to hone her approach play, which got out of kilter after they went two months without seeing each other.
She returns to action for the Bank of Hope LPGA Matchplay at Shadow Creek in Las Vegas from May 24-28, then plays the new Mizuho Americas Open (hosted by Michelle Wie) before taking a week off ahead of the Meijer LPGA Classic and the KPMG Women's PGA Championship at Baltusrol.
"There are a lot of great venues this year," she says. "I think that's the exciting thing for us. Shadow Creek for the Matchplay will be a great test. Liberty National should be fantastic as well. The lads play there. And obviously Pebble Beach, Baltrusol, Walton Heath, they're all big venues where we'd have grown up watching the lads.
"I think that one of the more exciting things about our schedule this year is the sort of quality of the courses we're now starting to go to. It's really just coming on in the last few years."
She missed the cut in her last event at Wilshire Country Club in LA – an event likely to be cut from her schedule next year. But she hopes she can tighten her iron play during this down period at home and be ready to take advantage of a hot summer week.
While she is not prioritising one big event over another, the US Women's Open at Pebble Beach is an event she's particularly relishing.
"I've never been to Pebble Beach, and it's one of those places as a golfer you would love to play one round, and we'll be fortunate enough to play a whole week around there," she beams. "So that should be a nice one with the added bonus that (my caddie) Dermot (Byrne) has been there before as well and has that little bit of extra experience."
She's well aware Graeme McDowell won the 2010 US Open there, and as they both live at Lake Nona, she admits she's "picked his brains a little bit".
"You're going to have to play incredibly well, that's for sure," she explains. "It's a major, so you have to do that regardless of the venue. So you want your game as sharp as possible, leading to those."
Peaking for Majors is not an exact science, but Maguire has some idea of what she needs to do.
"A lot comes through experience, figuring out what works and what doesn't work," she says. "So you get confidence in knowing that you are well prepared and well-practised and all of that. So the psychological and preparation aspect is an important part of the game and as you go from season to season, you learn more and more as you go."
As for winning a Major, all she can do is try and get her game in shape and hope she hits form at the right time.
"You never know when it's going to be your week, I suppose," she says. "So you just want to be in the best possible shape when the opportunity arises so that you're ready to grab it with both hands.
"I've a few things to tidy up and work on in the next couple of weeks. But hopefully, Shane and I can figure that out and we'll be good to go."
As for the Solheim Cup in Spain in September, she's convinced it will be another thrilling contest, given the form of both teams.
"They're going to want the 12 best Europeans in form by then, so hopefully I can be one of them by the time September rolls around," she grins.
"A lot of Europeans are playing well. Celine (Boutier) won. Georgia (Hall) nearly won, and the Swedish players are playing very well, but there will be a lot of the core from the last team and many new faces as well, which is always exciting.
"I know the American team will be strong too. Lilia Vu has won twice, including a major and Nelly (Korda) is playing well, so they'll be strong as well. So it'd be like any year, I think, on paper, one team will probably look a bit stronger, but when it comes down to it, both teams will be really competitive."
There's so much to look forward to; she's simply focussing on the here and now and looking to get sharp.