Joe and Katie Donoghue 'putt' their best foot forward for Ireland
Kildare-based father and daughter set for Footgolf World Cup in Orlando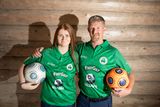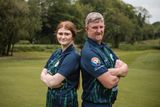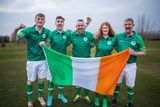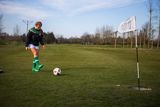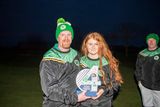 Joe Donoghue and his daughter Katie Donoghue are about to embark on an incredible journey as they represent Ireland at the third Footgolf World Cup in Florida next week.
The talented duo fly to Orlando tomorrow to showcase their skills in an event that will draw teams from all over the world.
Joe is a greenkeeper at Footgolf Kildare and Highfield Golf Club – right on the border between, Offaly, Kildare and Meath – where you have a choice of two courses.
Not only do you have magnificent Highfield Golf Club, you also have a separate footgolf course which is considered the best in the country by a long way.
Having been the joint Irish senior champion last year and a participant in the 2018 World Cup in Morocco, Joe's a tough competitor on the footgolf course and one to look out for in Florida after he shot 17-under par at Footgolf Kildare this week.
"Footgolf is flying there," reports Joe. "Most of the other clubs wouldn't have the proper golf machinery and wouldn't be as fast. But we are regarded as the best in the country. I just shot minus 17 there tonight and nearly had the record. I just fecked up the last couple of holes. I bottled it!"
His daughter Katie (17), a Leaving Certificate student from Oaklands Community College in Edenderry, is a rising star in both footgolf and soccer as she is also a goalkeeper for Enfield Celtic.
As last year's women's Irish champion, Katie has already made a name for herself in Irish footgolf and while her Leaving Certificate is looming, she was determined to take up her spot on the Irish team even if it means landing in Dublin just a few hours before her first exam.
"Katie Donoghue is just a lovely person both on and off the course," said Team Ireland captain and teacher, Ronan Lynagh. "Her commitment is truly inspiring.
"Having Katie playing alongside her Dad, helps to create this great family feel to the whole team. We're incredibly proud of Katie and can't wait to see her excel both in her exams and on the footgolf course. She's a shining example of what it means to chase your dreams while embracing life's challenges head-on."
The Donoghues were also part of the Irish team that emerged victorious in the inaugural Four Nations tournament in Kilkenny in March last year, defeating Scotland in the final on penalty putts.
While Scotland is considered a formidable contender and one of the favourites in the Footgolf World Cup, the Irish team, consisting of 27 players from across the island, is determined to leave their mark on this prestigious competition.
The squad is sponsored by Connemara Coastal Cottages, specialists in self-catering holiday homes, and the Galway company will be able to keep a close eye on the action in Orlando as the Federation of International FootGolf (FIFG) will be live streaming the World Cup on the CTV Sports app FootGolf channel.
The Donohoes are heading for Florida in confident mood and that's no surprise considering the facilities they have at their disposal at Kildare Footgolf.
"We made Highfield a little bit tighter and a bit shorter to accommodate 18 holes of footgolf," explains Joe, who credits the high qualify of Footgolf Kildare to the fact that they are one of the few footgolf courses that is maintained by professional golf machinery."
Footgolf is a mystery to most golfers but the premise is the same – to complete the 18 hole course in the fewest number of strokes possible. Instead of clubs and golf balls, you kick a normal soccer ball with your feet.
"The longest hole would be maybe 200 yards and that would be a par-five," Joe explains. "And the shortest could be 30 yards. We have water on some holes and we even have a fairway down the middle of a forest at our 11th hole.
"We cut it through a forest and left a few trees in the middle and we said we could always take the trees out afterwards. But we left them in and now I call that the ping-pong hole because you have to curve the ball around the trees. If you don't pull off the shot, you can hop off a tree and into the lake. So it's a tricky one."
Footgolfers can use a one-inch rubber tee to tee off but there is no question of just lacing the ball down the fairway as you have to use course management and leave yourself in position to play the next shot.
"The hole is 43 centimetres in diameter," Joe adds "It's roughly the same size as the wheel of a small car and just deep enough for the ball to disappear into."
Football boots are banned at Kildare Footgolf as there is a chance you could stray onto Highfield golf course and damage the playing surface.
"We wear Astro boots or runners," he says. "Anybody who can kick a football can play footgolf and learn."
Placing the ball is one thing but getting it in the hole is another and Joe advises sticking to one style of foot-putting – the sidefooter or the toe poke – to achieve the necessary consistency.
"It's not just a flat green," he says. "There's hills and hollows with water nearby and trees and long grass. The fairways are cut perfectly so there's no actual green, as the fairway is the green as well."
There are no handicaps either as everyone in footgolf plays off scratch, though shots are given and received in friendly games.
As for Katie's Leaving Cert, the Department of Education will have a representative meet Katie at the airport and take her to do her English paper one.
"She is going to do a PLC course next year anyway, so that's her plan," Joe says. "She's pretty good at the footgolf too though she has yet to beat me."
He played on the Irish team in the World Cup in Morocco in 2018, finishing in the top 22, and has high hopes for next week.
"We have individual and team events and I am in the over 45s section," he explains. "You need four people in the team event and we have four for that, which means we won't have any subs. There are two singles matchplay ties and a doubles matchplay.
"Then we have a men's team and a ladies team with team events in those competitions. We have just four ladies and could do with more but we didn't have a lot of ladies qualifying.
"A lot of people don't know what footgolf is but once they come out and try it, they are hooked. Katie is delighted to be going and she's well able to kick a goal.
"She plays in goal for Enfield Celtic but she stopped a few weeks ago to avoid picking up an injury before the World Cup. Even myself, I am being careful and watching where I step.
"It's hard to get away from the golf club because once I finish work greenkeeping, I am out playing golf and footgolf. But the good thing is that I am out in the fresh air.
"We are off on Friday afternoon and really looking forward to practising at the weekend and then getting ready for the World Cup itself next week.
"Monday will be the big day for the individual rounds and it will be televised too on the CTV Sports app FootGolf channel. So we are there for 10 days and hopefully we can enjoy some success and encourage more people to take up the game. We can't wait."