Unbeaten Galway show grit to book Division 1 final spot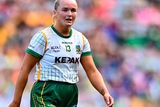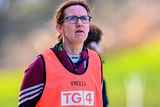 Galway joint-manager Fiona Wynne was thrilled with her players' mindset as their 0-13 to 2-6 win over Mayo sealed a place in the Lidl NFL Division 1 final.
The Tribeswomen will face off against Kerry next weekend in Round 7 before the two counties renew rivalries in the decider at Croke Park on Saturday April 15.
Galway are yet to lose this year and they took a 0-7 to 1-3 lead at half-time in the rain of Castlebar. Tara Needham struck Mayo's first goal early in that half and Rachel Kearns also found the net after the interval but Galway withstood the comeback to go top of the standings.
"It's great to be in a final now with one game left to play," said Wynne. "We knew that it was going to be a difficult task down here playing Mayo. And the intensity of that game and the conditions made it very difficult for us.
"We still have a job of work to do. Cork got four goals against us and Mayo have got two. And we are learning all the time so that's something we can go to again." Mayo only needed a draw from yesterday's fixture to secure their Division 1 status but will now clash with Donegal next weekend with relegation still a possibility.
"For us, the league was all about a learning curve. We've left ourselves open now to the last game with Donegal. That gives us like a championship game next week up in Letterkenny. So, we'll take that," said Mayo manager Michael Moyles.
Reigning champions Meath were hoping to grab a confidence-boosting victory from their clash with Waterford, however they fell to a 1-9 to 2-5 defeat.
Vikki Wall and Emma Duggan both returned to action for the Royals but it was Lauren McGregor who was the match winner for an improving Waterford outfit. "Today proved to us that we are good enough to be here, but we know we have a lot of work to do yet. We are not the finished article, that's the big thing for us. We won't rest on any laurels, we know we have a lot of work to do," said Waterford boss Pat Sullivan.
Meath's poor form continued but their new manager Davy Nelson knows they will improve when they look to defend their TG4 All-Ireland Senior Championship crown.
"Very disappointed with the whole second half. We only scored one point, that won't do. Full marks to Waterford, we had a six-point lead and we are very disappointed," said Nelson.
"After injury troubles, it was great to get Emma Duggan back on the pitch and to get Vikki (Wall) as well. We'll only improve and get stronger but today is very disappointing."