Westmeath in hurling wonderland but Niall Mitchell keen to finish off the job
Retaining Leinster status next on the agenda for Lake County's goalscoring hero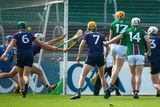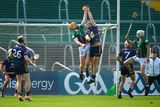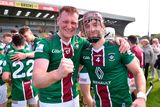 To come on as a substitute and bang in a few goals when a game is done and dusted is one thing, but to do it in your county's hour of need is something entirely different and Niall Mitchell is still trying to get his head around what has just happened.
Westmeath somehow came from 17 points down against red-hot favourites Wexford to produce the most stunning comeback in GAA history, also achieved on away soil, with Mitchell's late double sending the Lake men into dreamland.
Not even the wildest dreamer could have predicted a turnaround of this magnitude and it is Mitchell's best moment in a Westmeath jersey, and one he richly deserves after immense service to the county through thick and thin.
"You can get two goals when you're 10 or 15 points down, but you'll always be that bit away from winning. But to get the two goals and for us to get in the lead and make that comeback, it was really special," Mitchell tells Independent.ie.
​"It is probably the most special moment that I've had in this jersey. It's just unbelievable, I can't really put it into words. I'm speechless and I'd say everyone in Westmeath is too, and I'm sure the Wexford people probably are as well."
The Clonkill ace spent a brief moment in the Westmeath dressing-room at half-time to offer some encouragement to his team-mates – where manager Joe Fortune branded their first-half display as "embarrassing" and threw out the playbook – but it was on the pitch when Mitchell really made his mark.
The visitors were still 11 points in arrears when Mitchell was parachuted into the fray in the 51st minute but the wheel had already started turning via Niall O'Brien and Co and he had every intention of adding further speed to the "contagious" momentum which they had built up.
Mitchell admits that they even doubted themselves whether a comeback was on the cards at the break but they returned to the pitch a transformed outfit as they broke Wexford hearts in "crazy" fashion to complete a "special" victory.
"We're just delighted. We've gotten some big beatings over the last couple of weeks and probably rightly so the way we've played. We've worked on a good few things the last two weeks and we've targeted these last two games," he says.
"We drew with them (Wexford) last year and drawing is not really any good, we want to beat them and we're delighted we did that, especially down here. It's just a really special moment and I'm delighted."
There was chaos in the aftermath as Westmeath rejoiced following the greatest day in their hurling history but Mitchell admits that he may not cherish such victories as much as he ought to.
"When I get a big win, I kind of just go into the dressing-room on my own sometimes and I'm kind of like, 'Jaysus we just did that' when really I should be out on the pitch with my family and the lads and really cherishing the moment," he says.
"I probably don't really cherish the moment enough and you go in and think, 'Wow, that's something special that we did there'. I'll probably look back at the game tomorrow and pick out good things from it and think about it then."
It's been a whirlwind six months or so for Mitchell with a first Westmeath SFC title picked up with The Downs before they went on a Leinster SFC club run to the final in Croke Park but last Sunday's heroics seemed only a remote possibility as recently as a month ago.
Knee surgery had sidelined Mitchell for four months but he was more than happy to persevere for the possibility of writing his name into Westmeath folklore and the bus journey home was one to savour.
"We're such a tight group. It's always laughter and it's always positivity. We're such good friends and we get on so well. We don't take each other too seriously, which I think is important. Obviously on the field is a little different," Mitchell says. "The way home will be great to reflect on the game and everyone knows what happened in the game but everyone will say what happened in the game 10 times over and every single ball will be played back on the way home."
Their heroics were parked once they arrived back in the Midlands on Sunday night as there is still one job left – securing their Leinster SHC status for 2024 with a victory against Antrim this Sunday achieving that.
A draw would also see them safe but a loss – combined with victory for Wexford over Kilkenny in Wexford Park – would see them relegated to the Joe McDonagh Cup seven days after their finest hour.
They will do everything possible to avoid that with Mitchell an integral part once again.
"When we get home we're going to have to forget about it, we'll worry about recovery tomorrow, training on Tuesday and Thursday and hopefully there's a big game in us in Mullingar next weekend," he says.
"It's really important that we get a win next week. It's in our hands and we can't really be relying on teams to win or lose for us to stay up. We're delighted with the win and to take a scalp like Wexford is great.
"And it's still in their hands as well. We can all control if we go down or not so it's going to be interesting next week in Mullingar and in Wexford Park as well. Hopefully I'm in the pecking order now for next week."
FIVE OTHER EPIC COMEBACKS
Offaly 3-16 Limerick 2-13, 1994 All-Ireland SHC final Famously remembered as the 'five-minute final', Offaly looked dead and buried when trailing by five points with five minutes of normal time to play before firing 2-5 without reply to break Limerick hearts. ​ Mayo 1-16 Dublin 2-12, 2006 All-Ireland SFC semi-final It started with the 'Mill at the Hill' as Mayo and Dublin warmed up at the same end of Croke Park but it finished with the Connacht men coming from seven points down to prevail by one as Ciarán McDonald lofted over a sensational winner off his left peg. ​ Kilkenny 4-15 Galway 3-16, 1997 All-Ireland SHC semi-final The Cats were torn asunder in the opening half and trailed by nine points at half-time, 3-9 to 1-6, before DJ Carey produced one of the performances for the ages with his 2-8 haul spearheading their sensational comeback. ​ Westmeath 3-19 Meath 2-18, 2015 Leinster SFC semi-final A first championship victory over Meath looked impossible when Westmeath trailed the Royals by nine points after 50 minutes but they sensationally outscored them 2-8 to 0-1 over the remainder of the contest with Kieran Martin and John Heslin excelling up front.​