'We're fighting for our lives,' admits Darragh Egan as relegation threat looms large for Wexford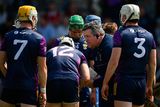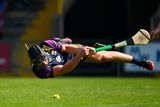 Wexford hurling boss Darragh Egan knows they are "fighting for our lives" with relegation from the Leinster SHC a real possibility for a county that lifted provincial honours just four years ago.
The Model men were coasting to success when leading by 16 points against Westmeath at half-time in Wexford Park yesterday – their lead reached 17 before the wheels came off.
Westmeath fired four second-half goals to produce one of the greatest comebacks in GAA history and it leaves Wexford out of the Leinster Championship and teetering on an unimaginable relegation to the Joe McDonagh Cup.
If they lose to Kilkenny on Sunday, combined with victory for Antrim over Westmeath, Wexford will suffer an unheralded demotion to the second tier, and Egan acknowledges confidence is at an all-time low.
"We lost the second half by 18 points and that's not good enough. You can't dress it up any other way than it was simply not good enough, and we got punished for it," a deflated Egan says.
​"The players have to have a look at themselves as well. They didn't come out in the second half. They didn't show any fight, any ambition, and we got punished for it.
"The confidence is low, we're just not performing and it's something we need to fix quickly. These things happen when you're falling off a cliff and that seems to be what's happening at the moment.
"We're fighting for our lives, that's it. There's a huge game coming but we need to look within ourselves and see can we find anything and go after Kilkenny next Sunday.
"When the wheels started to fall off the wagon, they came off it fairly hard. But we have one more chance next Sunday to rectify our bad play this year. If we don't, we understand the implications."