Joe Fortune abandons playbook as Westmeath claw back 17-point deficit to stun Wexford
Leinster SHC Round 4: Westmeath 4-18, Wexford 2-22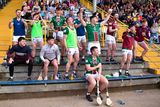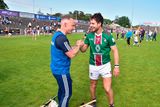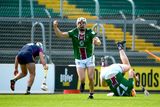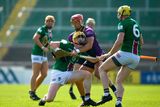 It's often asked what was said in the dressing-room when a team returns for the second half looking brand new, but there has scarcely been a turnaround quite like coming from 17 points down to prevail by two.
That's exactly the feat which Westmeath, who trailed by 2-15 to 0-5 at the half-time break, somehow conjured in Wexford Park yesterday as two goals apiece from Niall O'Brien and super sub Niall Mitchell blew the Leinster SHC relegation scenario wide open.
So what exactly did Lake boss Joe Fortune, facing off against his native county, say that turned an almighty hammering into the greatest day in Westmeath's hurling history?
"I was just really honest with them. I said 'we have nothing to lose in the second half, we have families and supporters coming down here' and I just felt we were embarrassing in the first half. I just felt we were too restricted in our play," an emotional Fortune revealed.
​"I said that 'there are people down here that are paying their good money and do you want to leave a legacy as the best Westmeath team ever?' It was the first time in the dressing-room that I felt 'Was I a bit too harsh with them?'
"And did they really believe me? I said 'just go and hurl for the second half and cut (out) these things of systems and shapes and puck-outs'. We're hurling people and the more you get caught up in these systems and set-ups, go and hurl and be a man and get the ball in the quick and let our forwards do the job."
Fortune, who smashed their tactics board in frustration, could not have been any happier with their response as they threw caution to the wind in sensational fashion and built up an extraordinary head of steam.
With a decent wind at their backs and playing in a more orthodox fashion, O'Brien helped Westmeath believe that a fairytale may be on the cards but it was the arrival of Mitchell that really made it a reality. Plagued by injuries so far this season, the Clonkill powerhouse showed his class with two smashing goals as his aerial prowess tore the Wexford defence to shreds and set up the most famous of victories on a crazy day.
An upset of such epic proportions seemed implausible in the first half when Wexford hit the ground running from the off with Conor McDonald, dropped for their clashes against Antrim and Dublin, firing two goals.
The Naomh Éanna ace was running riot alongside Rory O'Connor and green flags in the 10th and 24th minute seemed to put the writing on the wall for a woeful Westmeath.
They were being battered in every position as Wexford, who led by as much as 17 at one point and had seven different scorers in the opening half, left themselves in a seemingly unassailable position.
The visitors flew out of the traps in the new half, though, and hit 1-4 without reply to breathe life into their charge. Wexford couldn't get motoring but they were denied a certain goal in the 46th minute by a brilliant scramble defence on the goal line.
Westmeath had the deficit back to 10 points before Darragh Egerton was black-carded in the 55th minute and that looked like that. However, Noel Conaty denied Jack O'Connor from the resultant penalty, a weak effort, before saving again from the St Martin's man just a minute later.
The underdogs chipped away with O'Brien firing their second goal in the 62nd minute before the experience of veteran Derek McNicholas, in his 20th inter-county season, and Mitchell shone bright.
Mitchell made two outrageous fetches before twice smashing to the net in the dying minutes as a "surreal" afternoon was completed for Fortune.
It will be all for nothing unless they back it up against Antrim next Sunday, however.
"That will mean an awful lot to Westmeath. Days like today will stand a long time in the minds of Westmeath hurling people and it's about building on that now and not just being happy with mediocrity. "We still have to go to Cusack Park and put in the biggest performance ever to stay in the Liam MacCarthy."
As for Wexford, this will go down as one of the most harrowing days in their history and Darragh Egan's men have a mountain to climb to lift things for Kilkenny next Sunday, where defeat could spell relegation.
"We're fighting for our lives. We have one more chance next Sunday to rectify our bad play this year. If we don't, we understand the implications," Egan said.
SCORERS – Westmeath:C Doyle 0-11 (10f); N O'Brien 2-3 (0-1f); N Mitchell 2-0; D McNicholas, E Keyes, J Boyle, P Clarke 0-1 each.Wexford: C McDonald 2-2; L Chin 0-6 (4f); J O'Connor 0-4 (0-2 sidelines); R O'Connor 0-3; O Foley, C Hearne 0-2 each; M Dwyer, I Carty, C Dunbar 0-1 each.
WESTMEATH –N Conaty 8; C Shaw 7, T Doyle 7, J Bermingham 7; A Craig 7, R Greville 8, D Egerton 8; S McGovern 5, C Doyle 8; E Keyes 7, N O'Brien 8, C McCormack 5; O McCabe 6, J Boyle 6, D Glennon 6. Subs: P Clarke 8 for McGovern (h-t), C Boyle 6 for McCormack (h-t), N Mitchell 9 for Glennon (51), D McNicholas 7 for C Doyle (66).
WEXFORD –J Lawlor 6; S Reck 6, L Ryan 6, C Devitt 6; I Carty 6, M O'Hanlon 7, S Donohoe 6; J O'Connor 7, C Dunbar 6; L Óg McGovern 6, L Chin 6, O Foley 6; R O'Connor 7, C McDonald 8, M Dwyer 6. Subs: C McGuckin 6 for Dunbar (60), C Hearne 7 for Dwyer (60), D O'Keeffe for Foley (71).
REF – C Mooney (Dublin).