Davy Fitzgerald: 'I went to war against Tipp to get attention of my players'
Exclusive extracts from the Wexford manager's autobiography 'At All Costs'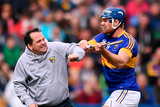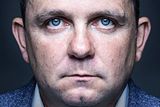 So now we had Tipperary in the semi-final, reigning All-Ireland champions, carrying the obvious threat presented by what I considered the best forward line in hurling. Tipp can kill you in seconds with their goal-scoring ability and, maybe on some level, that was my biggest fear going back to Nowlan Park now.
And it's pretty much what drove me to a moment of infamy that would make me front-page news.
I had to do it.
I know that march onto the field to confront the referee, Diarmuid Kirwan, became a massive media story when it brought me into physical contact with a Tipp forward, Jason Forde. I know it looked terrible. I understand all that.
And the fallout, in Forde's case, is something I deeply regret. But Diarmuid had just allowed two blatant fouls on our defender, James Breen, to go without a whistle in the build-up to Noel McGrath's 18th-minute goal. They'd already breached our defence with a John McGrath goal too so, nearly 20 minutes in, we were trailing 0-3 to 2-3. Clearly beginning to feel sorry for ourselves too.
And self-pity, I know from experience, is no defence against a goal-hungry Tipp. They're just programmed to destroy you. The way this game was going it looked like they could be out of sight by half-time.
So I basically went to war. Now, I had absolutely no interest in making any contact with a Tipp player, but I did want to get my own players' attention. All our work of the previous few months was about to come undone here if we fell to a 20- or 30-point hammering. And there was a real danger of that happening now. Of our confidence being torn to shreds.
The two fouls on Breen had been absolutely blatant. I needed to communicate that to the referee. And after taking the first few steps onto the field I paused after about ten yards. I remember my sister, Helen, asking me about this afterwards. My answer was simple. Even at that point I knew I was in big trouble. I was already in a place I had no right to be.
But I knew too that I had to keep going now. So I kept walking. I had to change the energy around this game and, being honest, I couldn't blame Forde or his team-mate Niall O'Meara for coming across and squaring up to me.
Jason told me basically to get the f**k off the field, and I told him to f**k off back in return. It really was that basic and that primitive. He should never have been suspended for what happened, because I was the only one in the wrong. Unfortunately, I wasn't the only one who paid for my incursion. So I ended up with very mixed feelings after. The flare-up did bring my players to life, Aidan Nolan quickly coming across to square up to the Tipp lads and the whole team, generally, finding enough anger within to get us to the break trailing by just four points.
As it happened, Tipp still put us to the sword with an unanswered 2-4 between the 60th and 66th minutes, winning in the end by 5-18 to 1-19. But it actually could have been far uglier.
Soon as I realised afterwards that Forde might be in trouble with the authorities I rang the Tipp manager, Michael Ryan.
"Whatever you want me to do, I'll do it," I told him. I just felt that Jason was now paying for the high profile the incident had been given, something that almost always seems the case with me. I'd already made my mind up that I was going to take my medicine.