Versatile Eoghan O'Donnell gives Dublin options in the race for Sam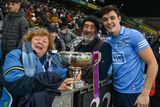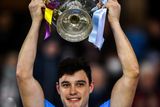 Having been born and raised during his early years in Zimbabwe, Eoghan O'Donnell's rise through the hurling ranks before being anointed as Dublin senior captain earlier this year is anything but the norm.
O'Donnell only set foot on Irish soil when ready to start primary school and Gaelic games was not on his radar until a leaflet for the Whitehall Colmcille nursery arrived through the family post box in north Dublin.
That started a love affair with the GAA but it was only after taking a growth spurt heading into his minor year that his talents, particularly as a hurler despite his father's football background in his native Roscommon, caught the attention of small ball experts in the capital.
Having made his senior debut for Dublin in 2015, O'Donnell became the first Whitehall player to represent the senior hurlers since the 1980s and it wasn't long before the dynamic defender became a household name.
When you look at the raw athleticism of O'Donnell, it's easy to see why Dublin football boss Dessie Farrell has parachuted the 26-year-old into the football fold in the aftermath of the hurlers' season ending prematurely last month.
O'Donnell has always enjoyed playing both codes but the greater likelihood of making it as a hurler helped to steer his path in that direction. "No, I just loved both," O'Donnell said in 2017 when asked if he preferred a code growing up.
"If you were playing well in the football, you'd love the football. If you were playing well in the hurling, you'd love that. There was just more of a chance of hurling with my county, so that's what I went with."
While it is uncertain whether or not his switch to the big ball will be a long-term move – if so it would be a hammer blow for the hurlers to lose their most trusted lieutenant – it is a feather in the cap for Farrell.
Having worked under Dublin hurling boss Mattie Kenny in "a support role" during his first season at the helm in 2019, Farrell has seen up close what O'Donnell has to offer and that clearly wasn't the first time that he was impressed by him.
O'Donnell has shown his class as a pacy and powerful forward in the Dublin SFC and Farrell was keen to have him on board with the U-21 footballers when he was in charge.
"There was a small bit of talk," O'Donnell said of Farrell's interest in him during a 2019 interview. "I always play football and I love football for the club. I played minor football and 21s football and absolutely love football.
"I think I was on the (U-21) team at the start of the year and then Anthony Daly gave me the shout and I went up with the hurling instead."
O'Donnell, a club-mate of Dublin footballers Cormac Costello and Lee Gannon, had played both codes at minor with the Dubs before breaking his leg but it looks like he will get a chance to stake his claim for a senior berth ahead of their All-Ireland SFC quarter-final on June 25/26.
O'Donnell offers even more attacking options to a side that fired 5-17 against Kildare to capture a 12th straight Leinster crown. However, could Dublin be looking at him in a defensive role?
Others like Conal Keaney, Mark Schutte, Tomás Brady, David O'Callaghan and Shane Ryan have made the same move in recent times and O'Donnell's fortunes with the big ball will be followed closely.