Tomás Ó Sé: There's no shame going down to best Dublin team of all time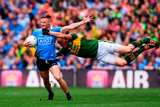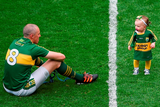 There are times when you leave Croke Park and you have a head full of regrets.
I know from experience that it is one of the worst feelings in the world. Last year's All-Ireland final was one of those times.
We left Dublin that day knowing we were better than we showed and that kind of feeling stays with you. And you know it haunted us for the winter.
That won't happen this time. Kerry left everything out there. It was a performance they can be proud of. You can't ask for anything more.
It can be hard to process a game like that. All week we knew Kerry needed to find something different within themselves. They delivered it.
Neck
They took the game by the scruff of the neck and had a go at Dublin. In the end it wasn't enough so you have to just doff the cap to Dublin. They are just a brilliant side.
For me the debate is already over. I said it during the league that they are the greatest Dublin team of all time and yesterday only re-inforced that belief.
Read More:
They can play the lovely silky football with you but there is much more to them than that. They can get down into the dirt with you as well if that's how you want to play it.
You can put them to the pin of their collar like Kerry did towards the end of the first half and still they'll come back looking for more. Whatever way you want to play it, Dublin can give it back to you in spades.
It sort of annoys me that people think there's something smart going on when we starting complimenting Dublin. I'm not. I can't say it any plainer than this. Dublin are great champions. And there's no shame going down to a team like that.
Look I can't fault any of the Kerry team, from the management right through to the players. I liked the team Eamonn picked.
He made some big calls but I think they worked out well. James O'Donoghue didn't start but then James isn't in the sort of form that saw him win Footballer of the Year in 2014. Anthony Maher put in a good shift.
Maybe people will look at the decision to bring on Marc for Paul Geaney when the game was level but otherwise you have to say Kerry got a lot more right than wrong on the line.
Early in the game I thought we were in trouble. It felt a little bit like last year's All-Ireland final in that they were that little bit slicker than us in every department and they opened up a bit of a lead.
But they got to grips with it and soon started asking Dublin all the questions they needed to ask.
The two goals before half-time set us up brilliantly. At that stage, Cluxton was rattled and that was something we needed to do. If anything, the break came at the right time for them.
Read More:
Maybe we could have been a little more adventurous at the start of the second half. Kerry tried to control the tempo but it only succeeded in inviting Dublin on to them and they closed the gap pretty quickly.
But that goes back to the mental resolve they have. Previous Dublin teams would have went away at the first invitation. These boys just refuse to do that.
Neither side backed down from there and it set us up for a great finish. It was a cracking game of football played in the right way. I thought Paul Murphy was excellent for Kerry. Killian Young played his best game in many years.
For Dublin, James McCarthy was brilliant. His hit in the first half would have forced a lesser man off the pitch. Jonny Cooper was another.
He was defiant and bristling with aggression all the way through. There is no end to those boys. You can only be impressed by them.
I know there will be a lot of people who'll be upset with David Gough (right). And they have some reason. But I'll say here that I liked the way he refereed the game. He let the hits go and did it as fairly as he could. He might have got the late one on Crowley wrong but you know I don't think it would have changed the course of the game.
That might seem strange given the decision was made at a crucial time but Dublin have been better than Kerry for these past couple of seasons and they were slightly better again.
We were beaten fair and square. There can be no complaints in that department.
The result will likely spark plenty of change in Kerry. Marc and Donaghy were out on the pitch after the game with the kids and it looked like they were having one last look at the place. It might be the end of O'Mahony too and a few others.
Read More:
If it is, they have done Kerry a great service and they deserve plenty plaudits. But I don't think for a minute that this means Kerry will go into transition.
There's still a great core of a squad there and they have built up a nice bank of experience now. They have a taste of winning and will want more. And as you saw in the minor game there is some talented young fellas coming up through the ranks.
I hope Fitzy stays on too. He'll be hurting now, and I know criticism comes free and easy in Kerry when big games are lost, but he's the right man for the job.
All that is for another day however. Kerry gave their best and it just wasn't enough. At least this time there are no regrets. And that's much easier to live with. Now we'll do what we always do. Take our beating and learn from it. And come back better and stronger.