'There's a lot of arrows in the back, coming from a lot of places,' admits Donegal's Paddy McBrearty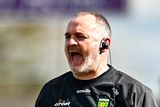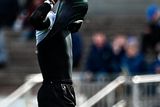 Paddy McBrearty emerges from the away dressing-room in Dr Hyde Park, Roscommon. The Donegal captain isn't expected to play again this season but he's still around the squad, offering what he can as the last playing link to the 2012 All-Ireland-winning team.
It has, he admits, been a taxing time for the squad. The county's academy debacle and the departure of manager Paddy Carr have made for a difficult time for a panel who were stalked by the threat of relegation for weeks. Over the weekend, they were formally demoted from the top tier to bookend a difficult few days.
"It's not been easy, a very stressful week for the whole squad, not just myself and the other lads," he said.
"And listen it was a messy three days there. We got back to training on Wednesday and we had a very good session and we had a very good session on Friday night as well, so listen we're focused on the championship now.
"The league was behind us from last Sunday when the final whistle went against Mayo, so the boys in there are all talk about Newry in four weeks' time, that is the focus."
That focus will have to come with ongoing outside noise. Internal wranglings are rumbling on and McBrearty believes not everyone within his own county wants to see the team recover heading into the summer. "As a panel of players we have been through the mill of it this year between injuries and narrow losses and we are going to have to create a siege mentality because there's a lot of people inside the county that don't want to see us do well, yeah that's it."
​"There's a lot of arrows in the back, coming from a lot of places. We're sticking together. Media, supporters, they don't know what goes on in the dressing-room and they never really will either, they can speculate all they want but those lads, the 35 lads in there will stick together, we don't really care what anyone else says to be honest with you."
It's not yet known who will lead the county into their Ulster SFC quarter-final against Down in Páirc Esler, Newry.
Speaking afterwards, Aidan O'Rourke made it clear that he was unsure as to whether he, along with former Derry star Paddy Bradley, would be in charge going forward.
They had agreed, on Carr's wishes, to bring the team to the conclusion of their league campaign. Any extension past that is yet to be agreed.
McBrearty insisted the dressing-room want those men to remain in charge. He also underlined that the squad was a united one as they face into a crucial month.
The numbers from the Roscommon game make for bad reading for Donegal. They conceded 21 points, 20 from play and might have shipped a few goals too but for some Roscommon wastefulness. Still, McBrearty is confident they can right the ship.
"I think if you're Down as well you're looking at Donegal today and you're thinking that's not going to be the Donegal team that will be playing in Newry.
"Let's be honest about it, we are down a lot of bodies and we trained really hard there on Wednesday and Friday and our focus has been Newry since last week so I think if Conor Laverty and Down are looking at Donegal today they'll know in the back of their heads that'll it'll be a different Donegal team that shows up in Newry," concluded McBrearty.