Rob Finnerty may be steeped in Mayo but was 'always on the maroon route'
League final with a difference chasing Galway glory against his dad's county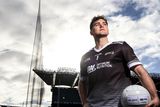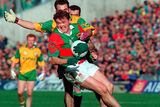 His Mayo father is forever tagged with that miss in an All-Ireland final. Whenever he eventually retires, Rob Finnerty would doubtless love to be recalled for the goal that delivers Croke Park glory to Galway.
"I was always on the maroon route," he stresses, when asked if there was ever a time when Anthony Finnerty tried to cajole him into the Mayo fold.
The ties that bind family and football aren't always straightforward, as the Finnerty clan will realise heading to GAA Headquarters this Sunday.
A Division 1 decider in early April may not carry the historic weight of an All-Ireland final in high summer, but Galway's 42-year wait for a league title adds an extra layer of motivation for Pádraic Joyce's squad.
Then, of course, there's the opposition. It would be Mayo, wouldn't it!
Anthony Finnerty came off the bench for Mayo in the All-Ireland finals of 1989 and 1996, starting the infamous '96 replay. More famously he found the net against Cork in '89; only trouble was, if a subsequent goal chance had veered inside the Canal End upright, we might not be talking still about a Sam Maguire famine now in its 72nd year.
Growing up, Rob Finnerty tagged along with his dad to Mayo matches. But he also grew up in Galway – Salthill, to be precise.
"He never brought me as far as Mayo for a training or anything like that. I would have played underage with Galway the whole way up through the ranks. I've always been a Galway man, anyway. I never thought about putting the Mayo jersey on, and he never tried pushing it on me," Finnerty Jnr stresses, speaking at a media briefing to announce Optimum Nutrition as the official performance nutrition partner of the GPA.
"I would have been very aware of [the Mayo connection] because my auld lad was dragging me along to Mayo games my whole life, trying to put a Mayo jersey on me when I was younger, so I'd have been very aware of it.
"There's a big Mayo connection with Maurice Sheridan as well, another Salthill man who would have played for Mayo with dad. To be honest, there's loads of them. A lot of Mayo people seem to settle down in Galway and a lot in Salthill, so it's good craic coming up to games like this."
Another bridge across the Finnerty county divide? John O'Mahony, Mayo boss in '89, is now managing Salthill/Knocknacarra.
Rob expands: "I'd been at all those All-Ireland finals. I'd a huge interest in football – and would have followed the Mayo team, big time. My dad would have brought me along and he'd have been fairly excited coming up to those finals. More so than other Galway households, we would have been more invested in Mayo."
By now, however, it's fair to surmise that the immediate Finnerty family is firmly on the Galway side of the loyalty fence. Rob has been playing senior championship football since 2019. Last summer he emulated his father by contesting an All-Ireland final, with the same painful result.
Even his father has loosened up to the extent that "he wouldn't have the Galway jersey on him" but he might sport a maroon shirt.
"You have that bit of craic with the cousins or whatever, some of them would still be supporting Mayo when we play against them," he concedes. "But they all put on the Galway jersey then when we are playing other counties. I would say a few of them will have the Mayo jersey on this weekend, I suppose it adds to it a small bit."
His own memories of facing Mayo are tinged with trauma. Literally. In the 2021 Connacht final, also at Croke Park, he succumbed to an ankle injury before the end of the first quarter. That loss was avenged in last year's Connacht championship but, in this year's Allianz Football League opener at MacHale Park, Finnerty suffered further ankle damage, caught by a late tackle in the act of scoring a first-half point.
"There was a good bit of damage done. It was grade-three ligaments. To be fair, I got back pretty fast," he recounts. So fast that he came off the bench against Tyrone three weeks later.
Since then, however, the corner-forward has been utilised more often as a sub than starter, his minutes compromised by a couple of niggles, first a swollen knee and then back spasm. But he's back in full training, came off the bench against Kerry last Sunday and "hopefully I'll be good to go now at the weekend".
What would winning the league mean?
"Forty-two years is a long time so there's not one man in our dressing room with a league medal – and that goes for our management team as well. It's huge for us. It's a massive thing to get a national title, whether it's a league or an All-Ireland. We're really excited about it – and, hopefully, we can get over the line."
Last question: might there be any old photos of him as a young lad sporting green and red?
"There might be, yeah, but I'm not going to go rooting for them, and I definitely won't be sharing them!"