O'Connor adds finishing touch to title stroll
Brave Exiles prove no match for Mayo but high wides tally must be a concern for Horan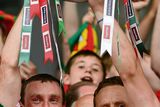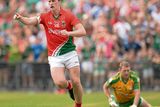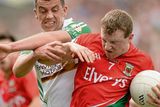 LONDON brought lots of misty-eyed romance to the west's big day but the cold, hard reality belonged to Mayo, who had the prize secured at the end of the first quarter.
Connacht SFC final
Mayo 5-11 London 0-10
London's remote chances of making the game in any way competitive depended on a good start, but instead it was Mayo who powered from the starting blocks. Aidan O'Shea controlled the skies over MacHale Park, fetching London kick-outs with unexpected ease – it was assumed the visitors would attempt to turn the struggle for possession into a real war.
Instead, O'Shea was allowed to soar above friend and foe before returning to earth and beginning attacking moves which were always going to stretch the London defence beyond breaking point.
Alan Freeman's 11th-minute goal set Mayo on their way to a 1-5 to 0-2 lead at the end of the first quarter, a margin which must have looked fiercely intimidating to a Division 4 team testing its case against one of the All-Ireland favourites.
Darren Coen scored Mayo's second goal in the 23rd minute and by half-time their lead had pushed on to seven points (2-6 to 0-5). It should have been considerably higher but their finishing was extremely poor at times. They kicked 12 wides in the first half while also misdirecting several passes in a performance that had all the hallmarks of a side who knew they would win comfortably and found it hard to concentrate on keeping the precision rate at a level commensurate with their skills.
There was certainly no lack of intensity from London but their error rate was frustratingly high. That was scarcely surprising since they were trying to compete with opposition who are accustomed to playing a high-tempo game against the best sides in the land.
London relied mainly on freetaker Lorcan Mulvey to keep in touch in a first half where they had a goal disallowed when Eoin O'Neill was adjudged to have fouled Mayo goalkeeper Rob Hennelly in the 16th minute.
It was a good decision by the referee but London had a genuine reason to be miffed in the 46th minute when Cathal Magee appeared to have been fouled in the Mayo square.
Play continued and it took a goal-line clearance to prevent a goal in an incident which summed up London's day. A goal at that stage wasn't going to change the overall balance of the game but it would have given due recognition to London's honest efforts.
The second half turned into a score-fest for Cillian O'Connor, who replaced Coen at the interval. The Ballintubber man landed 3-3, including a goal from a penalty and three points from frees, won off a London defence which found it hard to cope with Mayo's weaving moves.
Mayo also did well when they took on their opponents in direct runs but, as in the first half, they continued to waste good chances. Their final wides tally reached 19, a miss rate which James Horan will, no doubt, be discussing with his snipers in training this week.
O'Connor's goals came in the 41st, 48th and 56th minutes, taking Mayo into an 18-point lead on the hour mark. Surprisingly, they failed to score again, while London pared two points off the deficit.
Mayo's victory had a special significance, earning them a third successive Connacht title for the first time since 1950, a year in which they went on to win the All-Ireland title.
It's an exciting thought for Mayo to take into the All-Ireland quarter-finals on the weekend after next, but the big question now is whether their easy passage through the Connacht championship has left them properly prepared for the much bigger examinations ahead.
They beat Galway by 17 points, Roscommon by 12 points and London by 16 points, mismatches which taught them nothing about themselves. When Horan was asked about the overall standard in Connacht, he advised his interrogators to ask Armagh and Tyrone, the former having been beaten by Galway in the qualifiers on Saturday, the latter having been run to two points by Roscommon in the previous round.
Judgements
Horan said that Galway's win came as no surprise in Mayo, implying that the standard in Connacht may not be as low as general opinion suggests. Perhaps so but judgments can only be made on the evidence provided by the actual games, four of which were hopelessly one-sided.
In fairness to Mayo, they could only play what was put in front of them which, sadly for the Connacht championship, was nowhere near the standard expected, certainly from Galway and Roscommon.
London emerged as the best from the other side but were then left with the near-impossible task of beating a Division 1 side that many believe will end the season as All-Ireland winners.
Still, it was a special occasion for London and the sizeable number of supporters that made the journey. It helped swell the crowd to 21,274, a fine turn-out for a game where the outcome was never going to be in doubt.
Taoiseach Enda Kenny and GAA president Liam O'Neill were among the attendance for London's historic bid to take the title for the first time. It wasn't to be and now their attentions will turn to next weekend's Round 4 qualifier with rejuvenated Cavan.
Beaten provincial finalists playing a Round 4 qualifier on a six-day turnaround have a dismal record over the years so it's highly likely that London's great adventure will end against Cavan. Still, it has been a memorable season for Paul Coggins and his feisty battlers.
As for Mayo, it's back to training this week, when the focus will switch to the much more demanding tests ahead. On the evidence of their championship performances last year, they will be ready for them, but there must be a sense of unease that they haven't had a genuinely competitive workout since losing the league semi-final to Dublin in April.
O'Connor's return after injury is a boost, while captain Andy Moran got in 54 minutes before being replaced. Mayo finished with 14 men after sub Michael Conroy was forced off late on, when they had used all five replacements.
Scorers – Mayo: C O'Connor 3-3 (1-0 pen, 0-3fs), A Freeman 1-2, D Coen 1-0, K McLoughlin, L Keegan 0-2 each, R Feeney, A Moran 0-1 each. London: L Mulvey 0-7 (6fs), D Dunleavy, S Kelly (f), P McGoldrick 0-1 each.
Mayo – R Hennelly 7; T Cunniffe 7, G Cafferkey 8, C Barrett 7; L Keegan 7, K Higgins 6, C Boyle 7; A O'Shea 8, S O'Shea 7; K McLoughlin 7, A Dillon 6, R Feeney 7; D Coen 6, A Freeman 7, A Moran 7. Subs: C O'Connor 8 for Coen (h-t), M Conroy 5 for Freeman (44), D Vaughan 6 for Feeney (48), E Varley 6 for Moran (54), S McHale 5 for Cafferkey (60).
London – D Traynor 6; P Butler 6, S Curran 6, D McGreevy 5; S Hannon 7, S Mulligan 5, A Gaughan 6; C Doyle 5, P Geraghty 6; G Crowley 5, D Dunleavy 7, C McCallion 5; E O'Neill 5, L Mulvey 7, C Magee 5. Subs: C Og Greene 6 for Gaughan (26), C Daly 6 for Doyle (31), S Kelly 6 for O'Neill (44), E McConville 5 for McCallion (55). P McGoldrick for Dunleavy (66).
Ref – C Lane (Cork)