Mayo's regime change reboots ambition drive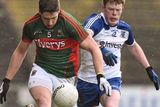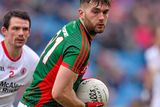 From the moment James Horan conceded that he wasn't going to be the man to lead Mayo out of the All-Ireland desert a few hours after defeat by Kerry in the All-Ireland semi-final replay last August, the fascinating question arose: how good will they be in 2015?
Was it the end for a Mayo squad which had expended every ounce of physical and mental energy over four seasons, only to be repeatedly repelled? Or was it just another disappointment in their relentless pursuit of the grand prize? And who would succeed Horan?
The answer to the latter question emerged in due course when Pat Holmes, the last man to lead Mayo to a national title (2001 Allianz League), and Noel Connelly, who captained them when coming so close to All-Ireland success in 1996-97, were appointed in a joint capacity as Horan's successors.
Curiosity over Mayo's state of mind for the new season extended beyond local borders. After all, they have been one of the most consistent teams for the last four years and while that wasn't enough to lure Sam Maguire out west, Mayo remain of great interest.
Tonight, the new regime face a real test, bigger even than the opening-day clash with Kerry in Killarney, a game Mayo won by seven points. The result should have carried an asterisk: Kerry were way behind in terms of tuning after a winter of local festivities and foreign holidays, leaving themselves easy prey for hungry Mayo.
PRIMED
It's all very different now. Dublin arrive in Castlebar in the relegation zone after their worst League start for six years so their need is great. Mayo are joint top with three wins from four games, knowing that a win would leave them primed to take a semi-final slot for a fourth successive season.
Striking a balance between picking up enough points to ensure that, at the very least, relegation is not a threat, while also experimenting with new talent and systems is always a tricky test for new management. So far, it has gone quite well for Holmes/Connelly.
New talent? U-21s Patrick Durcan, Stephen Coen and Michael Hall have featured in defence; Diarmuid O'Connor and Adam Gallagher got run-outs in attack. Mark Ronaldson, who was on the 2006 successful U-21 side co-managed by Holmes and Connelly, has played in all four league games so far, doing well enough to suggest he will be pushing for permanent retention.
And then there's Kevin Keane, who has prospered at full-back. After a confidence-sapping 2012 All-Ireland final against Donegal, he was been unable to force his way into the starting line-up for the past two seasons but, at the age of 24, still has time very much on his side.
The new management have also experimented in goal, using last year's first choice Robert Hennelly, David Clarke and Kenneth O'Malley. Personnel apart, another point of interest centres on how the team is being set up. That includes using Aidan O'Shea in attack and Donal Vaughan at midfield.
"Donal is very athletic guy with a great engine so midfield should suit him," said Martin Carney, former Donegal and Mayo star and currently a 'Sunday Game' co-commentator.
If the Seamus O'Shea-Vaughan midfield partnership settles in, the next big jigsaw challenge is how to use Aidan O'Shea. He has alternated between centre-forward and full-forward so far, which has posed problems for various defences.
"If he's in at full-forward, he needs early ball. There's no point having him in there and slowing things down. It's got to be quick and direct," said Carney.
However, that's not the Mayo way as they prefer to carry the ball and try to create space through their runners. Diarmuid O'Connor hasn't featured very much so far this year but Carney is convinced that he is the real deal.
"You'll be hearing plenty about him. If anything, he's more athletic than Cillian (his brother). He could make a big difference to the attack. That's needed because if Mayo have had a problem, it's probably a lack of sufficient depth in attack," said Carney.
SPECIFICS
Away from the specifics of team selection, style of play and tactics, there's the question of the squad's mental state after enduring so much disappointment over the past three years. Successive All-Ireland final defeats by Donegal and Dublin and the heart-breaking setback against Kerry last year left them knee-deep in frustration so there were concerns about how they would react this season.
So far, the signs have been positive but obviously the real tests lie ahead.
"People were wondering if the train left the station without Mayo last year. It's very hard to quantify how much those types of defeats take out of players. Personally, I think they're still okay but this is a huge year for them. If they come up short again, it's going to be awful hard for some of those lads to keep going.
"There isn't a more dedicated bunch of players playing football than these Mayo lads. And the more knocks they've taken, the more the more determined they got. That's a great tribute to them. But sooner or later, it will take its toll unless they win the All-Ireland," said Carney.
He believes that winning the league title would provide a valuable boost, although it's not absolutely vital to Mayo's longer-term objectives. Still, it would end Mayo's lengthy losing run in national finals, which has to be of benefit.
Despite Dublin's edgy start to this season, they remain All-Ireland favourites and the opposition against whom all opposition judge themselves. In Mayo's case, it comes against a background where they have lost two of their last three league games to Dublin and drawn the third after squandering a six-point lead in the final quarter in Croke Park last year.
"Saturday's game is important to Mayo for a few reasons. Playing Dublin always provides a genuine test of where a team is at so if Mayo win, it will be an encouraging sign. It would also leave Pat and Noel able to experiment a bit more over the next two games. I'm sure there are still quite a few things they want to try and it's much easier to do that if they are clear of relegation worries," said Carney.
As the only county to have remained in Division 1 for the last 15 years, Mayo's ability to judge the pace of the spring campaign is unquestioned.
However, despite that consistency, they won only one league title in that period.
Even then, there was a slight doubt about the 2001 competition which was weakened by Tyrone's withdrawal, due to the foot-and-mouth outbreak.
When Pat Holmes checked out at the end of the following season, he never thought that, by 2015, Mayo would still be waiting for an All-Ireland win and that he would be back for a second term.
Now the big question is: can he and Connelly complete the jigsaw?