Jamie Wall: 'If this doesn't go my way, it won't be that I didn't try hard enough'
Promising Cork dual player Jamie Wall on his determined battle to walk again after a spinal injury left him without power in his legs. He talks of his fears, the support he has received and the resilience he draws from sport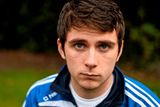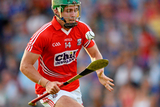 Jamie Wall leans forward and fixes the company with an assuring stare. There is absolute certainty in his voice.
"If I go down, I'll go down swinging. It won't be because I gave up."
It seems the appropriate moment to close off an interview that has lasted almost an hour, an hour where the harrowing ordeal of a promising 22-year-old Cork dual player who has lost the power of both legs is retold but where the grim determination to come out the other side shines through.
What started as a "small, dull kind of pain" in the middle of his back in the week of Cork's Munster intermediate final hurling win over Tipperary last June, a match which he had featured in, spiralled into something so much more sinister within days, prompting a frantic rush to Beaumont Hospital in Dublin, emergency surgery and the prospect of just a "glimmer of hope" that normality could return some day.
Normality could be a return to playing fields of Cork, Munster and beyond where he enjoyed a stellar underage career that took him to the 2010 All-Ireland minor football final that Cork lost to Tyrone, bought him three subsequent years on the U-21 team and also found a place on the 2012 and 2013 U-21 hurling squads. He is that talented.
But normality may also be the ability to just walk again. Either way he can't be sure. Nobody can. Jamie is 14 weeks into a programme of rehabilitation that he is embracing with the diligence of a professional athlete.
One of the first things he asked for were odds. He needed a figure to work off. He needed permutations. But the case history for his symptoms, an infection on his spine after an abscess developed, is thin.
Answer
"There is no definite answer one way or another so I suppose, as long as no one is telling me that it's completely 100pc out, as far as I am concerned it is what I am working for," he says.
"It's a glimmer, it is not by any means strong, it's not the prognosis I would like to have.
"Every case is different. My own wasn't like a car accident or a contact injury. It was an illness, a compression. So instead of it just being a snap break, it was just grinding away there.
"They haven't seen much of it from what they have said to me. They haven't many examples for me. One of the things he said was that there was no point comparing myself to x, y and z case because it's a different kind of injury, so it's going to be a different prognosis. You just go from playing all your life to. . ."
His voice is candid as he recalls the Saturday he couldn't get out of bed at home in Kilbrittan, the power ebbing from his legs. It was three days after the victory over Tipperary.
"If you are ever going to be scared in your life, it's not going to be heights or it's not going to be flying in a plane. It might scare you a little but it's not going to be the dark or anything like that," he says.
"It's trying to move your legs. Looking down at them when they are not going and you are saying 'Jesus what is going on, why aren't my legs going, why can't I move them?
"You try to get out of the bed and your leg buckles underneath. If you are ever going to be scared to death, absolutely petrified, it's then."
And then the prognosis. "That's another moment when you are really going to be scared. That's the big thing about it. At the moment I'm in a scary place, you can't hide from that."
In the 10 weeks that he spent in Beaumont he made a solemn promise to himself that he would nurture that 'glimmer' and take it as far as he could.
So far he has been more than good on his word. These days he finds himself in the good care of the National Rehabilitation Centre in Dun Laoghaire scrapping hard for inches, small gains here and there.
"There is still no getting up, walking around. But I have had massive improvement in the nitty gritty, the less glamorous side of things," he says.
"Just managing your whole body. Managing stuff like transfers in and out of a chair. Being able to get into a car and go to a match.
"Something as simple as your blood pressure, which gave me awful trouble the first week. Literally to sit up, after five minutes the first day I was seeing stars.
"When you think of someone learning to walk again and getting better, you have the image of the person with their hands on the walking frame and sweat pouring through them when they are trying to take a step. That's the stuff you are dreaming about doing.
"It's the basic stuff. The rotten stuff like the shower chair. Having to negotiate how to you would get in and actually just wash yourself. Stuff you take for granted that you don't realise."
He knows the depth of the battle he is immersed in but he finds neat parallels with his sporting career to draw upon.
Every day is a training day and Jamie is a professional athlete.
"The way I set it up for myself the first day was the most perverse way imaginable. You are a professional athlete for the time you are here," he explains.
"Your only job, instead of getting better at something, is getting better, full stop. That's the way I try to keep myself sane, to just go at it like I would go at it. It's what you know.
"Try and make it as similar to what you are used to as you can. Break it down into something simple like nutrition, routine, exercise."
There is brief respite from time to time. Recently he went out for the day to watch one of the games in an aunt's house and forgot himself.
"I sat on a couch, got them to take the chair out of the room. I almost got up to go to the toilet at one stage.
"That five minutes or 10 minutes when I'd completely forgotten and was just watching the match, enjoying it. You might get it once a week, once every two weeks. That's if you're lucky. You could go three, four weeks without that. That five minutes when you forget about the chair and you're just enjoying yourself.
"It's really hard to take the same pleasure in the things that you took pleasure in before."
He tells you how, for the first 10 seconds each morning after he wakes, he feels a wave of normality, just "another day," as he puts it.
"For those 10 seconds you forget, but then it dawns on you. 'I'm here, this is where I am, figuratively and literally'. That is the toughest part of every day. You try to put on a brave face. You try your best to stay positive but it is that 10 seconds that you are really just. . . But after that you have to get down to work."
His acceptance of what is ahead and his approach and attitude to it is pragmatic but also so inspiring, a young man mature beyond his years.
"There are going to be dark moments and horrible moments. I've had them all. There's moments when you think the worst," he admits.
"But then I suppose I just resolve with myself to do the things that I can control. The support I have is a massive help in that regard. There are people to lean on and people to help you.
"It's like when you're playing a game. You try to project an image, never to let a fella see you're tired. You never want to make it look like you're giving in and, subconsciously, by making it look like you're not giving in and making it look like you're not tired, you can keep going.
"Sometimes when you're having a bad day, you try to find one small thing you can win at.
"Something that makes that day a success, even if it's only tiny or even if it's something as simple as doing something unassisted that I haven't done before."
Days after he checked into the NRC, the spinal championship took place and it felt good to participate again, even to accept losing! Being at both All-Ireland hurling finals really energised him more.
"Every so often, I try to say to myself that I've made my peace with maybe not playing again. I haven't made my peace with not walking again. I won't be negotiating that," he says.
"I try to say, 'look Jamie, you have to be realistic now, the odds of you getting back on the field are fairly slim.' Then every time I watch a match or go to a match, I'm like 'No, I haven't made my peace with that at all!"
He has seen the powerful communal spirit of the GAA too at first hand too. He can't speak highly enough of Frank Murphy and Cork County Board for their support. Ned Quinn and Kilkenny for their hospitality on the day of the All-Ireland intermediate final against Wexford in Nowlan Park. They couldn't have done enough for him and his family. He even went to the drawn All-Ireland hurling final on Kilkenny tickets.
He has had cards from local rivals in Cork. The Courcey Rovers squad all signed and sent best wishes, Newcestown too. Marc Ó Sé, messages of support from James O'Donoghue and Barry John Keane, Conor Cusack called.
His family - parents Michael and Sheila and siblings Ellen, Philip and Kate - have been strong, his first cousins are the Collins brothers, Podge and Sean, from Clare. He and Podge are the same age and close. They couldn't have done more for him.
"Stuff you don't expect, everyone can't do enough for you. Everyone wants to help. It really humbles you. You realise 'you are not in this alone'. Podge has been massive. Incredible. Anything he can do for me, he has done. Cork County Board sometimes gets a bad rap but they've been great," he says.
Through a friend who now works with the trust named after Mark Pollock, he has become acquainted with the inspiring figure who, at 22, lost his sight but still went on to compete in ultra-endurance races across deserts and mountains and, just four years ago, sustained a fall that has left him paralysed. There is, he feels, something about the link between his friend and the trust.
Pollock is now immersed in spinal injury research and the day they met, Jamie admits to being "blown way."
"He's really driven. I don't know how he's so positive. A lot of people have said to me and it's a nice compliment to get, about my positive attitude. I don't know how he manages it. I just think 'there's a man who has really dealt with'," he says.
He has always been the ultimate competitor, a warrior. He thinks of the spirit of the Mary Immaculate team that reached the 2013 Fitzgibbon Cup final against UCC, how he and colleagues like Colm Galvin, John Conlon, Declan Hannon, Luke O'Farrell and Niall O'Meara among others went so close to creating their own history.
But now he finds a different perspective. "Since I got here I realise it genuinely isn't about winning but knowing that you have done everything you could to win it," he says.
"That's my attitude towards this. If this doesn't go my way, it won't be because I didn't try hard enough. I'll try, it might not work out, I'll try again, it mightn't work out. But I'll know at the end of it that I have given everything I have to get back as far as can get back.
"If that's playing in Croke Park in five years' time, which would be a pipe dream, great. If it's walking with a stick, at the moment that's great.
"Whatever it is, it will be. If it doesn't work out it won't be because I didn't do enough. It won't be because I stayed in bed one morning instead of going to my therapy or it won't be something that I didn't do. It will be the way it's gone. It won't be down to me."
Family, friends and team-mates of Jamie are participating in the 2014 Lifestyle Sports 'Run In The Dark' on Wednesday, November 12 at 8pm, an event that supports the Mark Pollock Trust's mission to fast-track a cure for spinal cord injury. To join "Team Jamie" log on to www.runinthedark.org.