'I always felt Monaghan would be a tougher challenge than Donegal' - Eamonn Fitzmaurice
Monaghan 1-11 Kerry 0-10: Allianz NFL Division 1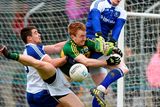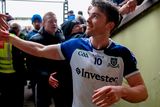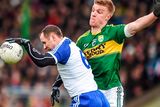 The travelling wing of Monaghan's famously vocal 'Farney Army' gave their football heroes a standing ovation off Austin Stack Park yesterday and little wonder why.
Victory had just secured their place in Division 1 again next year and kept them in the running for the semi-finals but it was the fact that they had just beaten the All-Ireland champions, in Tralee, that had them really puffing out their chests.
Beating Kerry in a competitive match for the first time in 27 years - the last time was a league game in Clones in 1988 - was a massive boost to Monaghan's confidence and not even manager Malachy O'Rourke could hide his delight.
"To come down here and beat fellas that have All-Ireland medals in their back pockets, that is very good for morale," he grinned.
Reshuffle
He could take plenty of credit for it too with some clever tactics and a complete positional reshuffle when they took wind advantage in the second half but it was Owen Duffy's 48th-minute goal that set them on their way.
For the third consecutive season Kerry now find themselves going into their final group game (away to Tyrone) battling to avoid relegation.
A semi-final spot is also, mathematically, still not out of the question but relegation is a far bigger worry and they have only themselves to blame for having to shoulder such pressure now.
"We had 14 wides, we just didn't do enough to deserve a win and Monaghan deserved it," manager Eamonn Fitzmaurice said. "We're heading up to Omagh again next weekend for a tough battle now."
The home side were left to rue some dreadful shooting, especially in the first half, when they had the big wind advantage yet only led by three points (0-7 to 0-4) after kicking 10 wides.
The absence of stellar forwards like James O'Donoghue and Colm Cooper (who didn't, as expected, play for his club on Saturday) isn't helping them right now and they weren't helped either by losing Paul Geaney to a hamstring injury just before half-time.
He had already proved a handful for Drew Wylie and was also their first-choice free-taker in Bryan Sheehan's injury-enforced absence.
By half-time Shane Enright had also managed to shackle Conor McManus in a fascinating duel but his job was made easier because Monaghan funnelled all but the Clontibret star and Owen Duffy back in their own half at that stage.
Once the Ulster men had the wind at their back they returned to an orthodox formation and their speed and direct running immediately gave Kerry trouble.
Within seven minutes of the re-start they were level on 0-7 apiece and Monaghan also shortened their kick-outs to counter Kerry's early midfield dominance.
A Johnny Buckley point pushed the Kingdom a point clear again and had Barry John Keane then not scuffed a snap-shot on goal - their only goal chance all afternoon - things might have been different.
Instead it was Monaghan who quickly raised the green flag, when Fintan Kelly found an unmarked Darren Hughes ghosting in behind the defence and he unselfishly laid it off for Duffy to fist it to the net.
Hughes was simply brilliant all day, working tirelessly in midfield and then at wing-forward when they resumed a more attacking format.
Going 'orthodox' also gave McManus more space and opportunities too to take on his man and he decorated the climax with some brilliant scores to edge his brilliant battle with Enright.
Defensively, Vinny Corey, switched to full-back with Kieran Duffy at centre-back, did a great job on Kieran Donaghy but he had lots of help as the Stacks giant was double- and treble-teamed at times.
And, as Fitzmaurice observed, the Kerry captain hardly got a sniff all day because whenever his team-mates did send in route-one ball, it was not of great quality.
"The goal was a big score, we had a couple of opportunities that we didn't take but they were more structured and played better, particularly with the breeze," Fitzmaurice said.
"We took a lot of wrong decisions as well as the wides, balls we put in that maybe we should have carried on a small bit and times we should have carried that we put in, we were just off it today," he conceded.
"It wasn't all negative but we'd have liked to back up the performance against Donegal with a decent one again and that's kind of been the story of the league. We played well against Dublin, had a poor performance against Cork and then reacted well against Donegal so hopefully we can react well now again next weekend.
"I always felt Monaghan would be a tougher challenge than Donegal because they're fitter than them at the moment. Monaghan had one blip against Mayo but, other than that, they've been playing very well in the league."
He threw Marc ó Sé and Darran O'Sullivan in for their seasonal debuts and O'Sullivan manfully tried to raise the tempo but Kerry lacked width and speed and simply could not match Monaghan's pace, which grew and grew as they held them scoreless for 24 minutes and pulled five points clear, with Kieran Hughes, Dermot Malone and Duffy also working tirelessly throughout.
Their collective effort restricted Kerry to just three points in the second half and only one from play.
"We're delighted to secure our place in the division for next year and we've still a good chance of making the semi-finals as well," said delighted winning manager O'Rourke whose side face Dublin next week.
"We felt if we performed well enough we'd have a fair chance down here. The wind was difficult, we got a lot of men back against it and still weren't that far behind and we used it well when we had it, got level and that gave us the platform, it was a great team performance.
"Any day you come to Kerry and get two points is a good day," he said with a broad grin.
Man of the Match: Darren Hughes
Scorers - Monaghan: C McManus 0-6 (2f), O Duffy 1-1, D Hughes, P Finlay and D Malone 0-1 each, R Beggan 0-1(f). Kerry: P Geaney 0-4 (3f), BJ Keane 0-2 (1f), J Buckley, J Lyne and S O'Brien 0-1 each, D Moran 0-1 (f).
Monaghan - R Beggan 8; K Duffy 8, R Wylie 7, V Corey 8; D Wylie 7, F Kelly 8, K O'Connell 6; N McAdam 7; D Hughes 9; D Mone 6, P Finlay 6, O Duffy 7; D Malone 7, K Hughes 8, C McManus (capt) 9. Subs: D McKenna for Duffy 7 (66), T Kerr for Malone (71).
Kerry - B Kelly 6; P Kilkenny 6, M Griffin 6, S Enright 8; J Lyne 8, P Crowley 6, K Young 6; A Maher 6, D Moran 6; S O'Brien 7, A Fitzgerald 5, J Buckley 6; P Geaney 7, K Donaghy (capt) 5, BJ Keane 6. Subs: D O'Sullivan 7 for Fitzgerald (BC, 32), T Walsh 6 for Geaney (inj, 33), P O'Donoghue 6 for O'Brien (54), F Fitzgerald 6 for Buckley (59), M O Se 6 for Kilkenny (61), T Hickey for Moran (66).
Ref - M Duffy (Sligo)