Eoin Liston: Forwards remain the weakest link for Horan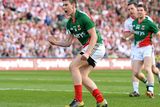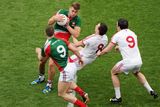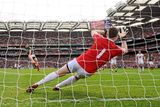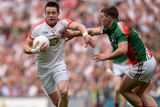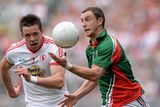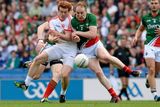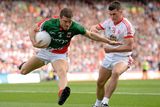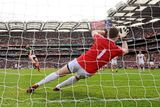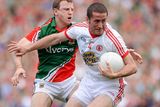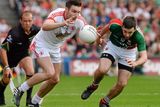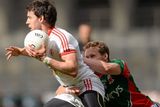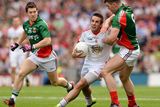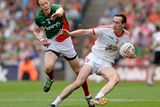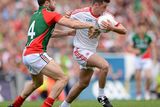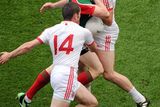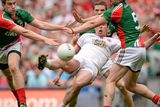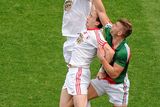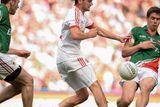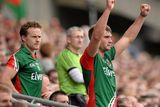 The worry as far as Mayo were concerned going into yesterday's game was their lack of a big test up to this point. Were they undercooked? How would they respond to a battle?
Well, they have answered those questions, but not as emphatically as the final scoreline would suggest.
For the first 25 minutes, Tyrone dominated them all over the field. The referee, Maurice Deegan, has come under scrutiny for his performance and there is no doubt Tyrone people may point to the penalty decision as the turning point.
But what had the biggest impact on this result were the injuries to Stephen O'Neill and Peter Harte and I am in no doubt that, had they stayed on the field, it would have been much closer. Both are huge players for the Ulster side. Harte is central to their counter-attack because of his pace and his ability to break through the tackle.
We saw this in action even during the short time he was on the field. The sight of O'Neill hobbling off, meanwhile, represented a huge psychological blow. He hasn't been at his best this season, but he had started brightly and he's a genius with ball in hand and capable of winning a game on his own. He is also the captain, a natural leader, and the young players in particular would have suffered in his absence.
HONOURS
Up to the loss of O'Neill, Tyrone had made it into a dogfight, as we had expected, and it was a war they were winning. I have openly questioned just how good Mayo's forwards are since the start of the season, and I see them as the main reason why they may come unstuck in the quest for ultimate honours.
In the second half when things were going well for them, they kicked some lovely scores. But when they were put under pressure in the opening exchanges, the decision-making was poor, they were shooting from silly angles, were hesitant in possession and they were losing the ball in contact.
If this were to happen again in the final, Kerry or Dublin will be ruthless. Dublin in particular could have had this game won after 25 minutes if they were given the platform provided to Tyrone. Indeed, it's interesting to note that it took Mayo corner-back Chris Barrett to come up the field and kick two crucial points before the break.
But credit must go to James Horan's team because after half-time they blew Tyrone away. When they got on top, they punished their opponents, and they outscored them 1-7 to 0-0 between the 30th and 47th minutes, which is an incredible stat. The O'Shea brothers were simply awesome in the second 35 minutes and Enda Varley, Michael Conroy and Cathal Carolan did make a difference from the bench.
For me, Deegan's decision to pull Alan Freeman back before he hit the net in the first half means the penalty decision is evened out, even though two wrongs certainly do not make a right.
There was a lot of pressure on him going into today's game. His performance did not affect the result, but there were some glaring inconsistencies. Donal Vaughan, for example, was guilty of a very cynical foul in the second half when Mattie Donnelly was bearing down on goal for Tyrone.
Why was he not booked when Colm Cavanagh and Stephen O'Neill received yellow cards for similar offences? Human error is impossible to eradicate completely and referees do have tough jobs, but surely inconsistencies such as this should be eliminated and it's what really frustrates players.
Mayo aren't going to worry too much about that for now. They have reached the last game of a six-game plan. They know that there is a lot of work to be done to address some of the weaknesses that were exposed yesterday. But their confidence will also be huge.
Now they need to deal with the hype that will come their way. The losing experiences of the past will help them with this aspect, and it is hard to argue against the assertion that it's a case of now or never.
On a different note, hearing of the serious injury to Killian Young came as a major blow to Kerry. Killian has been one of the better performers in the defence so far this year and, crucially, I felt he was just the man to take on Ciaran Kilkenny against Dublin on Sunday.
Eamon Fitzmaurice will know he will just have to get on with it, and he will be getting that message across to his team this week. They will know that there is no time or place to dwell on the loss.