Dublin realise three-in-a-row dream as agony continues for brave Mayo
Dublin 1-17 Mayo 1-16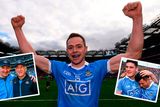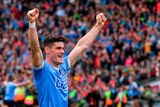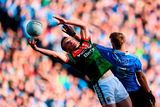 Dublin footballers are in twenty-seventh heaven having taken a giant step towards sporting immortality by winning their third All-Ireland title on the spin and their fourth in five seasons.
Croke Park was bathed in blue as Stephen Cluxton ascended the steps of the Hogan Stand to become the first captain in the 133 year history of the GAA to accept the Sam Maguire Cup four times.
Unbelievably, for the third time in the Dublin v Mayo All-Ireland finals saga since 2013, a point separated the sides at the end of an absorbing contest in which the second half lasted nearly 44 minutes.
A pointed free from Dean Rock in the seventh minute of injury time proved the winner. James McCarthy caught a David Clarke kickout and Diarmuid Connolly won a priceless free in the ensuing play. The team's top scorer Dean Rock (0-7) held his nerve to put ahead from 35 metres on the left after the sides had been level on 11 occasions.
It was a particularly heart-breaking defeat for Mayo. They will rue a missed 71st minute free from Cillian O'Connor which struck the upright; he also missed a straight forward free in the first half and Mayo's tally of eight wides compared to five for Dublin hurt them deeply.
Dublin ended the game with 13 men; John Small was sent off in the 46th minute while Ciaran Kilkenny – who was effectively held by Lee Keegan – was black carded in the seventh minute of injury time.
Crucially, Mayo also lost Donal Vaughan in the same incident as Small was dismissed in – he was red carded.
Under pressure for most of the afternoon, Dublin deserves credit for coming good when it mattered. Two points down with eight minutes of normal time remaining, they outscored Mayo 3-1 at the business end of the contest with Rock, Paul Mannion (0-3) and James McCarthy (0-2) leading the charge in the second half..
In a game of inches everything counted; Dublin interval substitutes Kevin McManamon and Diarmuid Connolly scored a point each; while the Mayo bench failed to contribute. Indeed, they were almost totally dependent on Cillian O'Connor for their scores in the second half – he hit all but two of their seven second half points.
New records were set on this most historic afternoon for a magnificent bunch of Dublin players and their brilliant leader, Jim Gavin, who now joins a corps d'elite of football bosses who have won four or more All-Ireland titles. Mick O'Dwyer (8) and Sean Boylan (4) are the only other members.
This team, which has now won 28 of the 31 championship games they have played under Gavin, becomes the tenth in history to secure the coveted hat trick of All-Ireland wins.
While they're the fourth Dublin side to achieve the three in a row, the other hat trick were fashioned in 1897-'99, 1906-'8 – when club teams participated in the All-Ireland series – and 1921-'23. Statistically they are the greatest Dublin team of all time.
Given the age profile of the team and their utterly dominance of this year's championship, they are ideally positioned to challenge for that honour; which eluded the great Kerry team, even though they won eight titles in 12 seasons – Dublin has won five in seven.
On a personal level it ended a remarkable season for the team's youngest player, Con O'Callaghan, In the space of seven months, the 21 year old Cuala native has won an All-Ireland SFC medal; an All-Ireland U-21 medal and an All-Ireland club hurling championship medal – the first ever to achieve that accolade in the same year and he scored Dublin's only goal in the final after less than two minutes.
This was Mayo's ninth All-Ireland loss since 1989 – and probably the most frustrating of them all.
This bunch of players has given incredible service to the county – for the majority of them it was the fourth All-Ireland final defeat they had endured since 2012.
There is no consolation that they were singularly unfortunate to come up against one of the greatest football teams in the history of the GAA, in three of those finals – as well as a semi-final.
Another long winter of painful retrospection awaits the county's remarkable band of loyal supporters. Perhaps the words of the late Seamus Heaney can offer them some solace as they make the long journey back to the west. 'Even if the hopes you started out with are dashed, hope has to be maintained.
Dublin made a tactical change with Eoghan O'Gara replacing Niall Scully. The burly full forward made an immediate impact getting a judicious push on Colm Boyle which enabled Con O'Callaghan to get ahead of his marker and beat David Clarke for a Dublin goal in front of Hill 16 after 86 seconds. Mind you, he took a generous number of steps in the build-up.
It looked like it could be a reprise of the Tyrone semi-final but how wrong we were. Apart from one only scary moment for the Mayo defence when they were caught on the break; the Dublin forwards played second fiddle throughout the first half.
The champions' cause wasn't helped when wing back Jack McCaffrey limped off after just eight minutes and he was replaced by Paul Flynn with Jack McCarthy dropping to wing back.
This time Mayo got their match-ups spot with Lee Keegan completely blotting out the challenge of the Dublin playmaker Ciaran Kilkeeny and apart from O'Callaghan's, only two other Dublin forwards, O'Gara and Dean Rock scored from play in the first half.
But it was the difficulties that Stephen Cluxton experiencing with his kick outs which took everybody by surprise.
Mayo pushed up on them forcing him to go long and it was here that Mayo profited handsomely with the underdogs winning seven of his 14 first half restarts. And against all expectations Mayo did excellently with David Clarke's restarts winning all but one of them in the first half.
Aidan O'Shea was immense and crucially two of Mayo's first half tally of nine points came directly from winning Cluxton's kick outs. After their woeful start Mayo were level after 13 minutes and they took the lead after 20.
They were two clear 11 minutes before the break with Andy Moran taking Michael Fitzsimons for three points and Jason Doherty scoring two off Jonny Cooper. But the failure of Cillian O'Connor to get into the game was a concern for the challengers and he also missed a straight forward free.
Dean Rock converted a very dubious free five minutes into injury time at the end of the first half to leave them trailing at the break (0-9; 1-5), but Mayo five wides – compared to three for Dublin – was a source of concern.
Not surprisingly, Jim Gavin wielded the axe at the break with the introduction of Diarmuid Connolly and Kevin McManamon – with Paddy Andrews and Eoghan O'Gara making way.
Within 13 seconds of the resumption Dublin had equalised through Paul Mannion and they outscored their opponents 3-1 in the first seven minutes of the second half. Then came three pivotal incidents in as many minutes.
Andy Moran did brilliantly to hold up the ball before releasing Jason Doherty who was clean through but Cluxton saved brilliantly; Doherty did win a free which O'Connor converted.
From the kick out Dublin attacked and Paul Mannion got away from Harrison but the advancing Clarke saved though Mannion got a point from the rebound.
In the next significantly play John Small, already on a booking, levelled Col Boyle but Donie Vaughan then steamed into Small. When the dust settled the referee dismissed both players; Small on a second yellow and Vaughan on a straight red – much to the latter's annoyance.
When Dublin scored two of the next three points to lead to two for the first time, the game was slipping from Mayo. But Andy Moran set up Lee Keegan for 53rd minute for a brilliant goal to restore their one point lead.
Even though Diarmuid Connolly hit the next store Mayo looked to be on a roll with points from Kevin McLoughlin and an O'Connor free after Keegan was fouled. So with eight minutes of normal time remaining Mayo led to two points.
But when it mattered most Dublin got their act together hitting the next three points; Cillian O'Connor did equalise with his third point from play in the 68th minute. But then in an incredibly tense finish Rock held his nerve to sent the Dublin fans into raptures.
The key difference in the second half was that Dublin didn't lose a kick out from Cluxton and while Mayo only surrendered three of Clarke's re-starts it was at a woeful price – Dublin scored one point direct and secured what proved the winning free of the other.
And when the Mayo keeper hit his last kick out over the sideline it enabled to keep possession and roll down the block which the until the referee finally blew the long whistle.
Dublin: S Cluxton; P McMahon, C O'Sullivan, M Fitzsimons; J Cooper, J Small (0-1), J McCaffrey; B Fenton (0-1), J McCarthy (0-2); C Kilkenny, C O'Callaghan (1-0), P Mannion (0-3),P Andrews, E O'Gara (0-1), D Rock (0-7, 3f). Subs: P Flynn for J McCaffrey 8m; D Connolly (0-1) for Andrews ht; K McManamon (0-1) for O'Gara ht; B Brogan for Flynn 65m; N Scully for O'Callaghan 69m, C Costello for Mannion 74m.
Mayo: D Clarke; B Harrison, C Barrett, P Durcan;  L Keegan (1-0), K Higgins C Boyle (0-1); S O'Shea, T Parsons; K McLoughlin (0-2), A O'Shea, D Vaughan (0-1), J Doherty (0-2), C O'Connor (0-7, 2f), A Moran (0-3). Subs: D O'Connor for S O'Shea 50m; S Coen for Boyle 55m; C Loftus for Moran 63m; D Drake for Doherty 69m; G Cafferkey for Higgins 75m D Kirby for McLouglin 75m.