Derry's Operation Transformation galvanised by guileful Rory Gallagher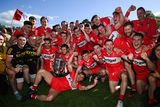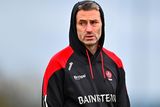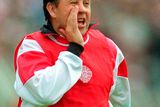 Five years ago last Saturday, Derry went to Sligo fighting for their Division 3 lives. That day, they leaked three second-half goals, and were condemned to Division 4 for 2019.
Tomorrow, they play Dublin in Croke Park in the Division 2 final. As Ulster champions, who have given up three goals in the entire league campaign, their eyes are on an even bigger prize later this year.
The county's Operation Transformation is well and truly under way.
Derry football hasn't quite been boom-bust of late, but it has displayed an ability to oscillate wildly. Ten years before they went to Sligo and were relegated to the bottom tier, they had been Division 1 champions – and, just four years before, they had contested a top-flight league final.
There was some mitigation for that fall into the basement.
Slaughtneil backboned the county's football squad but were getting to the business end of both the football and hurling club All-Irelands around that time, essentially ruling them out for large chunks of the league. The county team would pay the price.
The Derry team that will run out tomorrow is both familiar and unrecognisable now.
Six of the team that played in Sligo that day were on duty when Derry swept to last year's Ulster title.
Fergal McCusker, winner of an All-Ireland medal with Derry in 1993, wonders whether there is another county team that is as well conditioned, and know their roles as intimately, as Rory Gallagher's side.
For McCusker, the stars have aligned for Derry recently.
Gallagher's appointment was key, while the return of Conor Glass – one of the county's most vaunted talents in recent years – added momentum.
And, crucially, the nature of the set-up means the county have their best players available.
"(Gallagher) has obviously been a fantastic appointment. And the other element is, I suppose, the inner politics – which has always been held up as something that held Derry back before.
"And there's a lot of talk about managers leaving an imprint of a culture on a team and the change in culture that Rory Gallagher has brought in . . . you have to take your hat off, because no one was ever really able to do that, going right back to our time and Eamonn Coleman's time.
"Eamonn was able to break the cycle of club football coming first and county second.
"And it certainly drifted back to the old ways in the interim. And if you are playing Division 4 football, who wants to play in front of maybe a couple of hundred people? So it's a whole chicken-and-egg scenario.
"So for Rory to go in there, he got four or five or six of the key players onside – and they influenced the rest and drove the culture from there.
"They have reaped the rewards. And it's been a, what do you call it? A hockey-stick, upward curve ever since."
The raw materials exist in Derry. The club scene might be claustrophobic but it also drives the standards, which in turn gives consistently strong school set-ups.
Derry schools have won (or shared) six of the last 10 MacRory Cups.
"Derry is a small enough county but especially in south Derry – you take Lavey, Glen, Slaughtneil, Bellaghy, Magherafelt – there is serious coaching going on at underage level.
"And driven on by rivalry, or whatever you want to say. But I would challenge that there is not another county in Ireland in that confined an area, not much more than six-mile square, you'll not find better coaching going on."
And while they often looked to have the tools, they weren't always available. The late, great Coleman met the issue of players putting their clubs first head on. "I suppose (he overcame it) through force of personality, yes. And I remember a few meetings where he called out people publicly.
"There was a bitter rivalry between Lavey and Dungiven at that time – and (Brian) McGilligan would have had a few run-ins with Johnny McGurk and Collie (McGurk), God rest him as well.
"And Coleman basically called that out publicly – and said, 'Are we going to put Derry first here?'
"And in Eamonn's inimitable way, he got it sorted. And, again, we were coming from a low ebb, too."
Despite beating Dublin in Celtic Park earlier in the campaign, Derry go into tomorrow's final as outsiders. Last year's All-Ireland semi-final, where Derry scored just 1-6, shows where Derry need to improve next.
"There is still a school of thought in Derry we don't leave a couple of players up, like other teams do. Kerry always leave (David) Clifford and maybe another, on the off chance there is a turnover you have a chance for an early ball.
"We have a system and style of play, where you find Shane McGuigan on his own 14-yard line defending – which if I was the opposition full-back I'd be delighted to see him back there.
"There's a feeling we are not offensive enough, don't break quickly enough and don't get enough bodies forward to cause real damage that the other teams do.
"The other teams will kick the ball. Kerry will kick it a distance. Dublin will. Galway, to a certain extent, with a long kick to (Damien) Comer. We have a brilliant spread of scorers, but we just lack a tiny bit in attack."
Still work to do so. But five years since they slipped into Division 4, Derry are being talked about for very different reasons.