'David has a calf injury and they just said to wait another week' – Paudie Clifford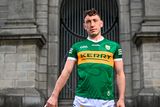 When the football calendar allows, Kerry's Paudie Clifford will pursue his other interests.
Quite when that will be isn't easy to figure out. He'll hope that Kerry go all the way to the end of July and play in an All-Ireland final. After that there'll be club duty with Fossa and all the competitions they will enter while there's also the pursuit of another county championship with East Kerry.
Somewhere, somehow, he'll try and squeeze in some time for two of his other passions – golf and racing.
A decent amateur golfer, Clifford (25) played out of Killarney and entered a few competitions. The time required however, was restrictive. "I kind of lost the love of practising," he said, speaking at the launch of the All-Ireland series in Croke Park yesterday.
"It's long, lonely hours. I think I would have thought about it (playing more amateur golf) all right. I played in a lot of the big junior competitions, and I actually played in two and I missed the cut in both of them. I was thinking maybe I'm not good enough. Maybe if I kept at it, I might have made it. But I don't, maybe I was just a bit off.
"I know the standard, you look at the standard around the world now, so many people can win the Majors, the standard of American golf has gone through the roof. I think the way to do it now is for young Irish golfers is to go on the American college circuit, that seems to be the way. It gets you prepared for the PGA Tour the best way."
If golf was a natural draw considering the courses he grew up close to, then his interest in horse racing is more difficult to explain.
It doesn't run in the blood but the game energises him, so much so that he is part of two syndicates that have horses in training.
The pair of National Hunt four-year-olds haven't run yet and he's not willing to divulge names, but he's hopeful they'll see the track in the coming season.
"One is with Eoghan O'Grady, he's in Mallow. And a fella called Cian Collins, he's starting out his training career up in Trim."
For now though, all thoughts are with football and Kerry and pursuit of their All-Ireland dream. Not dissimilar to the build-up to last year's defeat to Tyrone, the Kingdom have a long break to bridge between their Munster final win and their next outing in an All-Ireland quarter-final.
And Clifford believes they can learn from that quiet spell last year, starting with their next session.
"We'll get it at tomorrow night and put in a good training. We just have to make sure the training is as competitive as possible to get ourselves ready for what we know is going to be a very competitive quarter-final whoever it is against.
"It's just back to the heads down now and getting ready for what is basically the second half of the season, the All-Ireland series."
Clifford expects his brother David to return to training this week after sitting out last Saturday's Munster final due to injury: "It's his calf. He got a dead calf at the end of the Cork game. He was close to being ready, but they just said they'd wait another week. So I think he's back training now. He'll be back training tomorrow, I think."
In contrast to his younger sibling, the Fossa tyro had to serve a long apprenticeship before establishing himself with the county but it clearly only heightened his ambition.
"I didn't really ever think about it as proving people wrong but I had to prove to myself that I could do it (play for Kerry). That's probably the main thing," he explained.
"Any player has to look at yourself first and see if you can prove yourself right. Having people back you is all well and good but it's yourself that you have to prove right."
And he's eager to continue his education, taking inspiration from some Kerry greats.
"Obviously, players from the past like taking bits from Declan O'Sullivan's game, 'Gooch' obviously and Paul Galvin especially. Them three in the position I play. If you can be a combination of the three of them . . . I don't have to look too far, I don't think I have to look outside Kerry for that."