All Ireland final countdown: Mayo will pose threat others were unable to against Dublin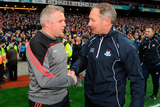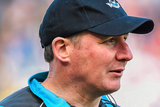 Dublin's scoring yields seem too good to be true, steering them through to the All-Ireland final so comfortably that you wonder how much more was in them if the tests with tougher.
Their winning margins over Carlow (12 pts), Westmeath (31pts), Kildare (9 pts), Monaghan (10pts) and Tyrone (12pts) merge into an average of 15 points.
It's a different run-in to previous All-Ireland finals and while Dublin supporters have wallowed in the sight of the blue wave washing all opposition away, Jim Gavin knows that risks are associated with such a trouble-free run.
It leaves them without a real test since losing the Allianz League final by a point to Kerry in April. That contrasts sharply with Mayo, who have been in and out of the ringer all summer.
One defeat and four draws, two of which they won in extra-time and two in replays, have taken their mental resolve to places Dublin haven't had to go.
That Mayo survived through it all underlines their resilience and, more importantly, leaves them really battle-hardened for the toughest war of all.
Not so with Dublin. They will arrive in Croke Park next Sunday, relying on memory when Mayo apply concerted pressure with a ferocity that Dublin's previous opponents never managed.
Mayo have repeatedly matched them over the last four years, so the demands will be far greater on Sunday.
Dublin were well-stretched in semi-finals in 2013 (Kerry), 2015 (Mayo) and 2016 (Kerry), which stood to them when they came under real pressure in the finals.
Ironically, Carlow provided them with their toughest physical test in this year's championship, stretching them in the first half of the Leinster quarter-final before the gap between Divisions 1 and 4 eventually became too much for Turlough O'Brien's men.
Granted, Dublin were in the early stages of their carefully-calibrated championship plan but it was still quite a feather in Carlow's cap that they had the lowest giveaway (0-19) of the five teams, including two from Division 1, that Gavin's men beat this summer.
Kildare had a good second quarter in the Leinster final, out-scoring Dublin by 0-8 to 0-4, but never recovered from a disastrous start where they fell 2-4 to 0-1 behind after 19 minutes.
Apart from Kildare, who scored 1-17, none of their opponents made any real impression on the Dublin defence. An average concession rate of 0-10 indicates just how easy life has been around the square for Gavin's defence.
It will be very different against a Mayo attack that took Kerry for an average of 2-15 in the two semi-final clashes.