Aidan O'Rourke: 'When Paddy asked us to take the boys as far as today, it was difficult to do that'
NFL Division 1: Roscommon 0-21, Donegal 0-9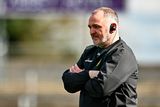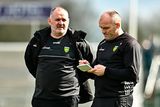 On another day, Roscommon would have been the story here.
A haul of 21 points, 20 of them from play from 11 different scorers, would usually be enough to quicken the heartbeat two weeks out from a shot at Mayo in the championship.
But for all the wrong reasons, the week, and this game in Dr Hyde Park, belonged to Donegal.
They put up only the minimal resistance. The sides were level four times in the opening 11 minutes but from there until the final whistle, they scored just five more points, including a mere 0-2 in the second half as their energy and confidence visibly drained.
Perhaps that fall-off wasn't surprising given the tumult in the county. The collapse of the county's academy system and Paddy Carr's departure as manager had dominated the lead-in.
Aidan O'Rourke took charge for this but he revealed there could be more upheaval for the county.
The former Armagh star made it clear that, on Carr's wishes, he had agreed to stay on to see out the league. Whether he will stay on for championship remains to be seen.
"(It's been) sort of a tumultuous environment for the last number of weeks, or whatever," O Rourke said. "There's no doubt that's affecting the players and the focus and all of those things. This week was really about just keep moving them forward because it was quite a sort of chaotic and emotionally tough week for everybody, Paddy most of all.
"Ultimately, when Paddy asked us to take the boys as far as today, it was difficult to do that. But, ultimately, we were asked to do a job with the Donegal senior team and to not finish the league out would have been really difficult to do and Paddy, in particular, felt that should be done in terms of the commitment that was given at the start of the year.
"It was a long week, a long week for everybody, and the people who feel this the most are the players. They still have to go and prepare and play football, that's extremely difficult in the circumstances."
Pressed on whether he wanted to take the team into their Ulster SFC opener away to Down on April 23, O'Rourke was non-committal.
"It's hard to know where your head would be at. Look, I undertook to coach the team this year and working with Paddy at the outset. There was a backroom team built around it. That dynamic has changed this week and there are a lot of moving parts in all of that.
"I suppose the build-up to today and the game, all of that has to be taken into account. To be straight lads, I don't know where my head would be at at the minute. I didn't focus on anything bar trying to get this game played and try get a performance out of them, which didn't happen."
Donegal's relegation was all but confirmed coming into this match while Roscommon made a brave fist at forcing their way into the league final. Their handsome win put them in a strong position with regards to scoring difference but the Kerry win they needed didn't materialise.
However, Roscommon manager Davy Burke was pleased with his side's league campaign as they prepare to face Mayo in just a fortnight's time.
"We'll be in Croke Park next Sunday watching them play, we'll hope it goes to extra time," he smiled. "And it keeps going and going!
"You see the team Mayo put out today – their key players, Diarmuid O'Connor and the like, didn't feature so they are obviously taking their week off this week so we'll be there watching Mayo.
"We played each other two weeks ago, got a fair look at each other and what is going to be in it? A kick of a ball like most of these games."
SCORERS – Roscommon: D Murtagh (1f), E Smith, B O'Carroll, C Murtagh 0-3 each; K Doyle, C McKeon 0-2 each; T O'Rourke, N Daly, C Connolly, C Cox, B Stack 0-1 each. Donegal: C Thompson 0-2; J Brennan, M Langan (1f), E Bán Gallagher, C McGonagle, J McKelvey, C O'Donnell, J Brennan 0-1 each.
Roscommon – C Carroll 8; C Hussey 7, B Stack 8, D Murray 6; N Daly 7, E McCormack 6, T O'Rourke 7; D Ruane 6, K Doyle 6; C Murtagh 8, N Kilroy 6, E Smith 8; D Murtagh 8, C Cox 7, B O'Carroll 8. Subs: R Fallon 7 for O'Rourke (13), D Smith 7 O'Carroll (h-t), C McKeon 7 for Kilroy, R Hughes 7 for Daly (both 42), C Connolly 7 for Cox (60).
Donegal – S Patton 8; M Curran 5, C Ward 6, M O'Reilly 5; JR Molloy 5, B McCole 6, E B Gallagher 7; M Langan 6, J McGee 6; C McGonagle 5, C Thompson 7, C O'Donnell 6; J McGroddy 5, H McFadden 6, J Brennan 6. Subs: J McKelvey 7 for Langan, K Tobin 6 for O'Reilly (both h-t), K Dunleavy 6 for McGroddy (42), J Bradley Walsh for McGee (66), B O'Donnel for Gallagher (70+2).
Ref – J McQuillan (Cavan)