Wicklow community projects highlighted ahead of new round of SSE Renewables funding
​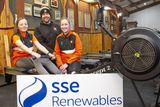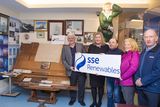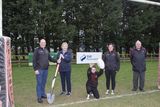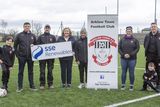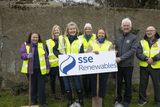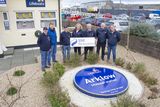 Eoin Mac Raghnaill
Wicklow People
Community initiatives across Arklow, Wicklow and Courtown, Co Wexford have been invited to apply for sponsorship under SSE Renewables' Arklow Bank Sponsorship Fund, which will launch a new round of funding on April 1.
As the lead energy company developing the Arklow Bank Wind Park Phase 2, SSE Renewables are inviting applications to the fund from communities in the vicinity of the offshore wind project.
SSE have already invested €350,000 in local initiatives in Wicklow, Arklow and Courtown with in excess of 40 projects being delivered by SSE through local community and volunteer groups. A total of 23 benefitted from the fund this financial year.
Speaking in advance of the latest round of funding, Community Engagement Manager Deirdre Keogh said: "The fund has facilitated numerous exciting initiatives across Wicklow, Arklow, Courtown and environs and continues to run quarterly. We welcome applications from community and volunteer groups, particularly those with a marine or sustainability focus.
"We were delighted with the invitation to present awards at the Wicklow Bay Sea Angling Club (WBSAC) awards' night in Wicklow town recently. SSE Renewables has supported WBSAC's youth coaching over the past three years."
Kit Dunne, Wicklow Bay Sea Angling Club Secretary, praised SSE Renewables' support, saying: "Angling is a sport that is accessible to all ages and abilities. It's a sport that allows young people to benefit and take time out and enjoy fun activities whilst learning an important skill.
"We're very grateful to SSE Renewables for its continuing support for our youth angling programme."
SSE's sponsorship fund also helped support an exhibition area in the Arklow Maritime Museum that features the figurehead recovered from the locally built Asgard II, as well as many other artefacts and memorabilia associated with the vessel.
Jim Rees, Chairperson and Curator at the Maritime Museum, said: "SSE Renewables latest contribution has made it possible for us to present our Asgard II display to a standard that would otherwise not have been possible.
"The display is centred on the original figurehead of our former national sail training vessel Asgard II (purchased and gifted by Arklow Shipping Ltd). This item is of national, perhaps even international, importance and to do such an historic icon justice, professional display techniques are essential.
"We are deeply grateful to SSE Renewables for lending its support."
Among the other recipients of funding are Arklow Town Football Club, who applied for sponsorship to erect safe and quality-approved fencing to facilitate spectators at the new pitch.
The club received funding through the Sports' Capital Grant Programme to replace its 3G pitch with a FIFA-approved playing surface, and the new pitch is the only one of its kind in the Arklow area.
With a large membership, the club's facilities are not only used by members, but by schools in the region and by affiliate bodies (e.g. FAI) for national cup finals.
Dave O'Shea, Arklow Town Football Club Chairperson, said: "We hadn't ever applied for funding under the SSE Renewables sponsorship fund and found the process really straightforward. We were well supported by Deirdre as Community Engagement Manager.
"SSE Renewables funding helped us considerably with the new dedicated spectator viewing area which will complement our new 3G pitch. With low energy illumination, the viewing area should promote crowd safety and help everyone to enjoy our matches from a safe standpoint."
SSE Renewables recently supported the Arklow Rowing Club with funding to purchase an additional four indoor rowing machines, increasing the overall number of machines to 12. The additional machines will allow the club to run indoor training sessions year-round and increase participation in rowing, especially for younger rowers and the less able bodied.
Founded in 1990, Arklow Rowing Club is a member of the East Coast Rowing Council and affiliated to Rowing Ireland, and race year-round in local, national, and international events.
Debbie Reid, Club Secretary, said: "Our membership is made up of a variety of varying ages, experience and abilities. We train year-round but, in the winter, or off season, we often have to cancel on the water training for some members when conditions are too severe.
"Having improved indoor facilities allows us to guarantee training for all members throughout the year. Additional rowing machines allow our coaches to introduce new members to the sport in a safe and simplified manner, where they can learn the basics of technique before they take to the water for the first time."
Arklow Rugby Football Club's push to encourage participation, promote social sustainability and encourage parents and the wider community to make use of a proposed 'Walk and Talk Track' at the club's facilities has been supported by SSE.
Ian Gavigan, Club Chairperson, acknowledged the club's appreciation to SSE Renewables for its support for both the 'Walk and Talk Track' and for previous funding to support energy efficient lighting upgrades on its training pitch.
"When this new facility is complete, it will help promote wellbeing, foster collegiality not just within the club but in encouraging the community to come out to the Club to improve their fitness and make new friends," Ian said.
Also through the fund, Arklow RNLI were able to make improvements to their station.
Fundraising Treasurer for Arklow RNLI, Tony Fennell, explained: "With SSE Renewables' help we have been able to upgrade the garden in front of our lifeboat station, befitting our proud history."
Mr Fennell paid tribute to Maurice Leahy and the crew from the station for their work in preparing and planting at the garden. A commemorative photo of the lifeboat station was presented to Community Engagement Manager, Deirdre, thanking SSE Renewables for its support.
SSE Renewables recently joined forces with Wicklow Lions Club, to co-sponsor the purchase of trees for replanting at a community space alongside the river in Wicklow town.
Further details are available from sserenewables.com/arklowbankphase2