Two Wicklow-based entrepreneurs acknowledged at All-Ireland Business Summit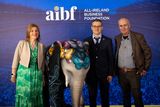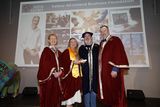 Myles Buchanan
Wicklow People
WICKLOW based entrepreneurs Justin Caffrey and Josh Loveridge were both acknowledged for their notable entrepreneurial achievements at the recent All-Ireland Business Summit in Croke Park.
Now in its seventh year, over 500 people from across Ireland's business community recently gathered for the annual All-Ireland Business Summit. Taking place at the iconic Croke Park, the event was organised by the All-Ireland Business Foundation and the programme featured an impressive line-up that included mentalist and mind-magician Keith Barry, Brent Pope, a harpist who holds an interesting Guinness Book of Records and some of the leading lights of Irish businesses.
The annual flagship gathering welcomed business leaders and innovators hailing from across the 32 counties for the one-day event featuring exhibitors, networking opportunities and an agenda exploring topical issues and valuable business insights.
Greystones-based Justin Caffrey was welcomed as a Fellow to the All-Ireland Business Foundation (AIBF). With a 25 year career, and a sizable online audience, Justin is considered one of Europe's leading minds in resilience, leadership, business strategy, psychological safety and neuroscience performance. The induction follows Justin recently receiving the prestigious accolade of the Business All-Star Leadership and Executive Coach Of The Year 2023.
Also gracing the stage was Wicklow man Josh Loveridge, the Managing Director of Stratton Studios and Loveridge Digital, who was named as the Little Learners Business All-Star Young Entrepreneur Of The Year 2023. A seasoned entrepreneur, international speaker, and expert in Web3, blockchain, business, and software development, the Wicklow resident was chosen from a shortlist of ten for his expansive work with an impressive client list ranging from SME's to Fortune 500 companies.