Three Wicklow students selected for Ireland's Young Filmmaker of the Year Awards 2023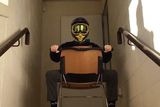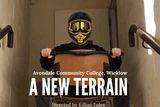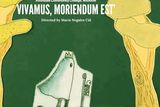 Eoin Mac Raghnaill
Wicklow People
Three short films produced by Wicklow students have been selected as finalists at the prestigious Ireland Young Filmmaker of the Year Awards, which will air on RTÉ2 on Wednesday, April 12 at 7 p.m.
Short films by budding film-makers Killian Foley and Maria Nogales Cid from Avondale Community College have both been nominated in the senior awards category.
Entitled 'A New Terrain', Killian's short follows a young man who wants to be a professional mountain biker, while Maria's one-minute feature 'Vivamus, Moriendum Est', is a paper-cut based animation following the growth of a person as the different seasons go by.
Shortlisted in the Junior Category, Elijah Rooney from Wicklow sent a powerful message with his film 'Pitch 26'. The ten-minute movie follows three friends and a dog who go on an adventure to Stoneyridge campsite and meet a magical being called Tameka, who has accidentally travelled from another planet through a vortex and needs help to get back home.
Fresh International Film Festival, RTÉ and Screen Ireland announced the 34 successful films and film-makers for the 2023 Ireland's Young Filmmaker of the Year (IYFTYs) earlier this week. For the first time ever, audiences will have the opportunity to preview all the shortlisted films on the Fresh International Film Festival YouTube Channel, from Monday, March 27.
The awards will be available to view on the RTÉ Player and will be hosted by radio and television presenter Stephen Byrne and BBC Radio presenter Gemma Bradley, recorded live from Odeon Cinemas, Limerick.
Awards on the night will include Best Director, Best Screenplay and Best Animation, as well as specialist awards including the Radharc Trust Award for documentaries, the RTÉ 60 Second Award, the RTÉ Factual Award and the much-coveted peer-to-peer Audience Award.
Speaking about Fresh International Film Festival and Ireland's Young Filmmaker of the Year Awards, Minister Catherine Martin said: "Ireland's film, television, digital and creative industries are globally renowned. Our strength is our people, a strong and vibrant creative workforce that equally values those who work behind the scenes and those who step into the limelight.
"I am delighted to see the next generation of Ireland's filmmaking talent present their work through Fresh International Film Festival and Ireland's Young Filmmaker of the Year Awards. Film and television are exciting, rewarding and sustainable career choices for young people, and Fresh International Film Festival is a wonderful first introduction to filmmaking.
"I congratulate all the young filmmakers, their casts and crews, along with their teachers, parents and supporters, for such an extraordinary and beautiful array of short films, made for young people by young people. I would encourage all to explore film and television studies and apprenticeships as an excellent career path."
Now in its 27th year, Ireland's Young Filmmaker of the Year Awards, part of the Fresh International Film Festival, are globally regarded as one of the world's leading annual film events for young people.
Previous award winners and participants include Oscar-nominated director Vincent Lambe (Detainment), All-American High School Film Festival, New York 'Best Director' Seán Treacy, acclaimed Irish filmmaker Dónal Foreman, BBC presenter and author Nick Sheridan, IFTA nominated director Conor McMahon (Let The Wrong One In), comedian and TV personality Justine Stafford and countless more.
Speaking at the official launch of the awards, Suzanne Kelly, Head of Children's and Young People's Content at RTÉ said: "RTÉ are delighted to support Ireland's Young Filmmaker of the Year Awards 2023, one of the world's most prestigious Awards for young people, depicting stories of children and young people globally, told in their own words.
"Fresh is an extraordinary organisation that provides an incredibly important support network and stepping stone for young creators both domestically and internationally and RTÉ are delighted to celebrate the amazing talent evident this year and the ongoing work Fresh do. I wish all the shortlisted nominees the very best of luck.''
Maureen Kennelly, Director of the Arts Council, noted at the launch: "The Arts Council is delighted to support this fantastic initiative and I would like to congratulate all of the shortlisted filmmakers from around the world. I'm especially excited to see so many young filmmakers from across Ireland recognised in this year's shortlist.
"Irish film has been making major waves on the world stage, and it's very heartening to see a new generation of film artists coming through to carry on the torch, creating bold, inventive work and offering diverse perspectives."
Louise Ryan, Head of Marketing and Communications at Screen Ireland commented: "Screen Ireland is very proud to support Ireland's Young Filmmaker of the Year Awards which present a fantastic introduction to the next generation of talented and passionate Irish filmmakers. Screen Ireland's ambition is to discover and support new and original voices across the country.
"We hope our support for the Fresh International Film Festival will help to inspire young people everywhere to explore future careers in the creative screen industries. Our congratulations to the young filmmakers shortlisted – and we can't wait to see more of your work in the future."
The awards will air on RTÉ2 on Wednesday, April 12 at 7 p.m. and on the RTÉ Player. All shortlisted films can be viewed from Monday, March 27 at the Fresh International Film Festival YouTube channel at www.youtube.com/freshfilmfestival