One Book One Community embraced in Rathdrum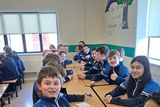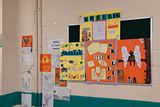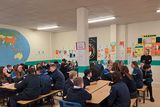 Myles Buchanan
Wicklow People
PUPILS across Rathdrum have been embracing the One Book One Community initiative, which recently celebrated the novel 'Skellig' by David Almond.
Coordinated by Home School Liaison Officers Yonne Brennan in Avondale Community College (ACC), and Monica Byrne from Our Lady's Girls School and The Boys National School Rathdrum, the project was funded by Wicklow Partnership.
It involved First Year students from ACC and Sixth Class students from Our Lady's and The Boy's National School reading the novel simultaneously.
To celebrate their literary endeavours all students joined together on Thursday last week in Avondale Community College to participate in a book quiz which was organised by their teachers.
Artwork inspired by the text was displayed throughout the canteen and Ms Noone kindly offered her services as quizmaster while the Fifth-Year mentors, who have been involved in many events with the First Years, corrected the quiz answers and took note of the top scoring teams.
Refreshments and prizes were organised by The Parents Association who were represented on the day by Katrina Fleming and Noeleen Byrne.
The winning team, Ms Egan's Favs, received One For All Vouchers from the Parents Council while other students enjoyed a range of spot prizes which were handed out during the event.
The event was appreciated for its capacity of bringing students together and testing their knowledge with some challenging quiz questions which encouraged teamwork and cooperation.