Josh Van De Flier among Wicklow's sporting heroes recognised at civic reception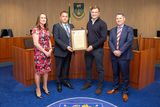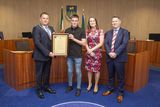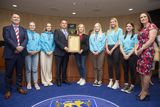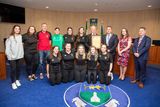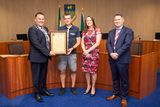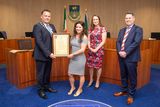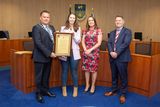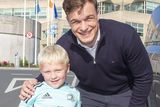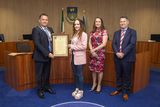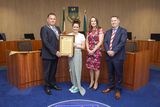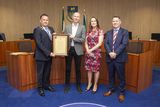 Myles Buchanan
Wicklow People
IRELAND and Leinster rugby star Josh van de Flier was among the recipients honoured at a civic reception held for sporting achievement in the County Buildings.
The civic reception was the first held by Wicklow Municipal District since Covid, and was organised to award a number of club and individual achievements which took place during and not long after lockdown had finished.
Over 80 people attended civic reception, which honoured Josh van de Flier, Wicklow Surf Lifesaving Club, Sheena Doyle for powerlifting, Catherine O'Connor for running, Adam Sinnott for boxing, Annmarie Kenny for athletics, Ray Kenny for athletics, Fionnuala Britton McCormack for running, Amy Davies for badminton and Mason Meila for soccer.
Cllr Paul O'Brien, the Cathaoirleach of Wicklow Municipal District, praised all involved for their efforts and all the sacrifices they had to make to reach their sporting targets and goals.
He stated: "When we as team sat down to start the process of nominating who we wanted to honour, we genuinely thought it would be easy, how wrong we were. It is only when you start an exercise like this do you really and truly appreciate the sheer amount of sporting giants we have in our municipal district.
"From rugby to surf rescue, to football, to powerlifting, boxing, athletics, badminton, GAA and so much more.
"Each and every one of you should be so proud of your accomplishments, you are our inspiration. But as we all know you don't just turn up and compete on the day, you put so much more in and as Alan Armstrong once said, 'Champions do not become champions when they win the event, but in the hours, weeks, months and years they spend preparing for it. The victorious performance itself is merely the demonstration of their championship character'.
"You all know only too well the efforts you make and the sacrifices you endure to get to where you want to, this journey is never easy, but it is always worthwhile and we commend to you for this."